Thu, 02 Nov 2017, 22:07 PM



Lamb Clinches Third NHRA National Championship



Courtesy of Nate Van Wagnen


Photo copyright 2017 John DiBartolomeo





LAS VEGAS -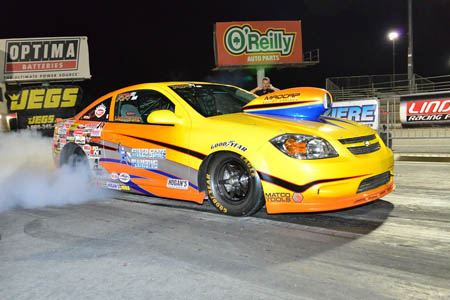 Justin Lamb
Two-time NHRA Lucas Oil Series national champion Justin Lamb secured the 2017 NHRA Super Stock national championship while racing at the NHRA Toyota Nationals in Las Vegas Friday morning. He's also a serious contender for the Stock national championship.
"We set out this year with several goals, and one of them was to win a championship in Super Stock," Lamb said. "We brought out a new Stocker and we weren't sure how that would go, but we thought we had a good chance in Super Stock. It's very rewarding and it's nice that it's done now. Both times I won championships in the past, it went down to the wire and there was a ton of pressure. It's cool that we get to enjoy this one, especially here in Vegas at our home race."
With the Super Stock title locked up, Lamb can focus on chasing the Stock Eliminator national championship in his Redback Boots '17 COPO Camaro.
"It's obviously a ton of pressure, and I'm sure it will only build as I hopefully win more rounds, but it's almost like a bonus at this point," Lamb added. "I've already won one, so anything else would be icing on the cake. I'm sure I'll be super-disappointed if we don't win it, but at least we have the one."
Lamb will continue racing on Saturday beginning with the third round of Stock at 8 a.m., followed by the second round of Super Stock in the Silverstate Plumbing Cobalt.




LODRS: 10 Most Recent Entries [ top ]

May 25- LODRS 1-2 - Super Stock presented by ATI Top 8 Final, Round 3 Eliminations
May 25- LODRS 1-2 - Stock presented by ATI Top 8 Final, Round 3 Eliminations
May 25- LODRS 1-2 - Super Comp Top 8 Final, Round 3 Eliminations
May 25- LODRS 1-2 - SuperStreet Top 8 Final, Round 3 Eliminations
May 25- LODRS 1-2 - Super Gas Top 8 Final, Round 3 Eliminations
May 25- LODRS 1-2 - Stock presented by ATI Top 8 Round 2 Eliminations
May 25- LODRS 1-2 - Super Stock presented by ATI Top 8 Round 2 Eliminations
May 25- LODRS 1-2 - SuperStreet Top 8 Round 2 Eliminations
May 25- LODRS 1-2 - Super Gas Top 8 Round 2 Eliminations
May 25- LODRS 1-2 - Super Comp Top 8 Round 2 Eliminations