Thu, 02 Nov 2017, 21:45 PM



Musi Racing Engines/Tommy Franklin Win 2017 Flatout Gaskets Nitrous Wars



Courtesy of Lisa Collier


Photo: Gary Rowe / RaceWorks.com / PDRA660.com





PITTSBORO, N.C. --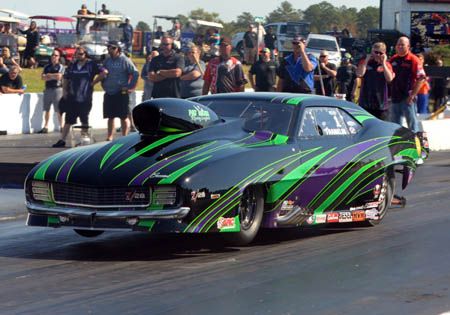 Tommy Franklin
The 2017 Flatout Gaskets Nitrous Wars produced a number of stars throughout the season. The Flatout Gaskets Nitrous Wars event titles, awarded to the number one qualifier of Switzer Dynamics Pro Nitrous presented by MoTeC, traded throughout the season between three engine builders and four drivers.
Jay Cox and his Buck Racing Engines power got the first coveted nitrous bottle trophy of the season, but quickly handed the title to Musi Racing Engines' President, Lizzy Musi in her King Kong Dart. The title stayed with Musi Racing Engines for the third stop, the Spring Nationals, with Tommy Franklin qualifying on top of the field. Cox got his second and final Flatout Gaskets Nitrous Wars title in Maryland, before Franklin went on a tear, getting the number one qualifying spot for three of the final four events. Jim Laurita snagged the number one at Tulsa Raceway Park, awarding Reher-Morrison Racing Engines a Flatout Gaskets Nitrous Wars title.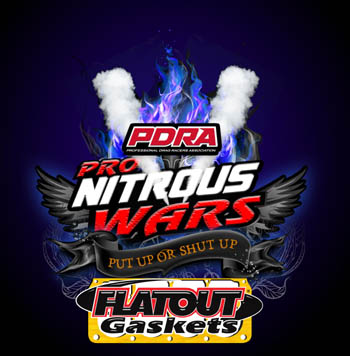 Franklin's four top spots, plus Musi's one, gives Musi Racing Engines five of the the eight nitrous bottle trophies. Musi Racing Engines retains the Flatout Gasket Nitrous Wars title for a second consecutive year. A Musi engine also holds both the ET and speed national records. Lizzy Musi set the speed record at GALOT Motorsports Park in the spring at 206.54 MPH. Franklin reset the ET record at the recent World Finals with a 3.6753 elapsed time.
"Winning the Nitrous Wars for the second year in a row is a huge accomplishment," Franklin expressed. "I personally really appreciate Flatout Gaskets for sponsoring this award as it really adds some excitement to be able to pass this bottle around to the low qualifier of each event. Some of the trash talk on the bottle is hilarious! It goes without saying that our Pat Musi power has week-in and week-out proven to be at the front. Working with Pat Musi and watching him put his years of knowledge to work is a gift that I could only dream of. Thank you to Pat, Liz, Lizzy and all of the Pat Musi Racing Engines employees for providing us with a top notch piece at every event. Also, thank you to my family and crew for also giving me the confidence that I have the best car available on race day. I am a blessed man to be able to participate with such high caliber competition and come out on top!"
Flatout Gaskets has been the lifeblood of the Nitrous Wars and will be back again next season. "I'm very pleased with the program," stated Mark Adelizzi, President of Flatout Gaskets. "This adds another layer to Pro Nitrous, which is already one of the most exciting classes in drag racing. We're happy to be back 2018. Congratulations to Musi Racing Engines and Tommy Franklin on taking home top Nitrous Wars honors."
"The PDRA extends many thanks to Flatout for being a part of this particular program, and the PDRA as a whole, from day one," stated PDRA Director of Marketing, Will Smith. "We look forward to continuing to work with Mark and Flatout in 2018."
For more information on how Flatout Gaskets can work in your performance engine, visit www.flatoutgroup.com.




: 10 Most Recent Entries [ top ]

Apr 11- Cox, Leggett, Ray, Morton and Williford Claim PDRA East Coast Spring Nationals Victories
Apr 11- Franklin, Scruggs, D'Aprile, Dobbins and Schwiegert Claim Top Spots at PDRA Season Opener
Apr 04- Records Expected to Fall at Season-Opening PDRA East Coast Spring Nationals
Apr 04- Musi Strengthens Relationship with Edelbrock in 2018
Apr 04- Gilbert Motorsports Recognizes Value of Starting Young
Apr 04- Racing Junk Joins PDRA Family as Official Classifieds
Mar 28- Edelbrock Brings Bracket Bash into 2018 Season
Mar 28- CoolShirt Systems Pro Junior Dragster Gears Up for 2018 Season
Mar 28- Atomizer Racing Injectors Outlaw 10.5 will run at four PDRA events in 2018
Mar 21- VP Racing Fuels Expands PDRA Sponsorship