Mon, 23 Oct 2017, 11:29 AM



Summit SuperSeries World Champions Crowned at IHRA Summit World Finals



Courtesy of IHRA Communications



MILLINGTON, Tenn. -
Hundreds of International Hot Rod Association (IHRA) Summit SuperSeries track champions, along with Summit Team Finals divisional champions from around the United States and Canada, gathered at Memphis International Raceway on Oct. 19-21 for the IHRA Summit World Finals.
Representing nearly 100 IHRA-sanctioned tracks, drivers traveled from all over North America, coming from as far north as Alaska and as far south as Florida, to the largest and most prestigious bracket racing championship in drag racing.
The IHRA Summit SuperSeries champions were crowned Saturday in Top (Box), Mod (No Box) and Junior Dragster. The $200,000 program is the championship competition for IHRA member Sportsman racers and more than 8,000 racers compete in the program annually.
Tom Gall from Beresford, S.D., won the Top World Championship. Chris Black from Butler, Pa., captured the Mod World Championship. Luke Schwemler from Amherstburg, Ontario, Canada won the Junior Dragster crown.
Gall, representing Thunder Valley Dragways, defeated Jerry Cotton from St. John, Ind., in the Top finals by just .0012 of a second. His final package was a 5.059-second run at 134.55 mph against a 5.04 dial-in.
His championship bounty included $20,000 from Summit Racing Equipment, a seven-night/eight-day vacation for two on the island of Aruba, a world championship diamond ring, and a world championship Ironman Trophy.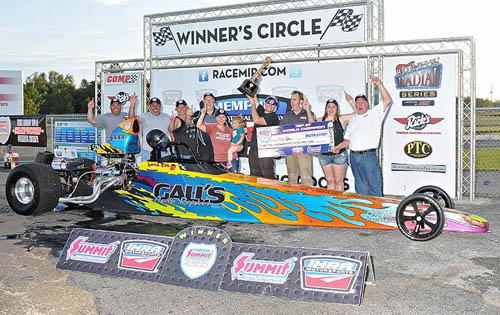 Tom Gall
"It's the biggest opportunity. Summit does something that's just unheard of," said Gall, whose margin of victory was just .0012 of a second. "To race every weekend and then, you get a chance to do something like this, it just blows your mind. At the World Championship, to be that close, it's how the final should be."
Black, representing Quaker City Motorsports Park, had a 6.431-second pass at 100.73 mph against a 6.30 dial-in to claim the Mod World Championship. The final was closely contested as runner-up Travis Loy from Harriman, Tenn., had a slightly quicker, .026 to .028, reaction time.
Black also won $20,000 from Summit Racing Equipment, a seven-night/eight-day vacation for two on the island of Aruba, a world championship diamond ring, and of course, a world championship Ironman Trophy.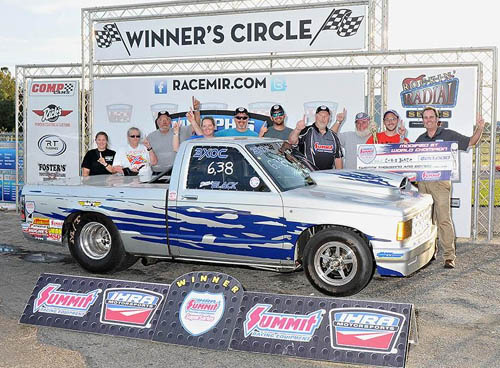 Chris Black
"It's incredible, a day I never thought would happen, even driving down here," Black said. "It's humbling and unreal. You've got the best of the best here. I love all the prizes, but I'm most proud of that Ironman trophy."
Schwemler, who earned his spot by winning the Division 5 Team Finals, beat No. 1 qualifier, Nick Ferraro from Ft. Lauderdale, Fla., for the Junior Dragster title. Schwemler went down the track in 7.931 seconds at 82.41 mph against a 7.90 dial-in. He was worried that Ferraro, was quicker at the tree with a .060 to .075 reaction time, had beaten him.
With the World Championship, the 17-year-old driver won a custom-built JR Race Car Junior Dragster featuring a custom paint scheme from Imagine That Customs, $3,000 from Summit Racing Equipment as well as the world championship Ironman Trophy and diamond ring.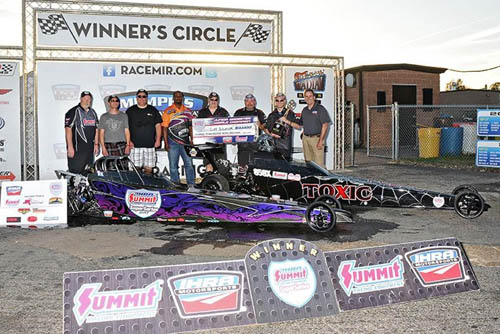 Luke Schwemler
"It was a long drive down here, but it was definitely worth it. To win a new race car, that's an awesome prize," said Schwemler, whose home track is the Grand Bend Motorplex. "That last race, I knew I cut a bad light and I was worrying all the way down the track. When I saw that win light, I was cheering in the car."
Timmy Rowe from Paris, Ky., representing Mountain Park Dragway, won a 9,000-pound, two-post, car lift from Rad Auto Lifts at the Trick Flow Specialties Racer's Party on Friday night.
Summit SuperSeries Final Eliminations Results - 1/8 mile:
Summit SuperSeries Top (Box): Tom Gall, Beresford, S.D., '06 M&M, 5.059 secs. at 134.55 mph (.035 rt) - defeated Jerry Cotton, St. John, Ind., '05 S&W 4.897 secs. at 137.33 mph (.018 rt)
Summit SuperSeries Modified (No Box): Chris Black, Butler, Pa., '88 Chevy S-10, 6.431 secs. at 100.73 mph (.088 rt) - defeated Travis Loy, Harriman, Tenn., '67 Chevelle, 6.834 secs. at 100.05 mph (.026 rt)
Summit SuperSeries Junior Dragster: Luke Schwemler, Amherstburg, Ontario, Canada, 7.931 secs. at 82.41 mph (.075 rt) - defeated Nick Ferraro, Ft. Lauderdale, Fla., 8.019 secs at 79.64 mph (.060 rt)
Champions of the Summit SuperSeries Awards:
Top (Box) and Mod (No Box) Champion Awards:
• $20,000 from Summit Racing Equipment
• Aruba Vacation for Two: Seven-night/eight-day trip for two people; includes airfare, car rental, island tour, hotel and dinner/lunch packages courtesy of Around Aruba Tours, El Gaucho Restaurant, Tropicana Resorts, More 4 Less car rentals and the crew of Don Flip Racing Team.
• IHRA Gold Card
• World Champion Ironman Trophy
• World Champion Diamond Ring
Junior Dragster Champion Awards:
• Custom-built JR Race Car Junior Dragster featuring custom paint scheme from Imagine That Customs
• $3,000 from Summit Racing Equipment
• IHRA Gold Card
• World Champion Ironman Trophy
• World Champion Diamond Ring





IHRA: 10 Most Recent Entries [ top ]

May 15- IHRA Summit SuperSeries Championship is Underway at Member Tracks
May 15- Xtreme Raceway Park Ready to Host IHRA Summit Sportsman Spectacular
May 15- Cordova International Raceway Summit SuperSeries Champions Honored
May 15- Saskatchewan International Raceway Joins IHRA
May 15- IRG Sports + Entertainment Expands Leadership Team
Apr 24- Racers Receive Prizes at IHRA Summit Sportsman Spectacular Opener
Apr 24- Comeaux, Hughes Make History at IHRA Summit Sportsman Spectacular
Mar 21- 2018 IHRA Summit Sportsman Spectacular Series on April 20-22
Feb 26- Weather-Related Construction Delays Postpone IHRA Xtreme Raceway Park Opener
Feb 16- IHRA Summit Sportsman Spectacular Schedule Announced