Wed, 06 Sep 2017, 10:27 AM



Hart, Lombardo and Helms Earn First Wins in Indy



Courtesy of NHRA Field Marketing


Photo copyright 2017 Auto Imagery, Inc.





BROWNSBURG, Ind. --
The Lucas Oil Drag Racing Series was in full effect during the 63rd annual NHRA Chevrolet Performance U.S. Nationals. Josh Hart, John Lombardo Jr., and Kevin Helms raced to victory at Lucas Oil Raceway
Josh Hart and crew celebrate his first National event win.
Hart, Ocala Fla., and Megan Meyer, Olathe, Kan., lined up against each other in the final round of Top Alcohol Dragster. Meyer was 1-0 against Hart in prior final round appearances heading into this final round. Hart took the starting line advantage and powered his way down the track at 5.307 seconds, 274.33 mph to take the win. Meyer followed up at 5.364 seconds, 275.79 mph. This was both drivers' first final round appearances at the U.S. Nationals.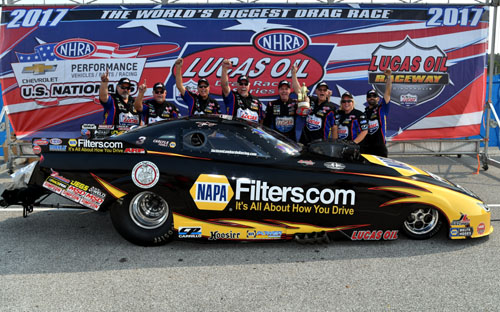 John Lombardo Jr. and crew celebrate his first U.S. Nationals win.
California rivals Lombardo Jr., Brea, Calif and Doug Gordon of Paso Robles, Calif., made their final round debuts at the U.S. Nationals. Lombardo took off first, Gordon stayed with him but had mechanical issues. Lombardo was able to pull away for the Top Alcohol Funny Car national event Wally trophy, running 5.485 seconds, 269.08 mph. Gordon registered a runner up pass of 5.715 seconds, 262.64 mph.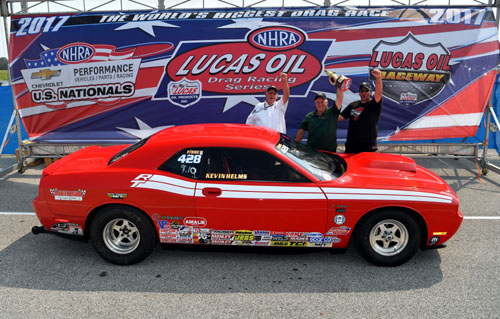 Kevin Helms and crew celebrate his 26th National event win.
Helms, Plant City Fla., earned his third win and first in Super Stock at Indy as he left the gate first and kept Marion Stephenson Williamsport, Ind., behind him in the Super Stock final round.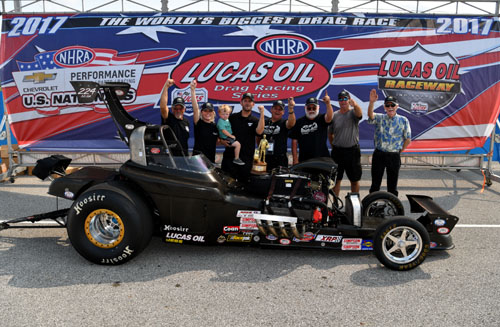 Brad Plourd and crew celebrate his third U.S. Nationals win.
Brad Plourd, Holly Pond, Ala., cruised down the strip in his Ford Roadster for the easy win in the Comp Eliminator final round; Mike Farrell, Louisville, K.y., triggered red at the starting line.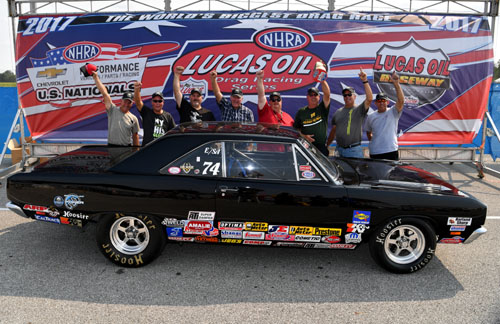 Larry Gilley and crew celebrate his first U.S. Nationals win.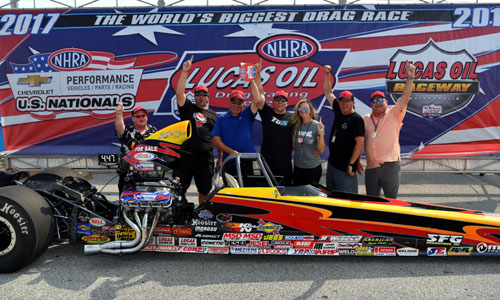 Ray Connolly and crew celebrate his second U.S. Nationals win.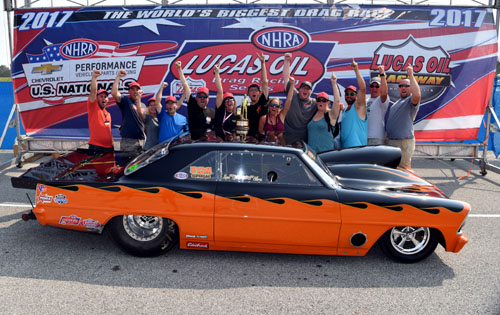 Kevin Adams and crew celebrate his first National event win.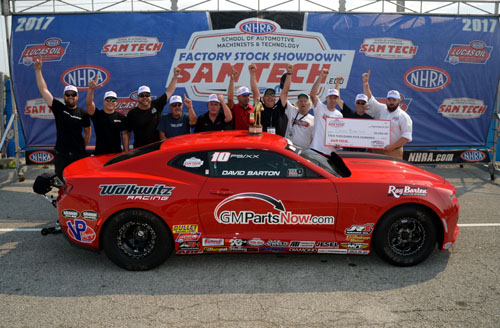 David Barton and crew celebrate his fifth National event win.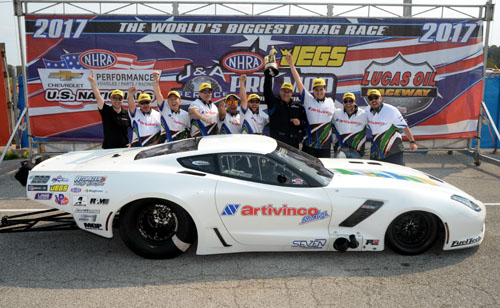 Sidnei Frigo and crew celebrate his first National event win.
The other drivers visiting the winner's circle were: Larry Gilley in Stock; Ray Connolly in Super Comp; Kevin Adams in Super Gas; David Barton in Factory Stock Showdown; and Sidnei Frigo in Pro Mod.
The following are Monday's final results from the 63rd annual Chevrolet Performance U.S. Nationals at Lucas Oil Raceway at Indianapolis:
Top Alcohol Dragster
Josh Hart, 5.307, 274.33 def. Megan Meyer, 5.364, 275.79.
Top Alcohol Funny Car
John Lombardo Jr., Chevy Camaro, 5.485, 269.08 def. Doug Gordon, Camaro, 5.715, 262.64.
Comp Eliminator
Brad Plourd, Ford T Roadster, 14.529, 93.36 def. Mike Farrell, Chevy Roadster, Foul - Red Light.
Super Stock
Kevin Helms, Dodge Challenger, 9.122, 137.86 def. Marion Stephenson, Chevy Cobalt, 9.737, 129.98.
Stock Eliminator
Larry Gilley, Dodge Dart, 10.622, 123.07 def. Darrell Steiger, dodge Challenger, 10.619, 123.54.
Super Comp
Ray Connolly, Dragster, 8.931, 171.79 def. Edmond Richardson, Dragster, 8.937, 168.72.
Super Gas
Kevin Adams, Chevy Nova, 9.920, 154.10 def. Samantha Coughlin, Chevy Corvette, 9.920, 164.57.
Factory Stock Showdown
David Barton, Chevy Camaro, 8.181, 164.53 def. Stephen Bell, Camaro, 8.214, 165.48.
Pro Modified
Sidnei Frigo, Chevy Corvette, 6.318, 203.68 def. Troy Coughlin, Corvette, 9.079, 122.76.




NHRA: 10 Most Recent Entries [ top ]

Jun 24- NORWALK - Pro Stock Motorcycle Final, Round 4 Eliminations
Jun 24- NORWALK - Pro Modified Final, Round 4 Eliminations
Jun 24- NORWALK - Top Sportsman presented by RacingRVs.com Final, Round 5 Eliminations
Jun 24- NORWALK - Factory Stock Showdown Final, Round 4 Eliminations
Jun 24- NORWALK - Stock Eliminator Final, Round 7 Eliminations
Jun 24- NORWALK - Super Gas Final, Round 6 Eliminations
Jun 24- NORWALK - Top Dragster presented by RacingRVs.com Final, Round 5 Eliminations
Jun 24- NORWALK - Competition Eliminator Final, Round 5 Eliminations
Jun 24- NORWALK - Super Comp Final, Round 6 Eliminations
Jun 24- NORWALK - Top Alcohol Dragster Round 3 Eliminations