Sun, 20 Aug 2017, 19:31 PM



Pritchett, DeJoria, T. Gray and Savoie Secure Victories at Lucas Oil NHRA Nationals



Courtesy of NHRA Communications


Photo copyright 2017 NHRA/National Dragster





BRAINERD, Minn. --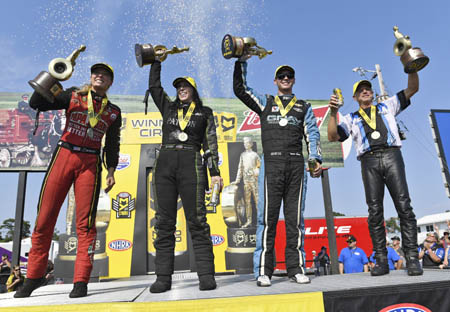 Leah Pritchett, Alexis DeJoria, Tanner Gray and Jerry Savoie
Leah Pritchett piloted her dragster to her fourth Top Fuel victory of the season Sunday at the Lucas Oil NHRA Nationals at Brainerd International Raceway.
Alexis DeJoria (Funny Car), Tanner Gray (Pro Stock) and Jerry Savoie (Pro Stock Motorcycle) were also victors at the 17th of 24 events on the NHRA Mello Yello Drag Racing Series schedule.
Pritchett, who raced the quickest pass in NHRA history during qualifying, ran a 3.682-second pass at 328.06 mph in her Papa John's Pizza dragster to defeat Don Schumacher Racing teammate and reigning world champion Antron Brown's 4.001 at 246.35 in his Matco Tools dragster in his fifth consecutive finals appearance.
"Don Schumacher has given me the best team, in my opinion," Pritchett said. "We keep continuing to prove that. I really like that these numbers and their work ethic and the consistency really backs it up when I say we have the best team because we have the best hot rod. We're going to enjoy this win."
Pritchett defeated Rob Passey, Scott Palmer and Clay Millican before facing off against Brown who defeated Shawn Langdon, Brittany Force and Steve Torrence en route to his 10th final round appearance of the season. With his win over Torrence in the semifinals, Brown now leads the Top Fuel points standings.
In Funny Car, DeJoria raced to her first win of the season, fifth of her career and the 250th women's victory in NHRA history when she defeated Tommy Johnson Jr. in the finals. Her 3.906 pass at 330.96 in her Tequila Patron Toyota Camry bettered Johnson Jr.'s 3.933 at 324.44 in his Make-A-Wish Dodge Charger R/T.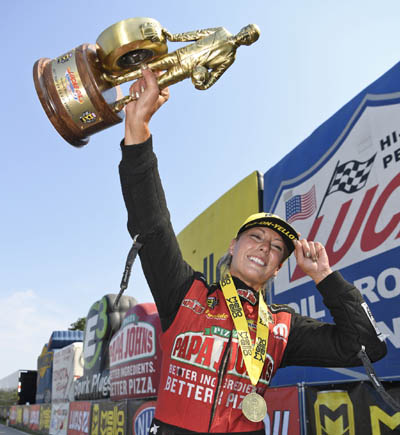 Leah Pritchett celebrates her fourth win this season.
"The last two years have been really difficult," DeJoria said. "Lots of ups and downs, injuries, no wins, we just couldn't get up to speed with everybody else. We were fighting so hard out there and you start to lose yourself in it. You start to forget the love that you had in the beginning. It's times like those that make this so much better. You really appreciate every moment. This is a huge win for us."
DeJoria raced against Tim Wilkerson, Cruz Pedregon and 16-time world champ John Force before making it to her first finals appearance of the season. Johnson Jr. defeated rookie Jonnie Lindberg, Courtney Force and world record holder Robert Hight before falling to Dejoria in the finals. It was his fifth finals appearance of the season.
Pro Stock rookie Gray powered to the fourth victory of his career defeating points leader Bo Butner with a 6.610 at 208.04 in his Gray Motorsports / Valvoline Chevrolet Camaro. Butner, who has secured the No. 1 seed heading into the Countdown to the Championship, NHRA's six race playoffs, raced a 6.629 at 207.85 in his Jim Butner's Auto Chevy Camaro.
"I'm not sure what my team has done but they've got a handle on this car the last few races," Gray said. "They got something going right for them over there. They're making my job a whole lot easier and I'm just blessed to be able to sit in the driver's seat."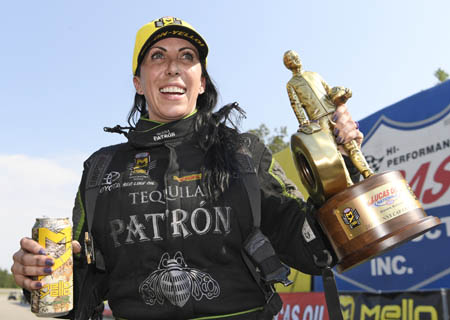 Alexis DeJoria celebrates her first win this season
Gray defeated two-time world champion Erica Enders and reigning world champion Jason Line before reaching the finals. Butner defeated Doug Rivers, Gray's father, Shane Gray and KB Racing teammate Greg Anderson to get to his eighth finals appearance of the season.
Savoie, the Pro Stock Motorcycle reigning world champion, defeated teammate and points leader LE Tonglet in the finals for his second win of the season and eighth of his career. Savoie's 6.846 pass at 194.80 on his White Alligator Racing Suzuki bettered Tonglet's 6.910 at 194.02 on his Nitro Fish Racing Suzuki.
"The season has been really good," Savoie said. "I've had some misfortune a couple times and my riding hasn't been like it should be. LE is solid as a rock so when you beat him it's pretty rewarding. He's taught me a lot and I've taught him some things and we thrive off each other. We bring out the best in each other and that's what it takes to win races."
Savoie faced Mike Berry, Angie Smith and Matt Smith before lining up against Tonglet in his third finals appearance of the season. Tonglet, who has five victories this season, raced past 2016 Rookie of the Year Cory Reed and five-time world champ Andrew Hines before facing his teammate.
Racing in the NHRA Mello Yello Drag Racing Series season continues at Lucas Oil Raceway at Indianapolis for the 63rd annual Chevrolet Performance U.S. Nationals, the world's biggest drag race, Aug. 30-Sept. 4.
Sunday's final results from the 36th annual Lucas Oil NHRA Nationals at Brainerd International Raceway. The race is the 17th of 24 in the NHRA Mello Yello Drag Racing Series--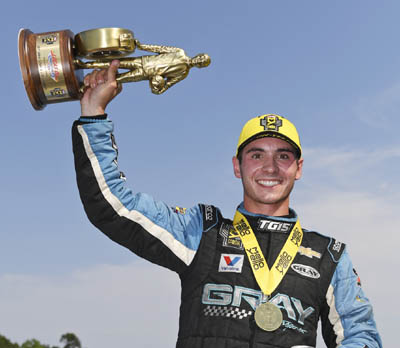 Tanner Gray celebrates his fourth win this season
Top Fuel -- Leah Pritchett, 3.682 seconds, 328.06 mph def. Antron Brown, 4.001 seconds, 246.35 mph.
Funny Car -- Alexis DeJoria, Toyota Camry, 3.906, 330.96 def. Tommy Johnson Jr., Dodge Charger, 3.933, 324.44.
Pro Stock -- Tanner Gray, Chevy Camaro, 6.610, 208.04 def. Bo Butner, Camaro, 6.629, 207.85.
Pro Stock Motorcycle -- Jerry Savoie, Suzuki, 6.846, 194.80 def. LE Tonglet, Suzuki, 6.910, 194.02.
Top Alcohol Dragster -- Justin Ashley, 5.237, 268.60 def. Gord Gingles, 12.344, 54.22.
Top Alcohol Funny Car -- Johan Lindberg, Chevy Monte Carlo, 5.489, 268.22 def. Kris Hool, Chevy Camaro, 5.575, 260.11.
Super Stock -- Eric Bell, Plymouth Barracuda, 9.301, 127.10 def. Darrell Dietz, Ford Mustang, Foul - Red Light.
Stock Eliminator -- Ben Line, Ford Mustang, 10.533, 118.45 def. Bill Feist, Mustang, 10.101, 131.28.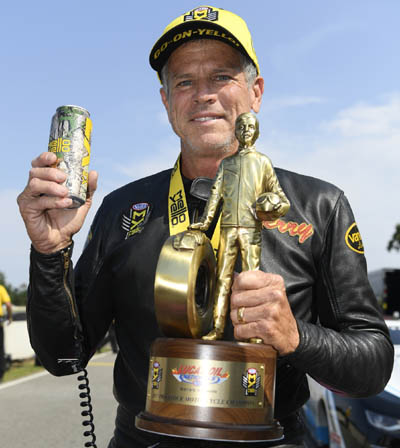 Jerry Savoie
Super Comp -- Trevor Larson, Dragster, 8.891, 172.63 def. Jeremy Demers, Dragster, 8.886, 177.23.
Super Gas -- Jim Davis, Chevy Camaro, 9.971, 157.83 def. Ken Griffiths, Chevy Corvette, 9.995, 148.58.
Top Dragster presented by RacingRVs.com -- Bob Fischer, Dragster, 7.403, 176.33 def. Michael Kritzky, Dragster, 6.411, 212.36.
Top Sportsman presented by RacingRVs.com -- Brian Heath, Pontiac GTO, 7.152, 185.41 def. Joseph Mohana, Chevy BelAir, 6.841, 202.58.
Pro Stock Snowmobile -- Glenn Hall, Arctic Cat, 8.186, 154.94 def. Scott Hagen, Ski Doo, 8.319, 155.29.




NHRA: 10 Most Recent Entries [ top ]

Mar 21- LAS VEGAS 1 - Fact Sheet
Mar 21- LAS VEGAS 1 - Event Preview
Mar 20- Strong Stable of Contending Pro Stock Racers Vie for Final Starting Position for K&N Horsepower Challenge
Mar 20- GAINESVILLE - Special Awards
Mar 20- GAINESVILLE - Lucas Oil Drag Racing Series Wrap Up
Mar 19- GAINESVILLE - Sunday Video
Mar 18- GAINESVILLE - Pro Mod Sunday Wrap Up
Mar 18- GAINESVILLE - Sunday Wrap Up
Mar 18- GAINESVILLE - Pro Mod Championship Points
Mar 18- GAINESVILLE - Bonus Points