Wed, 19 Jul 2017, 10:54 AM



Houmard and Blodgett win Super Street, Bradshaw and Boner take Pro Gas titles at Fontana



By Bob Johnson


Photo copyright 2017 Bob Johnson Photography





FONTANA, Calif. --
Kevin Houmard and Matt Blodgett overcame scorching hot temperatures at Auto Club Dragway to win the fifth and sixth races, respectively, of the 2017 Southern California Super Street Assoc., season. They were both first time winners this year in the 10.90 index class.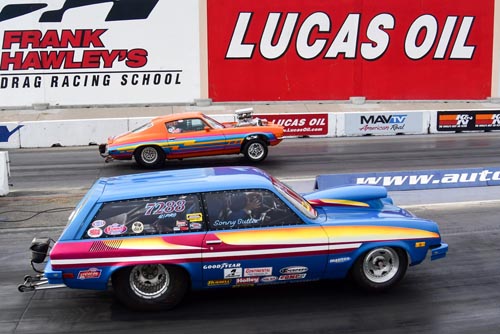 Houmard (far lane) defeated Butler
Dice Converters and RaceTrans.com sponsored the Saturday race. Semifinals began with Houmard running a 10.916 as John Castro broke-out, and David Butler advanced when Kevin McClelland broke-out by .003. Houmard's Sanders Automotive-sponsored Camaro had a .007 better reaction time in the final round against Butler, and took the win at 10.929, 124.78 to a second best of 10.974, 116.69.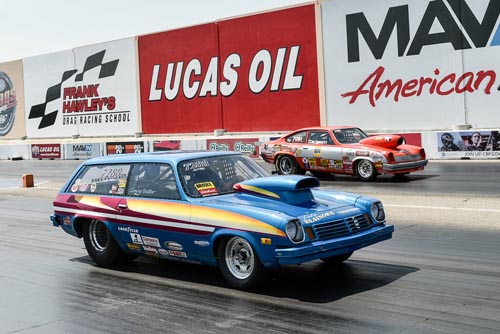 Blodgett (far lane) defeated Butler
David Butler and Matt Blodgett went to the final round of the RPM Racing-sponsored Sunday race. Matt Blodgett won his semifinal match with McClelland as the K&N Malibu broke-out, and Butler went to his third final of the year as he defeated Gary Smith. Blodgett's reaction time in the final was near-perfect, .001, and it was the difference as he beat Butler 10.952, 127.82 to a losing 10.921, 125.53.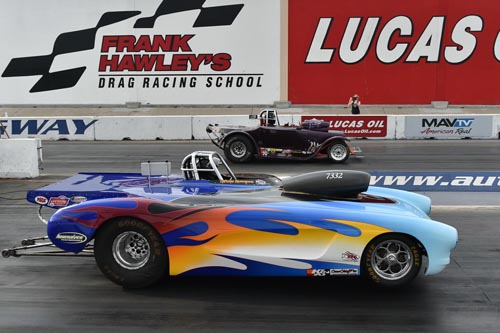 Bradshaw (far lane) defeated Fenton
The Pro Gas series had two new winners on the season, with Larry Bradshaw and Mike Boner winning for the first time in 2017. Semifinals of the first race of the weekend paired Bradshaw and reigning champion Vince Campa with Bradshaw getting the win via a .001 light and Campa's break-out. Mark Fenton went to his first final of the season when he stopped Mike Wiblishouser. In the final, Bradshaw ran a 9.916, 151.07 to Fenton's losing 9.944, 141.59. B&B Electric, Cordeiro Motorsports, and Riverside Transmission sponsored the event.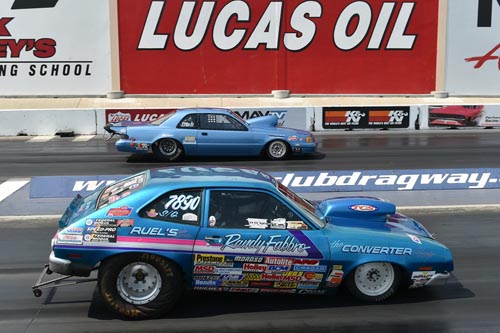 Boner (far lane) defeated Fabbro
Michael Boner drove his '88 Ford Thunderbird to the winner's circle of the K&N Filters and Lucas Oil Products sponsored sixth race of the season, defeating Randy Fabbro in the final round. Fabbro won the opening race of the semifinals with a 9.903 time, defeating Napa racer Bob Hefley. Boner advanced to the final when Mark Fenton drew a -.006 red-light. In the final Fabbro broke-out by ..032, sending Boner to the winner's circle.
The next race on the SoCal Super Street/Pro Gas schedule will be the series final two events, August 12-13 at Auto Club Dragway.




Drag News: 10 Most Recent Entries [ top ]

Jun 22- Riesterer Rules Texas Motorplex in O'Reilly Auto Parts Outlaw Pro Mod Race
Jun 18- BOWLING GREEN HRR - 348/409 Round 1 Eliminations
Jun 17- BOWLING GREEN HRR - Nostalgia Funny Car Final, Round 3 Eliminations
Jun 17- BOWLING GREEN HRR - Nostalgia Top Fuel Final, Round 3 Eliminations
Jun 17- BOWLING GREEN HRR - Nostalgia Pro Stock Final, Round 2 Eliminations
Jun 17- BOWLING GREEN HRR - AA/Fuel Altered Final, Round 2 Eliminations
Jun 17- BOWLING GREEN HRR - Nostalgia Top Fuel Round 2 Eliminations
Jun 17- BOWLING GREEN HRR - Nostalgia Funny Car Round 2 Eliminations
Jun 17- BOWLING GREEN HRR - 348/409 Final, Round 4 Eliminations
Jun 17- BOWLING GREEN HRR - Gas Final, Round 6 Eliminations