Wed, 12 Jul 2017, 15:10 PM



Bobby Cottrell Takes UNFC Seattle Invitational



Courtesy of Darr Hawthorne



KENT, Wash. --
United Nitro Funny Cars held the second of their Northwest Invitationals over the weekend with nitro funny car rookie Bobby Cottrell taking the trophy and handing the winner's purse over to "Northwest Hitter" Camaro owners Bucky Austin and Mike O'Brien.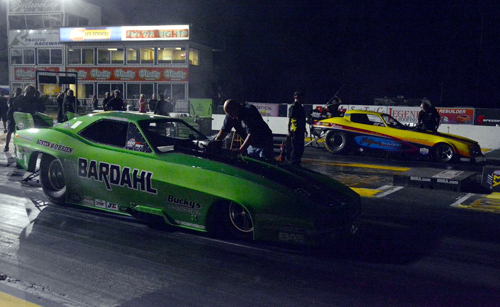 Bobby Cottrell defeated Mike Peck
Photo by Dyan Lover
After a huge top-end fire in the first qualifier, Cottrell and the team pulled out a fresh engine to qualify second at 5.694 at 257.38 miles per hour, behind "Mr. Explosive" Mark Sanders' 5.677 at 224.81 mph. The all 5-second field was rounded out by Chris Davis in the "Old School Nitro" Arrow with a stout 5.875 ET at 238.85 mph.
Bobby Cottrell Takes UNFC Seattle Invitational On the way to the late Saturday night final, Cottrell twice reset the Pacific Raceways' track record (5.658 and 5.641), then lined up against former 7.0 Pro rival Mike Peck driving Don Nelson's "California Hustler" Firebird, tuned by Ronnie Swearingen.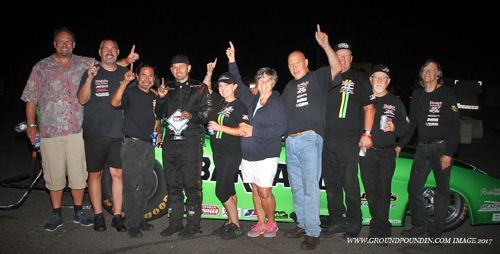 Bobby Cottrell and crew celebrate win.
Photo by Frank L. Smith
At the green, Cottrell left first with fellow funny car rookie Peck right behind, both cars shook the tires before mid-track and both drivers pedaled on and off the throttle while Cottrell crossed the finish line first, running a 6.350 ET at 235.89 mph to Peck's trailing 8.018 at 124.82 mph.
Four weeks ago in Spokane, Danny Gerber's "Wasn't Easy" Firebird took the UNFC cash in a tough 8-car field. After the success of these two Invitationals, the United Nitro Funny Cars is expecting to expand their schedule for the 2018 season farther into the Southwest and possibly Texas.




Drag News: 10 Most Recent Entries [ top ]

Jun 22- Riesterer Rules Texas Motorplex in O'Reilly Auto Parts Outlaw Pro Mod Race
Jun 18- BOWLING GREEN HRR - 348/409 Round 1 Eliminations
Jun 17- BOWLING GREEN HRR - Nostalgia Funny Car Final, Round 3 Eliminations
Jun 17- BOWLING GREEN HRR - Nostalgia Top Fuel Final, Round 3 Eliminations
Jun 17- BOWLING GREEN HRR - Nostalgia Pro Stock Final, Round 2 Eliminations
Jun 17- BOWLING GREEN HRR - AA/Fuel Altered Final, Round 2 Eliminations
Jun 17- BOWLING GREEN HRR - Nostalgia Top Fuel Round 2 Eliminations
Jun 17- BOWLING GREEN HRR - Nostalgia Funny Car Round 2 Eliminations
Jun 17- BOWLING GREEN HRR - 348/409 Final, Round 4 Eliminations
Jun 17- BOWLING GREEN HRR - Gas Final, Round 6 Eliminations