Tue, 11 Jul 2017, 19:12 PM



BTE World Footbrake Challenge Saturday Results



Courtesy of John DiBartolomeo



BRISTOL, Tenn. --
Well over 300 cars have made elimination runs so far at the BTE World Footbrake Challenge presented by Yukon Gear & Axle and today's schedule called for another big dollar race with $20,000 going to the winner. Tonight, the Racer Appreciation Dinner took place thanks to Mountain Road Transmission and SparkPlugIndex.com. As is always the case, if you were on the property, you were invited for a great meal.
After seven and a half hours of eliminations, the seven remaining racers going into the ladder round are Josh Epperson, Dustin Mack, Rick Bear, Nick Hastings, Ernie Humes, Chad Dotson and Jake Howard. In that round, Howard took out Mack, Bauer over former WFC winner Epperson, "Nasty Nick" Hastings defeated Humes and Dotson took the odd car bye run.
Chad Dotson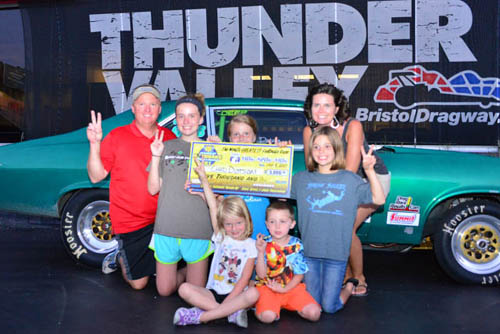 $20K Runner Up
In the semifinals, first up was Hastings and Howard with Howard turning on the red-light to move former WFC runner-up Hastings into his second WFC final. For the other half, Dotson, who has won his share of big events himself, left with a .030 reaction time advantage over Bauer and turned it into a win. Ohio and North Carolina respectively to battle it out to see who gets to bring the $20K check back home.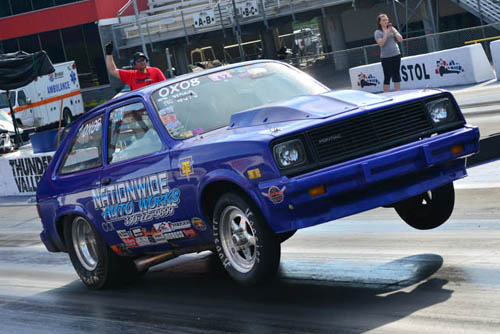 "Nasty Nick" Hastings
$20K Winner
After telepathic reaction times all day for footbrake drivers, both might have said to themselves, "Don't go red, don't go red." Dotson left first based on his dial-in with an .033 light while Hastings was even worse with an.051. But at the finish line, it was Hastings showing why he's nicknamed "Nasty Nick," because he backed off and let Dotson take the stripe, running out in the process to send the $20K back home to Ohio with Hastings.
"The amazing talent that's here at this race and come out like this is a blessing," said Hastings. "And to do it with my whole family here is a dream come true."




Drag News: 10 Most Recent Entries [ top ]

Apr 26- Nate Van Wagnen Named Drag Illustrated Editor-In-Chief
Apr 24- NHRA Heritage Series Heads To Wild Horse Pass
Apr 22- K&N Spring Fling Million Final Day Results
Apr 21- K&N Spring Fling Million Friday Results
Apr 20- K&N Spring Fling Million– Thursday Results
Apr 19- K&N Spring Fling Million- Wednesday Results
Apr 18- Buckeye S/SS @ National Trail April 28th
Apr 18- Don "the Snake" Prudhomme Returns To Baja Competition After 50 Years
Apr 18- K&N Spring Fling Million Tuesday Results
Apr 17- K&N Spring Fling Million Pre-Race