Mon, 10 Jul 2017, 16:42 PM



Fletcher Wins 100th NHRA National Event



Courtesy of NHRA Field Marketing


Photo copyright 2017 Auto Imagery, Inc.





JOLIET, Ill. --
Many special moments were made this past weekend at Route 66 Raceway. Dan Fletcher and team celebrated in winner's circle as Fletcher took home his 100th national event win. Mark McDonald took home national event wally trophies from both the Lucas Oil Drag Racing Series and the JEGS ALLStars championship event.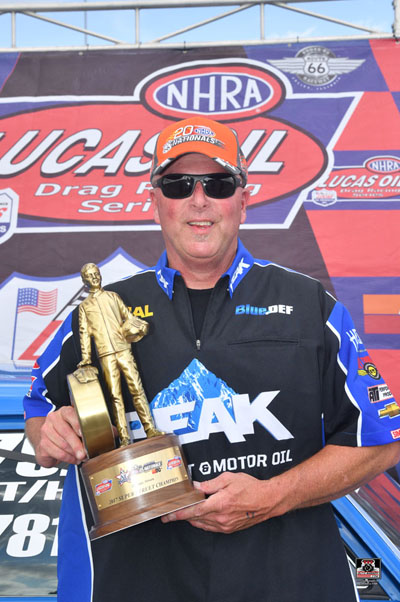 Dan Fletcher celebrates 100th National event win
Fletcher racing out of Churchville, N.Y. squared off against west coast rival Greg Ventura from Corona, Calif., in the Super Street final round. Ventura was a few ticks too quick on the tree and turned on the red light to giving Fletcher his 100th National event Wally. The New York driver recorded his victory lap at 11.681 seconds, 94.65 mph. He is only the third driver in NHRA history to win 100 National events, joining John Force (148) and Frank Manzo (105).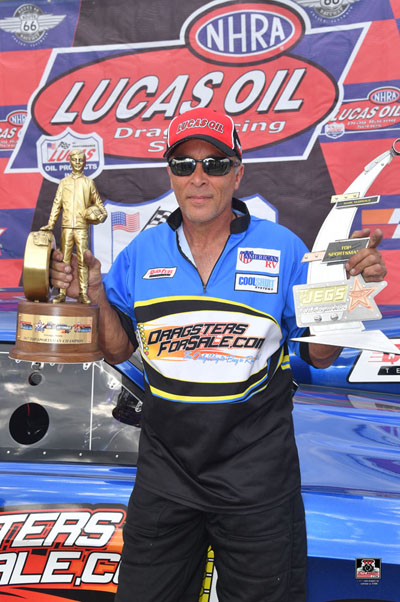 Mark McDonald doubled up winning his first
National event following his AllStar win Saturday.
Mark McDonald, Boonville, Ind., captured his first national event win, downing Todd Ewing, Vinemont, Ala., in the Top Sportsman Presented by Racing RV's final round. McDonald took the starting line advantage and out ran Ewing, coming in at 6.677 seconds, 195.79 mph. Ewing runner upped at 6.833 seconds, 192.66 mph. McDonald also captured the Top Sportsman crown in JEGS Allstars final round; outlasting J.J. Heber of Centennial, Colo., on Saturday.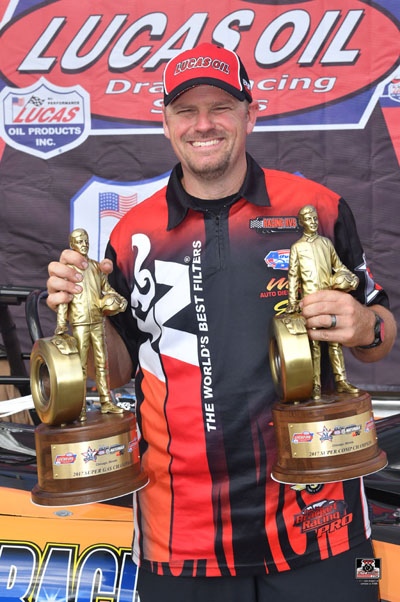 Luke Bogacki doubled up winning Super Comp and Super Gas
McDonald was not the only driver to double up this weekend. Local Illinois racer Luke Bogacki of Carterville took home the Super Comp and Super Gas crowns. Bogacki (8.909 seconds, 169.32 mph) edged out fellow Illinois driver and 2016 Lucas Oil Super Comp champ Nick Folk (8.918 seconds, 168.81 mph) in the final round. In the Super Gas final round, Bogacki hit a perfect light 0.000, 9.930 seconds 149.10 mph and cruised to victory, upending Mike Sawyer, Leominister, Mass. Folk did take home the Super Comp championship in the JEGS Allstars national event.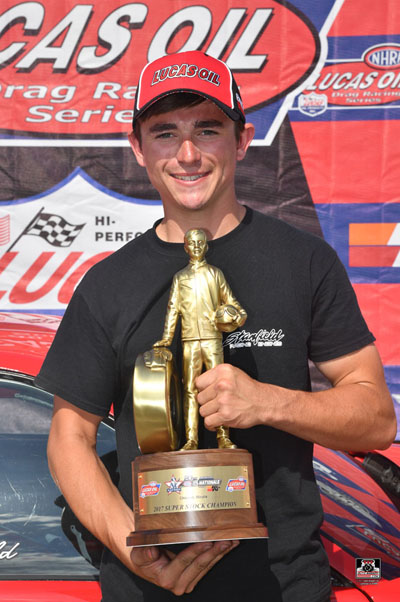 Aaron Stanfield defeated his father
Greg for his third National event win.
Father and son battled in the final round of Super Stock, as Greg and Aaron Stanfield, Bossier City, La., met at the starting line. Aaron took the starting line advantage and never gave his dad the chance to get back into the race. Aaron recorded his victory lap at 9.909 seconds, 128.74 mph, Greg 9.059 seconds, 141.56 mph. Aaron also bested his father at the Thunder Valley Nationals last month.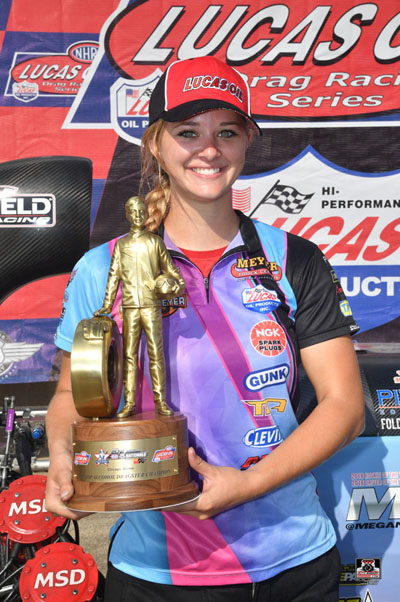 Megan Meyer won her second National event title.
Megan Meyer of Olathe, Kan., defeated 2016 Lucas Oil Top Alcohol Dragster champion Joey Severance, Woodburn, Ore., for the first time in her career in the final round of TAD. Meyer took the lead and never gave Joey a chance, who had technical issues midway through race. Meyer finished at 5.427 seconds, 263.46 mph, Severance 5.798 seconds, 181.96 mph.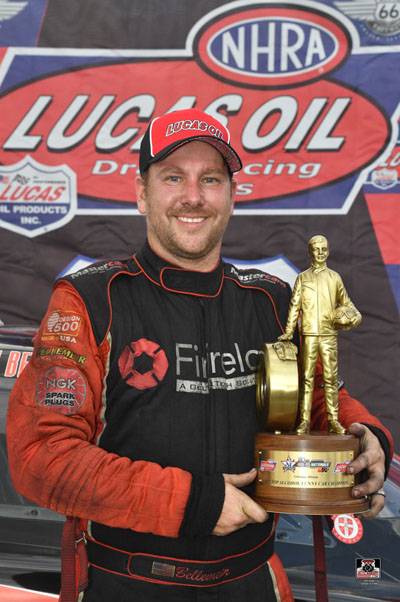 Sean Bellemeur celebrates his third National event win.
In a battle for Southern California bragging rights in Top Alcohol Funny Car, Sean Bellemeur, Placentia ran 5.528 seconds, 266.90 mph to defeat Shane Westerfield, Anaheim 6.095 seconds, 239.44 mph in the final round.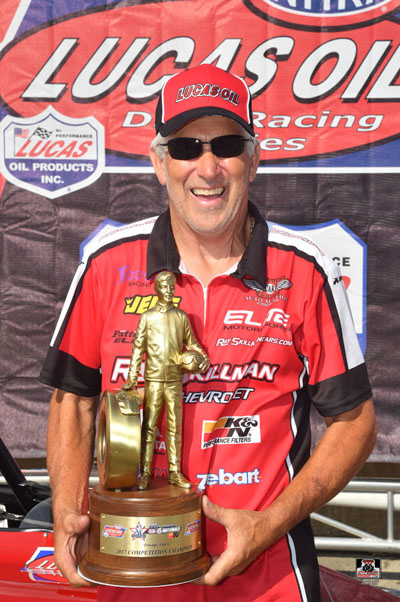 David Rampy celebrates his 95th National event win.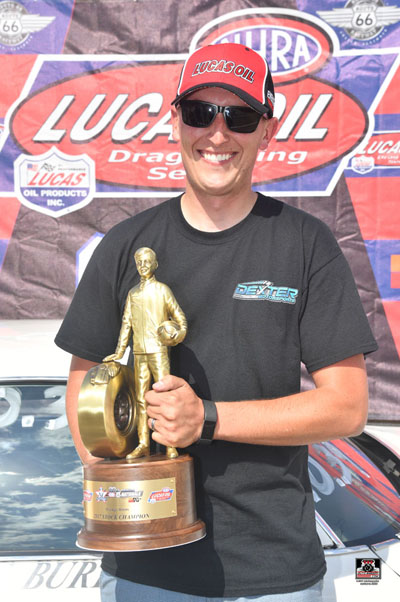 Brad Burton celebrated eight National event win.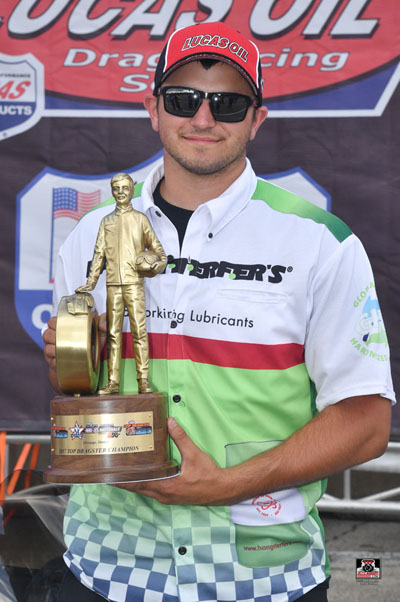 Zach Sackman celebrates his first National event win.
The other drivers visiting the winner's circle were David Rampy in Comp Eliminator; Brad Burton in Stock; and Zach Sackman in Top Dragster.
The following are Sunday's final results from the NHRA Lucas Oil Drag Racing Series, North Central event at Route 66 Raceway in Joilet:
Top Alcohol Dragster
Megan Meyer, 5.427, 263.46 def. Joey Severance, 5.798, 181.96.
Top Alcohol Funny Car
Sean Bellemeur, Chevy Camaro, 5.528, 266.90 def. Shane Westerfield, Camaro, 6.095, 239.44.
Competition Eliminator
David Rampy, Roadster, 7.741, 130.12 def. Brian Hyerstay, Dragster, Foul - Red Light.
Super Stock
Aaron Stanfield, Chevy Camaro, 9.809, 128.74 def. Greg Stanfield, Camaro, 9.059, 141.56.
Stock Eliminator
Brad Burton, Pontiac Firebird, 10.412, 119.87 def. Justin Picillo, Dodge Challenger, 10.010, 126.93.
Super Comp
Luke Bogacki, Dragster, 8.909, 169.32 def. Nick Folk, Dragster, 8.918, 168.81.
Super Gas
Luke Bogacki, Chevy Corvette, 9.930, 149.10 def. Mike Sawyer, Chevy Cavalier, 9.890, 163.06.
Super Street
Dan Fletcher, Chevy Nova, 11.681, 94.65 def. Greg Ventura, Nova, Foul - Red Light.
Top Sportsman presented by RacingRVs.com
Mark McDonald, Ford Mustang, 6.677, 195.79 def. Todd Ewing, Chevy Camaro, 6.833, 192.66.
Top Dragster presented by RacingRVs.com
Zach Sackman, Dragster, 6.206, 189.20 def. Shanna Snyder, Dragster, 6.262, 231.36.




NHRA: 10 Most Recent Entries [ top ]

Apr 24- CHARLOTTE 1 - Steve Torrence Enjoying Four-Wide Success Heading to NGK Spark Plugs NHRA Four-Wide Nationals
Apr 24- CHARLOTTE 1 - Fact Sheet
Apr 24- Kalitta Motorsports Welcomes NASCAR Stars to the SealMaster Track Walk in Charlotte
Apr 24- zMAX Dragway Celebrates 10th Anniversary
Apr 24- CHARLOTTE 1 - NGK Spark Plugs NHRA Four-Wide Nationals Brings 40,000 Horsepower Thrill Show to zMAX Dragway
Apr 23- HOUSTON - Lucas Oil Drag Racing Series Wrap Up The NHRA Lucas Oil Drag Racing Series Wrap Up
Apr 23- CHARLOTTE 1 - J.R. Todd Aiming for Two Four-Wide Racing Wins in 2018
Apr 23- Mid America Dragway Joins NHRA Member Track Network
Apr 23- HOUSTON - Special Awards
Apr 23- HOUSTON - Sunday Video