Sat, 01 Jul 2017, 14:48 PM



Gaymon, Szewczyk Jr., Kalinowski, Salemi & Raiser Take Ladies Night Wins At Lancaster



Courtesy of Dave Buchanan



Hayek & Lama Wins Ladies Classes



LANCASTER, N.Y. --
Lancaster National Dragway hosted Ladies Night for the Franco's Pizza IHRA Drag Racing program on Friday night. On top of a full card of racing there were special Pro and Amateur classes for female racers.
Zell Gaymon
An additional highlight was a special match race between Melanie Salemi's "Purple Reign" Pro Modified and the Top Dragster of Kathy Fisher. The doorslammer got the better of the dragster as Salemi posted a winning elapsed time of 4.513 seconds at 125.77 mph.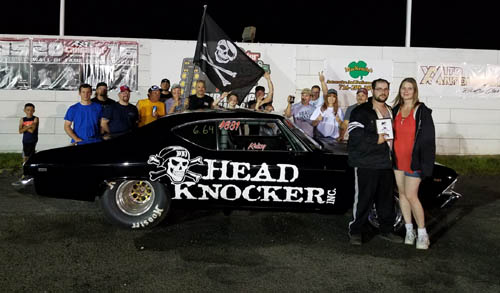 Rick Szewczyk Jr.
In Mallare Enterprises Top ET, Rick Szewczyk, Jr. of Buffalo posted his first career win. Szewczyk got the win light after Zell Gaymon left the starting line too soon. It was the second final round of the night for Gaymon, who picked up the win in Top 8. Gaymon defeated Mike Nowak in Top 8 final after Nowak broke out.
Jim Kalinowski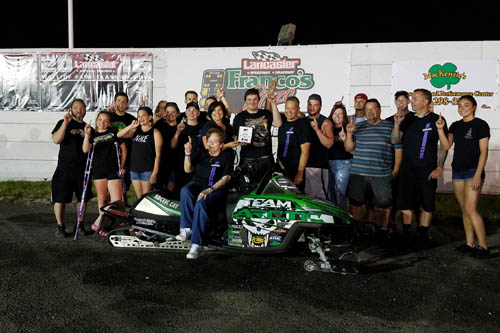 Lucas Salemi
Jim Kalinowski took top honors in Mod ET over Roger Kieffer. Kalinowski took advantage of nearly a half second head start on the starting tree to hold off Kieffer at top end. Lucas Salemi of Clarence Center, N.Y. picked up his second win of the season in Hebeler's Sales Bikes & Sleds. Salemi faced Pete Marston in nearly a heads up final round. He made up the .003 disadvantage on the starting tree to edge out Marston at top end.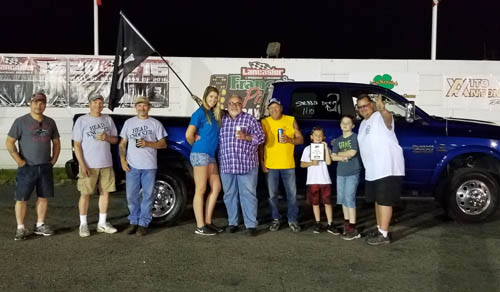 DJ Raiser Street
In Tread City Tire Street ET, DJ Raiser of Lancaster scored his second win of the season after his opponent, Joe Busch, broke out in the finals.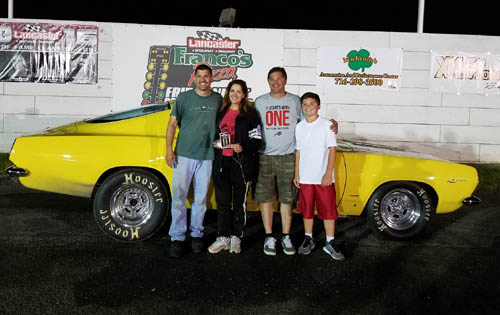 Sharon Hayek
Rachel Lama
Sharon Hayek of Lockport, N.Y. won the Pro Ladies class for female drivers that are current competitors. Hayek defeated last week's Street winner, Meg Grzekiewicz, in the finals. Rachel Lama of Amherst, N.Y. won the Amateur Ladies class.
 
RESULTS (Driver, hometown, vehicle, reaction time, dial-in, elapsed time and top speed)
Top 8 ET
Winner: Zell Gaymon (Buffalo, N.Y.) 1994 Chevrolet Lumina .530 5.55 5.564 seconds, 123.39 mph
Runner-up: Mike Nowak (Lancaster, N.Y.) 1967 Chevrolet Camaro .551 5.06 5.058 seconds, 137.72 mph

Mallare Enterprises Top ET
Winner: Rick Szewczyk, Jr. (Buffalo, N.Y.) 1969 Chevrolet Chevelle .504 6.668 seconds, 100.67 mph
Runner-up: Zell Gaymon (Buffalo, N.Y.) 1994 Chevrolet Lumina .493 FOUL

McGard Mod ET
Winner: Jim Kalinowski .580 7.53 7.543 seconds, 90.77 mph
Runner-up: Roger Kieffer (Clarence, N.Y.) .513 6.99 7.078 seconds, 89.82 mph

Hebeler's Sales Bikes & Sleds
Winner: Lucas Salemi (Clarence Center, N.Y.) Arctic Cat .527 6.48 6.515 seconds, 101.09 mph
Runner-up: Pete Marston (Grand Island, N.Y.) 2002 ZR .526 6.51 6.577 seconds, 98.21 mph

Tread City Tire Street ET
Winner: DJ Raiser (Lancaster, N.Y.) 1984 Dodge .625 11.10 11.248 seconds, 51.54 mph
Runner-up: Joe Busch 1966 Plymouth Fury III .771 9.60 9.581 seconds, 71.84 mph

Ladies Pro
Winner: Sharon Hayek (Lockport, N.Y.) 1967 Plymouth Barracuda .505 7.98 8.018 seconds, 84.08 mph
Runner-up: Meg Grzekiewicz (Colden, N.Y.) 1984 GMC .536 11.02 11.066 seconds, 62.91 moh

Ladies Amateur
Winner: Rachel Lama (Amherst, N.Y.) 1998 Dodge Dakota .540 10.25 10.347 seconds, 61.47 mph
Runner-up: Jay Grimes-Davis (Cheektowaga, N.Y.) 1984 Chevrolet Monte Carlo .677 7.58 7.966 seconds,
86.00 mph





Drag News: 10 Most Recent Entries [ top ]

Jun 22- Riesterer Rules Texas Motorplex in O'Reilly Auto Parts Outlaw Pro Mod Race
Jun 18- BOWLING GREEN HRR - 348/409 Round 1 Eliminations
Jun 17- BOWLING GREEN HRR - Nostalgia Funny Car Final, Round 3 Eliminations
Jun 17- BOWLING GREEN HRR - Nostalgia Top Fuel Final, Round 3 Eliminations
Jun 17- BOWLING GREEN HRR - Nostalgia Pro Stock Final, Round 2 Eliminations
Jun 17- BOWLING GREEN HRR - AA/Fuel Altered Final, Round 2 Eliminations
Jun 17- BOWLING GREEN HRR - Nostalgia Top Fuel Round 2 Eliminations
Jun 17- BOWLING GREEN HRR - Nostalgia Funny Car Round 2 Eliminations
Jun 17- BOWLING GREEN HRR - 348/409 Final, Round 4 Eliminations
Jun 17- BOWLING GREEN HRR - Gas Final, Round 6 Eliminations