Sat, 01 Jul 2017, 13:52 PM



Meziere Dominates Pro Gas, McClelland and Murphy Win Super Street at Fontana



Courtesy of Bob Johnson


Photo copyright 2017 Bob Johnson Photography





FONTANA, Calif. --
Dave Meziere has had a remarkable start to the 2017 Southern California Pro Gas season, winning three of the four races contested, with just four events remaining. He has a 15-1 win-loss ratio with his only loss coming in the first round of the second race of the year.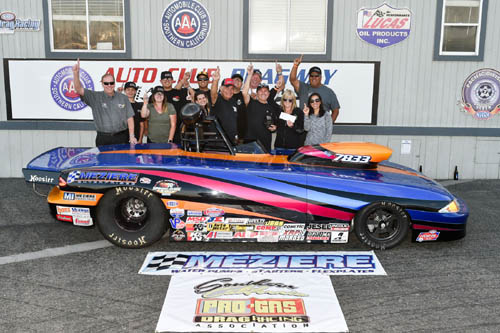 Dave Meziere and crew celebrate win.
In the opening race of the weekend, Meziere picked up his first win of the weekend when John Ross red-lighted by .001 seconds. Travis Balough and Paul Wiechmann were semifinalists. Meziere Enterprises was the event sponsor. Meziere continued his winning ways on Sunday, as he won the K&N Filters/Lucas Oil Products-sponsored race when Kevin McClelland red-lighted by .008 in the final. McClelland defeated Steve Parsons in the semi, while Meziere got a bye into the final.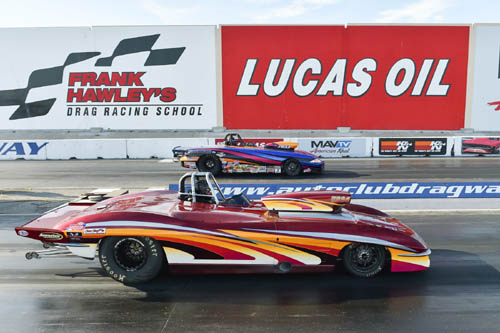 Pro Gas Final
Dave Meziere defeated John Ross
Daniel McClelland and Fred Murphy each visited the Southern California Super Street Association winner's circle at the Mountain View Performance-sponsored double-header at Auto Club Dragway.
Qualifying for Saturday's race-the third of the season-was led by reigning NHRA Pacific Division champion and current Super Street Jegs Allstar qualifier Greg Ventura, with Ryan Willoughby second, Daniel McClelland third and Dennis Blehm fourth.
Quarterfinal racing began with Kevin Houmard driving his blown Camaro to a win over Craig Whelen, McClelland beat Matt Blodgett, and Ventura got a bye. In the semifinals, McClelland used a .017 light and perfect 10.900 to stop Ventura's Nova. Houmard's Sander's Automotive-backed machine wheeled to the final on a 10.908 bye run.
A .035 better reaction time by McClelland put his '80 Malibu into the Mountain View Performance winner's circle with a 10.906, 126.28 mph pass, as Houmard broke-out by .002 seconds.
The second day of racing began with defending series champion Mike Blodgett Sr., nailing down the number one qualifying position, followed by Fred Murphy, Bob Johnson, and Ryan Houmard.
Matt Blodgett opened the third round with a double-breakout win over Ryan Willoughby-after Willoughby cut a perfect .000 light-and Ryan Houmard ran 10.907 to beat Blodgett Sr. Murphy got a bye run into the semi. Murphy and Houmard cut nearly identical reaction times in their semifinal match--.022 for Murphy and .021 for Houmard-with Murphy getting the double-breakout win at 10.873 to a 10.872.
It was Fred Murphy's day in the final, as he put up a .005 package--.000 reaction time and 10.905-for the Mountain View Performance win, as Blodgett settled for the runner-up spot with a 10.924, 131.18.
The Pro Gas/Super Street series continues July 8-9 at Auto Club Dragway.




Drag News: 10 Most Recent Entries [ top ]

Jun 18- BOWLING GREEN HRR - 348/409 Round 1 Eliminations
Jun 17- BOWLING GREEN HRR - Nostalgia Funny Car Final, Round 3 Eliminations
Jun 17- BOWLING GREEN HRR - Nostalgia Top Fuel Final, Round 3 Eliminations
Jun 17- BOWLING GREEN HRR - Nostalgia Pro Stock Final, Round 2 Eliminations
Jun 17- BOWLING GREEN HRR - AA/Fuel Altered Final, Round 2 Eliminations
Jun 17- BOWLING GREEN HRR - Nostalgia Top Fuel Round 2 Eliminations
Jun 17- BOWLING GREEN HRR - Nostalgia Funny Car Round 2 Eliminations
Jun 17- BOWLING GREEN HRR - 348/409 Final, Round 4 Eliminations
Jun 17- BOWLING GREEN HRR - Gas Final, Round 6 Eliminations
Jun 17- BOWLING GREEN HRR - Top Stock Eliminator Final, Round 4 Eliminations