Mon, 15 May 2017, 14:51 PM



Pinoski Captures Stock/Super Stock Title at Sacramento National Open



By Bob Johnson


Photo copyright 2017 Bob Johnson Photography





SACRAMENTO, Calif. --
Cool, dry weather made for record-setting performances in the Stock/Super Stock classes at the annual NHRA National Open at Sacramento Raceway Park. NHRA national records were set by Steve Wann (A/SA), Jerry Mendes (SS/EA), and Steve Valkanoff (R/SA). Rich Pinoski of Placerville, Calif., drove his '67 Chevy Nova to a final round win over Larry Gilley's '69 Dodge Dart for the class title. Jerry Stein and Nanette Stein were semifinalists.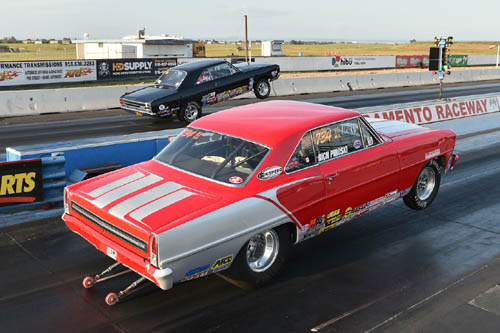 Rich Pinoski defeated Larry Gilley
Shawn Steele of Tracy, Calif., was the winner of Top Comp (Top Dragster/Top Sportsman) when he drove his dragster to a final round win over the Top Sportsman Pontiac of Ted Kellner of San Jose, Calif. Top qualifier Melissa Fedrick lost in the semifinal to Steele.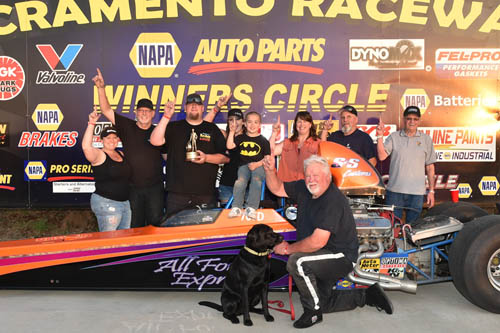 Shawn Steele celebrates win.
Charlie Waggoner defeated Greg Taylor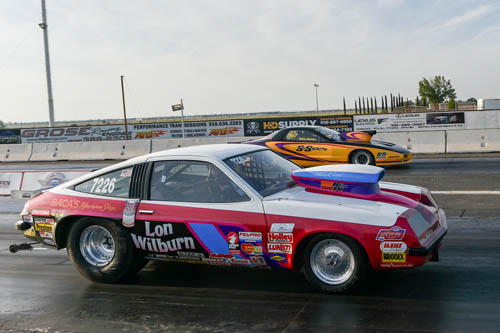 Lon Wilburn defeated Shawn Steele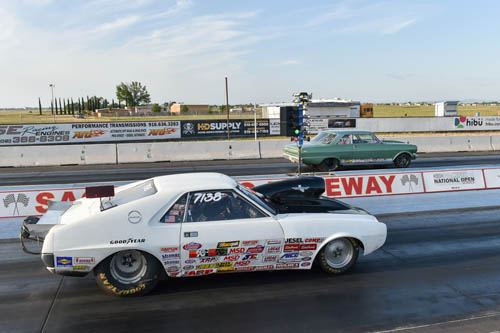 Joe Greco defeated Steve Wellman
Charlie Waggoner of Los Angeles won the Super Comp title for the second time at Sacramento, also winning in 2013, as he beat Greg Taylor in the final round. Nick Saetes lost to Taylor in the semifinals. Lon Wilburn of San Bruno drove his '76 Monza to the winner's circle in Super Gas for the second straight year, beating Shawn Steele in the final. Marko Perivolaris and Jim Finn were semifinalists. In Super Street, Joe Greco added another Sacramento National Open "Wally" to his collection when he beat Steve Wellman in the final round. David Butler and Eric Reyes were semifinalists.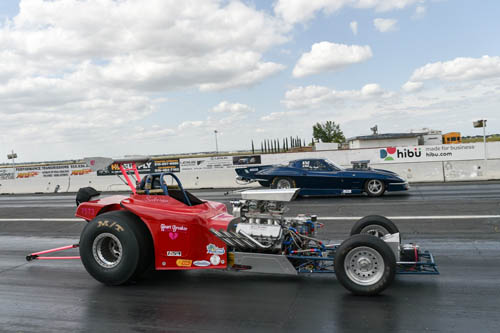 Sabrina Capps defeated Ray Padgett in A/Gas
Sabrina Capps won the A/Gas class eliminator for the second consecutive year, this time beating Ray Padgett's '63 Corvette in the final round. Both drivers recorded identical 7.628 times, with the win going to Capps via her .011 reaction time. Other race Gas class results included Lee Roberts over Chris Borges (B/Gas), Chris Rea defeated Mike Gillespie (C/Gas), Dave Sullivan got by Sal DeRenzi (D/Gas), and Dennis Paz beat Jamie Harrison (E/Gas).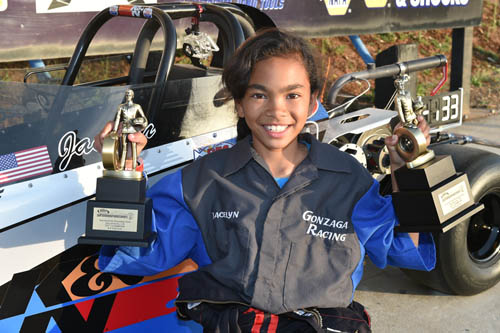 Jacelyn Gonzaga doubled up
Highlights of the Junior Drag Racing League action included Jacelyn Gonzaga winning both days of the doubleheader event. The Porter Ranch, Calif., racer beat Reese Poe in the Saturday night 6-9-year old final, and stopped Jake Hodges in the final on Sunday. Hannah Cook of Novato, Calif., also went to two finals, stopping Las Vegas racer Brianna Wiens for the 15-17-year old class win on Sunday, but lost to Cade Poe in the Saturday night final.
Other Saturday night JDRL finals included: Morgan Clinton defeated Cy Mitchell, 10-12-year old; Taylor Taylor defeated Mav Molloy, 13-14-year old; and AJ Thomas defeated Dylan Oliveira, Junior Comp. Sunday finalists included Drake Padgett defeating Jessica Boardman, 10-12-year old; Braiden Chesleigh stopped DeAndre Fitzgerald, 13-14- year old; and Damon Bustamante defeated Dylan Oliveira, Jr Comp.
Bracket racing results included wins by Justin Morgan (Super Pro), Jeff LaSalle (Pro ET), Bobby Grabrian (Sportsman ET), and Mia Nasca (Motorcycle ET).




Drag News: 10 Most Recent Entries [ top ]

Apr 20- K&N Spring Fling Million– Thursday Results
Apr 19- K&N Spring Fling Million- Wednesday Results
Apr 18- Buckeye S/SS @ National Trail April 28th
Apr 18- Don "the Snake" Prudhomme Returns To Baja Competition After 50 Years
Apr 18- K&N Spring Fling Million Tuesday Results
Apr 17- K&N Spring Fling Million Pre-Race
Apr 12- Summit Racing Equipment is Newest Sponsor of Midwest Junior Super Series
Apr 12- Summit Racing Named Official MWPMS Sponsor and Event Title Rights Holder
Apr 11- NMCA All-Star Nationals Chevrolet Performance Challenge Series Final Results
Apr 11- Dragstrip Memories Returns in Presenting Canada's Drag Racing History