Mon, 20 Mar 2017, 19:04 PM



Whiteley and Rampy Winners at Gatornationals



Courtesy of NHRA Field Marketing


Photo copyright 2017 Auto Imagery, Inc.





GAINESVILLE, Fla. --
Ann Marie Whiteley and David Rampy raced to victory at this weekend's NHRA Amalie Motor Oil Gatornationals at Gainesville Raceway. Whitely grabbed her fourth national event win in Top Alcohol Funny Car and Rampy added his 93rd national event win.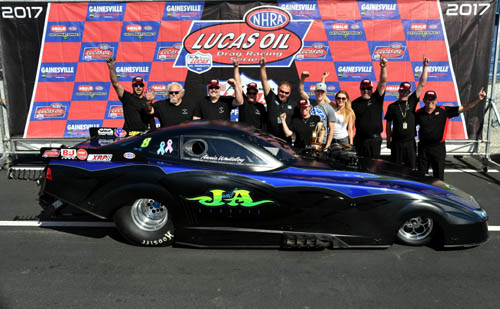 Annie Whiteley and crew celebrate her fourth National event win.
Whiteley, Grand Junction, Colo., ran 5.412 seconds, 273.22 mph to defeat Dan Pomponio, Berlin, N.J., who was unable to return to the starting line after breaking following the semifinal round. Whiteley ran the tenth quickest pass and ties John Lombardo for seventh fastest in the history of Top Alcohol Funny Car. The Colorado driver eliminated Bill Naves and Andy Bohl in rounds 1 and 2 before taking out Lombardo to advance to the final round.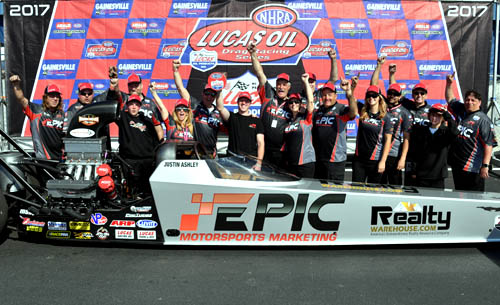 Justin Ashley Justin Ashley and crew celebrate his first National event win.
It was a back and forth final round as fans in attendance were treated to a competitive Top Alcohol Dragster finale between Justin Ashley, Plainview N.Y., and Rich McPhillips, Phonexville, Pa. McPhillips started strong out of the gate, but Ashley began to chase him down and pulled past McPhillips to win his first national event Wally. Ashley made a winning pass of 5.232 seconds, 275.96 mph over McPhillips runner-up pass at 5.258 seconds, 277.20 mph.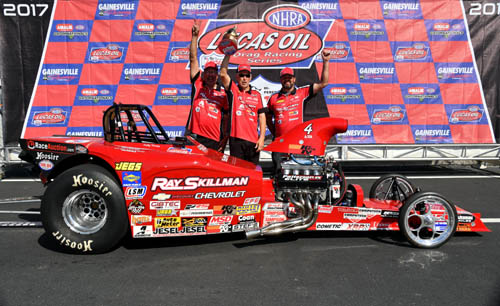 David Rampy and crew celebrate his 93rd National event win and 75 th in Comp.
Piedmont, Ala., racer David Rampy took the starting line against Wes Leopold, Bethel Park, Pa., in the final round of Comp Eliminator. Leopold took off too soon, fouling at the line. Rampy registered victory pass of 8.099, 118.68. The Alabama racer defeated Jenny Treadwell in semifinals to advance to the final round.
Jeffrey Barker and crew celebrate his fifth National event win.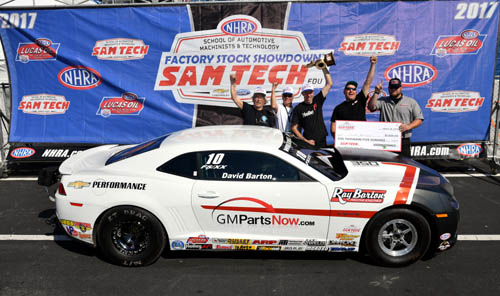 David Barton and crew celebrate his fourth Factory Stock Showdown win.
Jeffrey Barker, Kathleen, Ga., cruised to victory in the Top Sportsman Presented by Racing RVs.com final round. Barker ran 6.554, 211.59 defeating Casey Spradlin, Ranburne, Ala., who finished second at 6.789, 206.86. In the final of round of School of Automotive Machinists Factory Stock Showdown, David Barton, Robesonia, Pa., took the starting line advantage and held the lead and gaining the win. Barton registered his winning run at 8.131, 168.47. Chuck Watson, Gross Ille, Mich., runner-upped at 8.227, 167.76.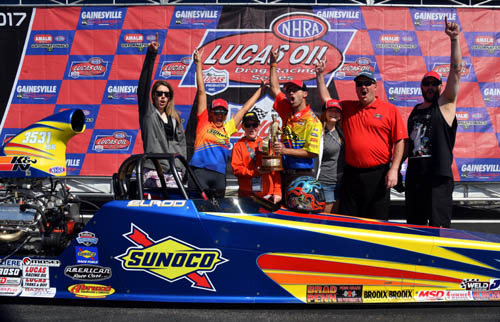 Jacob Elrod and crew celebrate his third National event win.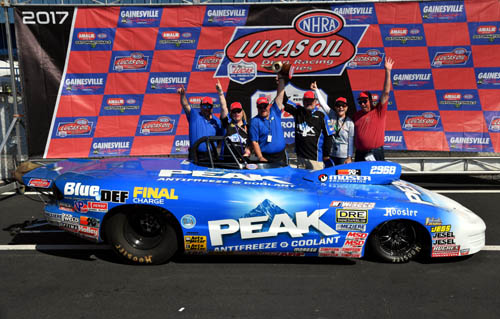 Sherman Adcock and crew celebrate his 12th National event win.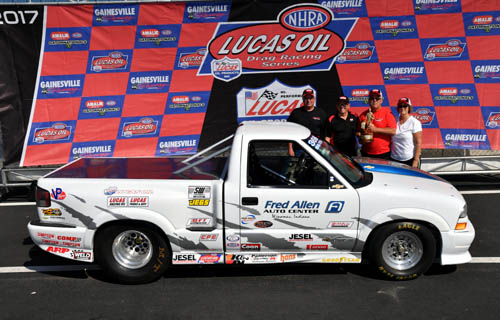 Fred Allen and crew celebrate his first National event win.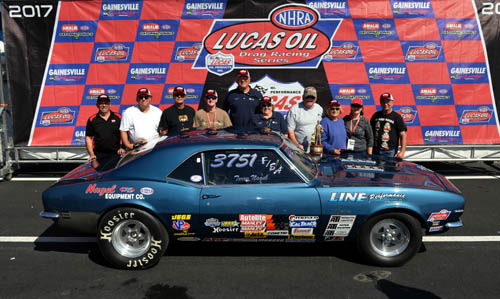 Terry Nagel and crew celebrate his first National event win.
The other drivers visiting the winner's circle were Jacob Elrod in Super Comp; Sherman Adcock in Super Gas; Fred Allen in Super Stock; and Terry Nagel in Stock Eliminator.
The following are the final results from the NHRA Amalie Motor Oil Gatornationals at Gainesville Raceway:
TOP ALCOHOL DRAGSTER
Justin Ashley, Plainview N.Y., 5.232 seconds, 275.96 def. Rich McPhillips, Phonexville, Pa., 5.258, 277.20
TOP ALCOHOL FUNNY CAR
Ann Marie Whiteley, Grand Junction, Colo., 5.412, 273.22 def. Dan Pomponio, Berlin, N.J., broke
COMP ELIMINATOR
David Rampy, Piedmont, Ala., 8.099, 118.68 def. Wes Leopold, Bethel Park, Pa., foul
SUPER STOCK
Fred Allen, Mary Esther, Dr., 9.295 112.21 def. Michael Volkman, Campobello, S.C., 10.172, 133.49
STOCK ELIMINATOR
Terry Nagel, Breckenridge, Mich., 11.067, 113.72 def. Richard Mace, Jackson, Fla., 11.989, 110.40
SUPER COMP

Jacob Elrod, Lima, Ohio 8.917, 179.42 def. Troy Williams, Daytona Beach, Fla., 8.931,174.23
SUPER GAS
Sherman Adcock, Fortson, Ga., 9.908, 155.24 def. David Tatum, Palmetto, Ga., 9.900, 166.42
TOP SPOTSTMAN PRSENTED BY RACING RVS.COM
Jeffrey Barker, Kathleen, Ga., 6.554, 211.59 def. Casey Spradlin, Ranburne, Ala., 6.789, 206.86
FACTORY STOCK SHOWDOWN
David Barton, Robesonia, Pa., 8.131, 168.47 def. Chuck Watson, Gross Ille, Mich., 8.227, 167.76




NHRA: 10 Most Recent Entries [ top ]

Mar 17- GAINESVILLE - Friday Pro Mod Wrap Up
Mar 17- GAINESVILLE - Saturday Schedule
Mar 17- GAINESVILLE - Friday Video
Mar 16- GAINESVILLE - Top Alcohol Funny Car Eliminations Ladder
Mar 16- GAINESVILLE - Top Alcohol Funny Car Final Qualifying, Session #2 Order
Mar 16- GAINESVILLE - Friday Wrap Up
Mar 16- GAINESVILLE - Competition Eliminator Eliminations Ladder
Mar 16- GAINESVILLE - Top Alcohol Funny Car Qualifying Notes, Final Session
Mar 16- GAINESVILLE - Competition Eliminator Final Qualifying, Session #2 Order
Mar 16- GAINESVILLE - Top Fuel Harley Qualifying, Session #2 Order