Sun, 19 Mar 2017, 18:52 PM



Whitely Wins Career First NHRA J&A Service Pro Mod Drag Racing Series Victory



Courtesy of NHRA Communications


Photo copyright 2017 Auto Imagery, Inc.





At Amalie Motor Oil NHRA Gatornationals



GAINESVILLE, Fla. --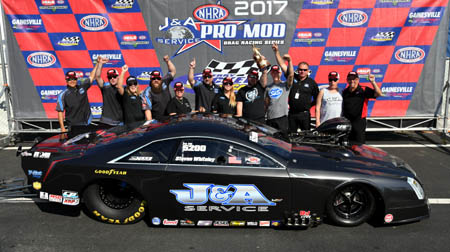 Steven Whitely abd crew celebrate win.
Steven Whitely raced to his first NHRA J&A Service Pro Mod Drag Racing Series event win at their portion of the Amalie Motor Oil NHRA Gatornationals Sunday at Gainesville Raceway. This weekend's Pro Mod racing was presented by Jerry Bickel Race Cars, Inc. and is the first of 12 races on the season.
Whitley in his '14 Cadillac faced series veteran Mike Castellana in the final round. Whitely was able to post a winning time of 5.791 seconds at 253.52 mph to the trailing run of 10.192 at 87.94 of Castellana.
The Whiteley family was able to celebrate the victory in style as his mother Annie won the Top Alcohol Funny Car event on Sunday as well.
"It doesn't get any better than this. It's such a blessing being in the winner's circle with my mom," Whitely said. "I can't express how thankful I am. Not only for J&A Service on a couple of accounts. They sponsor this series, but it's more intimate than that, at least for me. You know, J&A Service, that's Jim and Annie Whiteley, that's Mom and Dad. These guys don't understand how much more this hits me. I just let the clutch petal go. My guys make this happen. I cannot thank them enough."
Also during the course of the racing action Eric Latino recorded a national elapsed time record with his pass of 5.727 seconds in his losing run of semifinals.
The NHRA J&A Service Pro Mod Drag Racing Series returns April 28-30 at zMAX Dragway in Charlotte, N.C.
Final round-by-round results from the 48th annual Amalie Motor Oil NHRA Gatornationals at Gainesville Raceway. The race is the first of 12 events in the NHRA Pro Mod Drag Racing Series.
ROUND ONE -- Troy Coughlin, Chevy Corvette, 5.807, 252.24 def. Steve Matusek, Chevy Camaro, 5.825, 252.38; Kevin Rivenbark, Corvette, 5.857, 245.76 def. Khalid alBalooshi, Camaro, 5.837, 247.38; Danny Rowe, Corvette, 5.840, 246.57 def. Shannon Jenkins, Ford Mustang, 7.360, 135.88; Steven Whiteley, Cadillac CTS-V, 5.799, 252.19 def. Todd Tutterow, Camaro, 5.865, 247.16; Mike Janis, Camaro, 5.901, 247.16 def. Jim Whiteley, Chevy Chevelle, 5.903, 248.75; Michael Biehle, Mustang, 5.843, 253.90 def. Rickie Smith, Camaro, 7.948, 121.62; Mike Castellana, Camaro, 5.897, 249.72 def. Sidnei Frigo, Corvette, 5.786, 256.36; Eric Latino, Camaro, 5.779, 256.45 def. Steve Jackson, Camaro, 6.664, 146.30;
QUARTERFINALS -- Castellana, 5.850, 250.27 def. Rivenbark, 7.707, 124.45; Rowe, 5.877, 251.44 def. Biehle, 8.626, 110.00; S. Whiteley, 5.806, 251.30 def. Janis, Foul - Centerline; Coughlin, 5.758, 255.10 def. Latino, 5.727, 256.36;
SEMIFINALS -- Castellana, 15.718, 51.88 def. Rowe, Foul - Red Light; S. Whiteley, 5.826, 251.02 def. Coughlin, 6.213, 197.16;
FINAL -- S. Whiteley, 5.791, 253.52 def. Castellana, 10.192, 87.94.




NHRA: 10 Most Recent Entries [ top ]

Mar 22- LAS VEGAS 1 - Defending Funny Car Winner Tommy Johnson Jr. Excited for Four-Wide Racing
Mar 22- NHRA Northwest Nationals Tickets on Sale Now
Mar 21- LAS VEGAS 1 - Fact Sheet
Mar 21- LAS VEGAS 1 - Event Preview
Mar 20- Strong Stable of Contending Pro Stock Racers Vie for Final Starting Position for K&N Horsepower Challenge
Mar 20- GAINESVILLE - Special Awards
Mar 20- GAINESVILLE - Lucas Oil Drag Racing Series Wrap Up
Mar 19- GAINESVILLE - Sunday Video
Mar 18- GAINESVILLE - Pro Mod Sunday Wrap Up
Mar 18- GAINESVILLE - Sunday Wrap Up