Sun, 19 Mar 2017, 18:38 PM



Schumacher, J. Force, S. Gray and Krawiec Take Home Wally Trophies Sunday at Amalie Motor Oil NHRA Gatornationals



Courtesy of NHRA Communications


Photo copyright 2017 NHRA/National Dragster





GAINESVILLE, Fla. --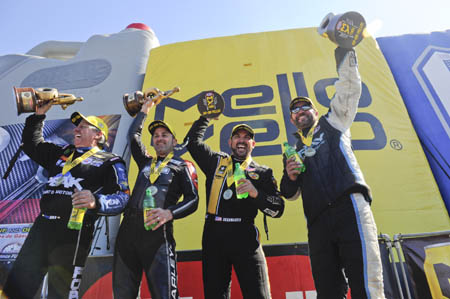 J Force, Krawiec, Schumacher and S Gray
celebrate wins.
Tony Schumacher raced his way to the Top Fuel victory Sunday at the 48th annual Amalie Motor Oil NHRA Gatornationals at Gainesville Raceway.
John Force (Funny Car), Shane Gray (Pro Stock) and Eddie Krawiec (Pro Stock Motorcycle) were also winners in their respective categories at the third of 24 events on the 2017 NHRA Mello Yello Drag Racing Series schedule.
Schumacher, an eight-time Top Fuel world champion, piloted his U.S. Army dragster to a 3.703-second pass at 329.26 mph for the 83rd victory of his career and first of the season. He defeated reigning world champion Antron Brown who ran a 3.764 at 322.65 in his Matco Tools dragster. With the win, Schumacher becomes the winningest Top Fuel driver at the facility with five after previously being in a four-way tie.
"We have great, great people working together. I'm loving driving the car," Schumacher said. "We're in the fight every day, every race. It's going to be a fun year, man. I'm comfortable driving the car. It's running right down the middle. Its running extremely fast. It doesn't have any part on the race track where I feel that I'm in danger. Its doing everything that a driver dreams about sitting in a Top Fuel car."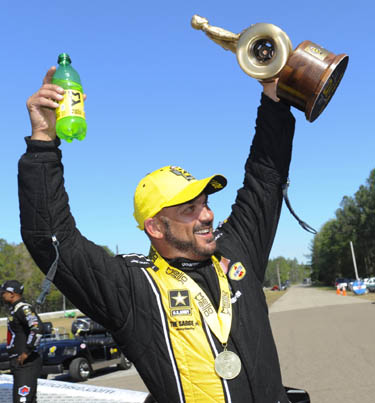 Tony Schumacher
Schumacher defeated Smax Smith, Clay Millican and Steve Torrence en route to the victory. Brown was able to get past Chris Karamasines, rookie Troy Coughlin Jr. and Doug Kalitta before falling to Schumacher in the finals.
Force, a sixteen-time world champion and the winningest driver in NHRA history, ran a 3.928 at 328.14 in his PEAK Chevy Camaro Funny Car for the 148th victory of his career, eighth at Gainesville and first of the season. He defeated rookie Jonnie Lindberg's 3.971 at 314.83 in his Head Racing Toyota Camry.
"I made a lot of changes coming here. Don't know if I'm smart or just lucky. I surround myself with great people. They're the ones who make it happen, then the sponsors and then the cheer of the crowd. They made one mistake out here. They let me find the music. I found myself. A lot of things area about heart, and about luck. You always feel somebody up there likes ya. I believe hard work, dedication and what we went though, it's been a draining day. I'm not accepting that I'm done. I've been real lucky."
The victory marks the 2,500 Funny Car round-win for John Force Racing. Force raced past Del Worsham, Jack Beckman and Tommy Johnson Jr. on his way to the finals. Lindberg defeated Dave Richards in the first round and upset Robert Hight and Matt Hagan to get to the final.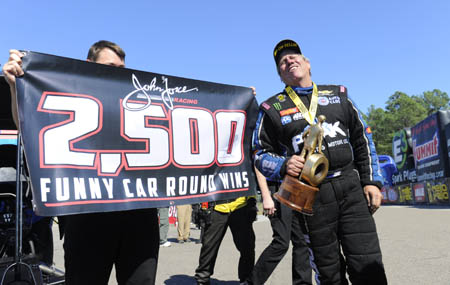 John Force
In Pro Stock, Gray picked up the sixth victory of his career and first at Gainesville Raceway when he ran a 6.535 at 212.96 in his Gray Motorsports Chevy Camaro to defeat four-time champion Greg Anderson and his Summit Racing Equipment Chevy Camaro's 6.560 at 213.43 in the final.
"I wasn't supposed to win," Gray said. "When you're testing parts you're just not supposed to win which is basically what we're doing with my car. We had a lucky day today. There were some round wins when the car pulled me out of the whole and there were a couple rounds where I pulled the car out of the whole. It was a complete team effort today."
Gray turned on win lights against Allen Johnson, Erica Enders and Chris McGaha while Anderson won against Matt Hartford, Jeg Coughlin Jr., and teammate and reigning world champion Jason Line before reaching the finals.
Three-time Pro Stock Motorcycle world champion Eddie Krawiec defeated teammate Andrew Hines for his 37th career victory, second consecutive and fifth total at Gainesville Raceway. Krawiec rode his Screamin' Eagle Vance & Hines Harley-Davidson to a 6.763 pass at 199.76 bettering Hines' 6.802 at 197.10 on his Screamin' Eagle Vance & Hines Harley-Davidson.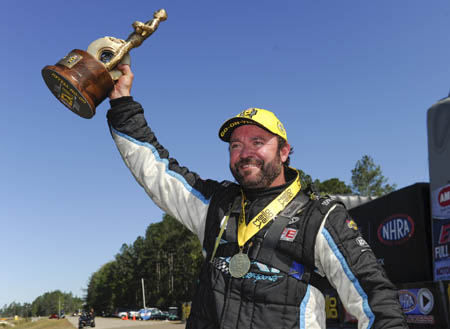 Shane Gray
"This helps set the pace for the year," Krawiec said. "Get that first win off your back, keep that momentum rolling, get the points. You know once you win one or two races you kind of solidify your spot. With the extra competitive class we have this year it definitely helps. There's a lot of great motorcycles. My Harley-Davidson this weekend really has been really fast, we just haven't been able to harness that power and get it sorted out. I think as the year goes on we're going to get better."
Krawiec rode past Mike Berry, Matt Smith and Joey Gladstone before racing Hines in the finals. Hines defeated Angelle Sampey, Scotty Pollacheck and Steve Johnson before being defeated himself.
The 2017 NHRA Mello Yello Drag Racing Series season continues at The Strip at Las Vegas Motor Speedway March 31-April 2.
Sunday's final results from the 48th annual Amalie Motor Oil NHRA Gatornationals at Gainesville Raceway. The race is the third of 24 in the NHRA Mello Yello Drag Racing Series-
Top Fuel -- Tony Schumacher, 3.703 seconds, 329.26 mph def. Antron Brown, 3.764 seconds, 322.65 mph.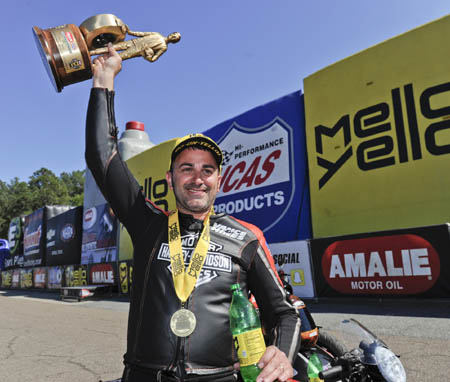 Eddie Krawiec
Funny Car
-- John Force, Chevy Camaro, 3.928, 328.14 def. Jonnie Lindberg, Toyota Camry, 3.971, 314.83.
Pro Stock -- Shane Gray, Chevy Camaro, 6.535, 212.96 def. Greg Anderson, Camaro, 6.560, 213.43.
Pro Stock Motorcycle -- Eddie Krawiec, Harley-Davidson, 6.763, 199.76 def. Andrew Hines, Harley-Davidson, 6.802, 197.10.
Pro Modified -- Steven Whiteley, Cadillac CTS-V, 5.791, 253.52 def. Mike Castellana, Chevy Camaro, 10.192, 87.94.
Top Alcohol Dragster -- Justin Ashley, 5.232, 275.96 def. Rich McPhillips, 5.258, 277.20.
Top Alcohol Funny Car -- Annie Whiteley, Chevy Camaro, 5.412, 273.22 def. Dan Pomponio, Chevy Monte Carlo, Broke - No Show.
Competition Eliminator -- David Rampy, Bantam Roadster, 8.099, 118.68 def. Wes Leopold, Dodge, Foul - Red Light.
Top Sportsman presented by RacingRVs.com -- Jeffrey Barker, Chevy Cobalt, 6.554, 211.59 def. Casey Spradlin, Chevy, 6.789, 206.86.
Factory Stock Showdown -- David Barton, Chevy Camaro, 8.131, 168.47 def. Chuck Watson, Ford Mustang, 8.227, 167.76.
Super Stock -- Fred Allen, Chevy S-10, 9.295, 112.21 def. Michael Volkman, Plymouth Sebring, Foul - Red Light.
Stock Eliminator -- Terry Nagel, Chevy Camaro, 11.067, 113.72 def. Richard Mace, Pontiac, 11.989, 110.40.
Super Comp -- Jacob Elrod, Dragster, 8.917, 179.42 def. Troy Williams Jr., Dragster, 8.931, 174.23.
Super Gas -- Sherman Adcock, Pontiac Trans Am, 9.908, 155.24 def. David Tatum, Chevy, 9.900, 166.42.




NHRA: 10 Most Recent Entries [ top ]

Apr 23- HOUSTON - Lucas Oil Drag Racing Series Wrap Up The NHRA Lucas Oil Drag Racing Series Wrap Up
Apr 23- CHARLOTTE 1 - J.R. Todd Aiming for Two Four-Wide Racing Wins in 2018
Apr 23- Mid America Dragway Joins NHRA Member Track Network
Apr 23- HOUSTON - Special Awards
Apr 23- HOUSTON - Sunday Video
Apr 22- HOUSTON - Sunday Pro Mod Wrap Up