Wed, 22 Feb 2017, 10:26 AM



IRG Sports + Entertainment Names Journalist Jeff Birchfield Director of Public Relations



Courtesy of IHRA Communications



WEST PALM BEACH, Fla. -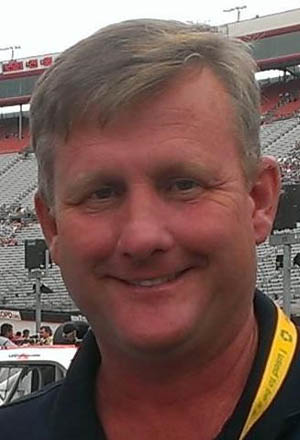 Jeff Birchfield
Award-winning journalist Jeff Birchfield has been named director of public relations for IRG Sports + Entertainment (IRGSE), the company announced today. Birchfield joins IRGSE from the Johnson City (Tenn.) Press.
Birchfield will lead the public relations efforts for IRGSE-owned properties including the International Hot Rod Association (IHRA), Palm Beach Driving Club, Palm Beach International Raceway, Memphis International Raceway, Maryland International Raceway and Cordova International Raceway. Located at IRGSE's West Palm Beach, Fla., headquarters, Birchfield will report to IRGSE chief revenue officer Shawn Hackman.
"Jeff's award-winning sports-writing experience and understanding of the Motorsports industry will be a tremendous asset to our IRGSE team," Hackman said. "His passion for Motorsports and the importance he places on relationship building will be well received by the industry and members of the media."
Birchfield brings with him 20 years of journalism experience having worked at the Johnson City Press and the Elizabethton Star. He also has a background in customer service and has done freelance work for a variety of outlets including multiple Motorsports publications and the Los Angeles Newspaper Group. During his time at the Johnson City Press, he was a two-time winner of the prestigious Tennessee Press Association's sports-writing award. Among his additional accolades, he was recognized by Bristol Motor Speedway and Bristol Dragway for outstanding media coverage. Birchfield is a member of the National Motorsports Press Association (NMPA).
"I am honored to join the IRGSE team in what promises to be an exciting time for the IHRA and the IRGSE properties," Birchfield said. "I look forward to working with all of them to serve the media, promoters, racers, fans, sponsors and others involved in the sport."
Birchfield, a native of Burnsville, N.C., attended East Tennessee State University (ETSU) and served nine years in the Tennessee Army National Guard. He will relocate to south Florida at the end of February.




IHRA: 10 Most Recent Entries [ top ]

Feb 26- Weather-Related Construction Delays Postpone IHRA Xtreme Raceway Park Opener
Feb 16- IHRA Summit Sportsman Spectacular Schedule Announced
Feb 15- New York Track Finds Value for Racers with IHRA Agreement
Feb 15- IHRA Summit Sportsman Spectacular Debut Only One Month Away Now is the Time to Pre-Enter
Feb 15- Summit Texas Location is a Racers' Paradise
Feb 15- Canadian Track Makes Large Commitment to IHRA Drag Racing
Jan 27- Mid-Michigan Destination Joins IHRA Family
Jan 27- Mississippi Track Reaches Sanctioning Agreement
Jan 16- Michigan Track to Host IHRA Summit Sportsman Spectacular
Jan 16- Canadian Track Signs Multi-Year Agreement with IHRA