Mon, 20 Feb 2017, 09:58 AM



IHRA Driver Profile- Otis Henry



Courtesy of Steven Cole Smith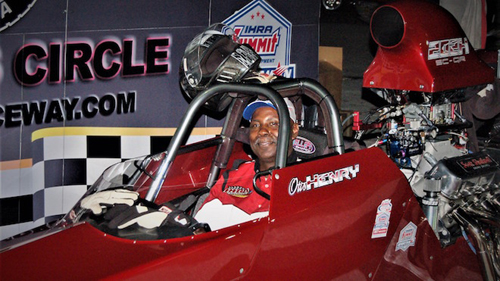 Otis Henry
You know who they are: the drivers in the IHRA paddock who - win or lose - have a big smile for even their toughest competitors.
Racers who show up with a spotless car, drive hard and clean, and go home happy regardless of the outcome, because they know they are drag racing in a solid, competitive series at a high level. Drivers who never forget the most important thing: If we aren't having fun at the drag strip, then what's the point?
Yes, that's pretty much Otis Henry, pilot of a beautiful 2016 Miller Quick Rod, a 247-inch rear-engine dragster from Miller Race Cars in Spring City, Tennessee, with a strong V-8 from PAR Race Engines in Spartanburg, South Carolina.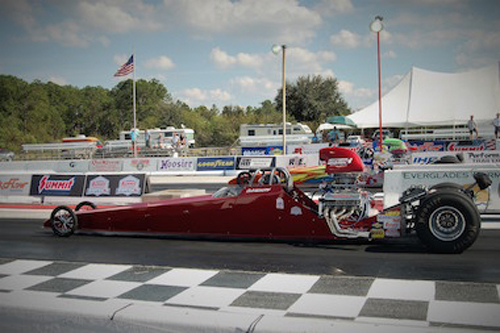 Otis Henry
"I got the car last March," said Henry, a resident of Deerfield Beach, Florida. "Am I used to it yet? No!" he says, laughing. "But that's my fault. The car is doing just what it is supposed to, and the engine that Scotty Duggins built for us is great."
It isn't as bad as Henry makes it sound. Last Saturday at his home track, Palm Beach International Raceway, Henry went out in Round 2, running a 5.720 to winner Darrell Pitman's 5.719.
A week earlier at Immokalee, Henry made it to the final round against Wilmington, North Carolina's Chad Duke. Both drivers red-lighted, but Duke left closer to the green light, wasting Henry's strong pass of 5.7051 at 143.91 mph. Henry left the starting line just four-hundredths of a second before Duke, who won at the Christmas tree but ran a 5.6929 at 137.20 mph.
Even after that, Otis Henry, who has been racing for 23 years, was still smiling. Before the season is out, expect him to be smiling from the winner's circle.




IHRA: 10 Most Recent Entries [ top ]

Mar 21- 2018 IHRA Summit Sportsman Spectacular Series on April 20-22
Feb 26- Weather-Related Construction Delays Postpone IHRA Xtreme Raceway Park Opener
Feb 16- IHRA Summit Sportsman Spectacular Schedule Announced
Feb 15- New York Track Finds Value for Racers with IHRA Agreement
Feb 15- IHRA Summit Sportsman Spectacular Debut Only One Month Away Now is the Time to Pre-Enter
Feb 15- Summit Texas Location is a Racers' Paradise
Feb 15- Canadian Track Makes Large Commitment to IHRA Drag Racing
Jan 27- Mid-Michigan Destination Joins IHRA Family
Jan 27- Mississippi Track Reaches Sanctioning Agreement
Jan 16- Michigan Track to Host IHRA Summit Sportsman Spectacular