Sun, 05 Feb 2017, 08:45 AM



Tim Wilkerson Embraces New LRS Paint Scheme, New Partners at Phoenix Test



Courtesy of Kelly Topolinski



CHANDLER, Ariz. --
The first nitro test session of the year is complete, and Tim Wilkerson and his Levi, Ray & Shoup Ford Shelby Mustang are tuned up and ready to head to California for the season-opening Circle K NHRA Winternationals at Auto Club Raceway at Pomona, February 9-12.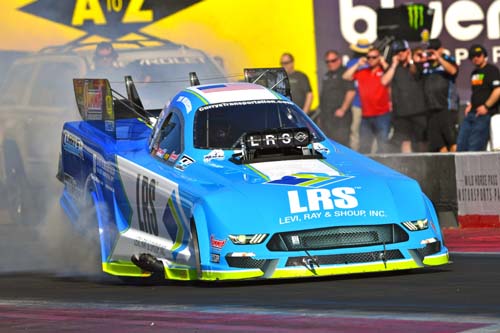 Tim Wilkerson is a 20 time NHRA Funny Car winner
Nitro Spring Training brought many of the top NHRA teams to Wild Horse Pass Motorsports Park near Phoenix to shake out the cobwebs and get back into the routine before launching into the 24-race 2017 Mello Yello Drag Racing Series schedule. Team LRS was eager to roll out their hot rod and see how the brand-new paint scheme looked on the racetrack. Levi, Ray & Shoup launched a new logo recently to bring all of their brands under one umbrella, and Wilkerson's Shelby Mustang Funny Car now reflects the fresh, vivid colors of the integrated design.
"This is my 17th year with Levi, Ray & Shoup, and I don't ever remember having a car that looks quite like this," said Wilkerson, who brought out the freshly painted Funny Car body for a pair of passes on Saturday in Phoenix. "We think it looks great, and it's off-the-chart different for us. It will take a little bit of time for people to see this car and know it's me, but we still have the big LRS on the nose - nobody can miss that."
Testing results for Wilkerson and Team LRS included an initial 7.12-second pass at 107 mph followed by a 3.935, 297.53.
"We're ready to go to Pomona, and one of the really good things about testing here this weekend was having the opportunity to get the crew ready for the season," said Wilkerson. "We've got one new person with us [Drew Wenninger] so this gave us a chance to all work together and get comfortable before the season."
In addition to a new paint scheme and the new crew member, Wilkerson welcomed three new associate sponsors to the team: Polar Air Compressors (eatoncompressor.com), Axe Equipment (axeequipment.com), and Bond-Coat, Inc. (bondcoat.com).
"We're tickled to have these guys on board, and we're hoping to be able to utilize our corporate hospitality program with them," said Wilkerson. "We're always searching for good help to go along with the support we get from Dick Levi and Levi, Ray & Shoup; Jason Curry and Curry Transportation Services; and Summit Racing Equipment. These companies are a great fit for us. I think it's going to be a great year.
"Polar Air builds air compressors, and they're a neat company. They're excited about this, and they have a couple of pulling trucks themselves, so we're all motorheads at heart. We're going to get along great, and we'll be seeing them a lot.
"Axe Equipment offers high-quality cleaning equipment for machine shops and industrial areas - parts washers, rinse tanks, pressure checkers, engine stands - some real niche equipment, and very high-quality. I'm real happy to have them on board.
"And here in Phoenix, we were pretty excited to pick up another [associate] sponsor. Bond-Coat, Inc. is a small company out of Texas that does neat, big things - they coat the pipes that go into oil wells to keep those pipes alive for years and years. One of the owners of Bond-Coat, Chad Green, came here this weekend and did some stuff with us in our car. He was so excited about it that he said, 'I want to be a sponsor.' I think that's really an attribute to our team. He was pretty enthusiastic about being involved with our car, and we'd love to see that partnership grow, also."




NHRA: 10 Most Recent Entries [ top ]

Apr 22- HOUSTON - Sunday Pro Mod Wrap Up