Mon, 09 Jan 2017, 20:38 PM



Nitro Hat Trick Part I



By Steve Reyes


Photo copyright 2017 Steve Reyes





Being around drag racing for over fifty years, I have seen some great and not so great drivers. I must say the most versatile drivers I have photographed drove in not one, not two but three nitro-powered classes in drag racing. They drove in top fuel, funny car, and fuel altered classes. I know there have been quite a few drivers who have ventured from top fuel into funny car but by my count, only fifteen have driven in AA/FD, AA/FC and AA/FA. Yes, there have been drivers who left fuel altereds for funny car but those who drove in all three, well, that is a rare art.
How these drivers did it from weekend to weekend boggles the mind. I have seen these guys drive three different classes in three weekends or even two different nitro classes on the same day. Now that took talent. So here are the first four of the fifteen in my first "Nitro Hat Trick" segment. Enjoy!
If you wish to purchase prints of the photos below or any others, they may be obtained by contacting us at breyes@reyesontour.com. Other photos for purchase may be viewed by following the links at www.reyesontour.com.
Dave Beebe was one of the most talented drivers never to race on the national stage of drag racing.
His first nitro ride was the J&S Bantam AA/FA tuned by his brother Tim. Then it was top fuel with
the Beebe Brothers & Sixt AA/FD and a ride in Bill Crossley's AA/FD. Dave and his brother then raced
the Dodge Fever funny car. Because of his family commitments he stayed close to home driving the
Mr. Ed, Super Chief and Soapy Sales AA/FC's.

Big Jim Dunn made his mark in drag racing while driving the Dunn & Velasco Fiat then top fuel
rides of Dunn & Yates, Green Mountain Boys and the Dunn & Reath AA/FD. When the funny car
class called, Dunn was found in the Dunn & Reath 'Cuda, the Dunn & Reath rear engine 'Cuda and
Fireman's Quickie line of funny cars. Jim Dunn and his driver John Hale still race on today's
NHRA national circuit with a nitro burning funny car.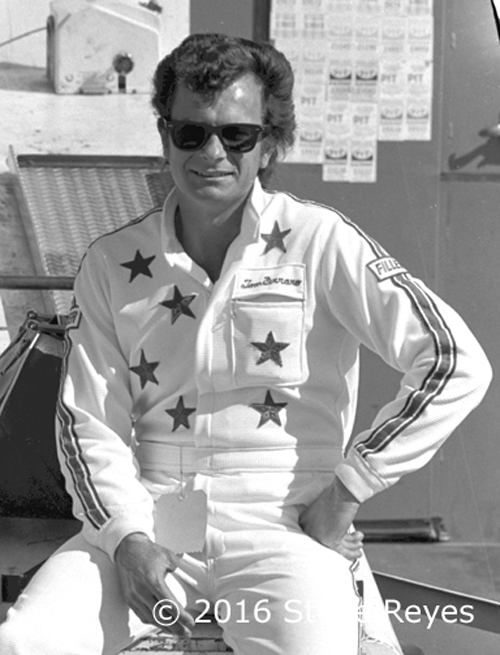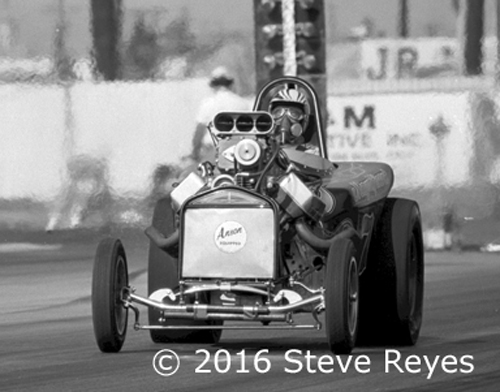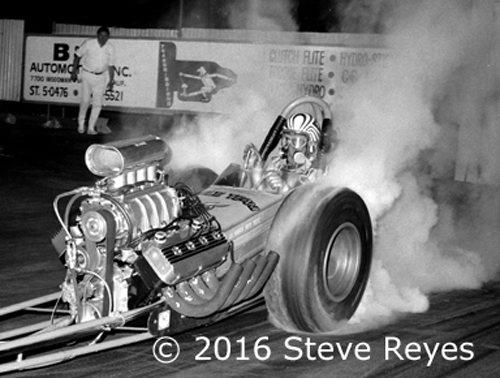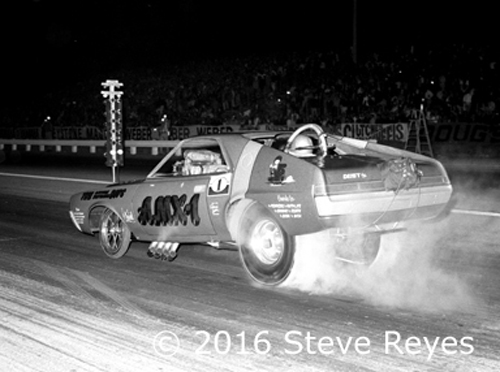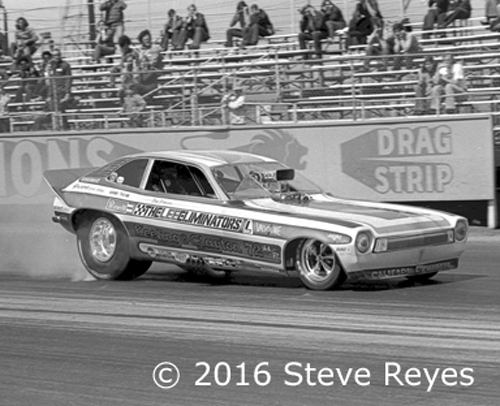 Now here is a guy who I believe drove everyone's race car in Southern California or at least
came close to it. Every time I saw Tom Ferraro, he was driving a different nitro class. Some
of the fuel altereds I saw him drive were: Walker and Geary, the Magnificent 7 and Campos Brother's,
Lo Blow. I know he drove others but those are the ones I saw. In top fuel, he was involved with
The Mule team AA/FD and at least two others whom he was partnered with. Then he took on funny cars
including the California Charger Pinto, AMX1, the Rat Trap and John Hovan's Mach I Mustang. Not a
bad grouping and sometimes he drove in two of the classes on the same day.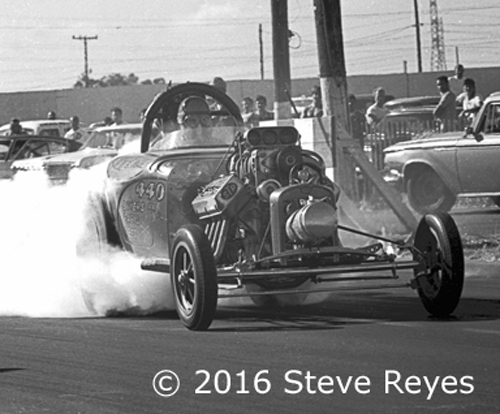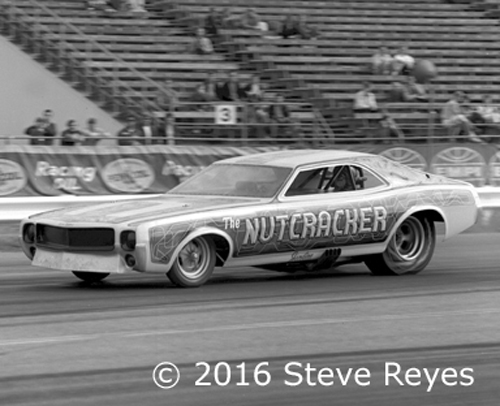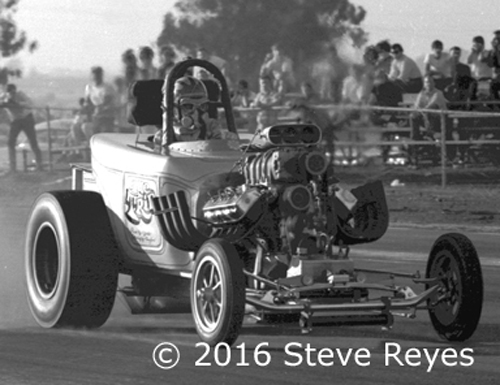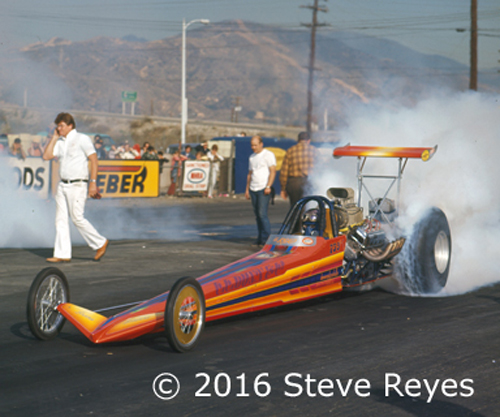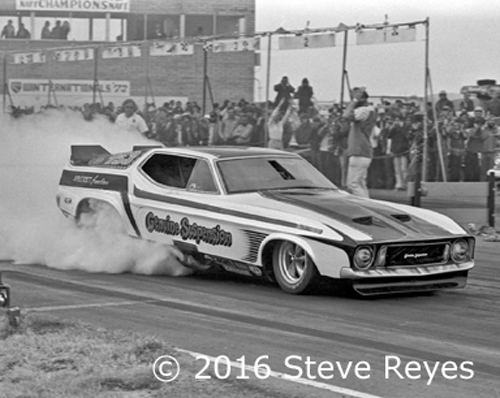 Being a journeyman driver, Gary Read just showed up at the races in Southern California with
his helmet and fire suit and wandered the pits in search of a ride. Gary could sometimes be
found behind the wheel of the Mother-in-law AA/FA, The Trip AA/FA or Groundshaker Jr. AA/FA.
In the funny car class, the direct drive AMX Javelin Nutcracker AA/FC or the Genuine Suspension
Mustang AA/FC. When Read wanted to go really fast you could find him behind the wheel of
CC Dunn or the Over the Hill Gang top fuel dragsters. He always seemed to have a ride.





NHRA: 10 Most Recent Entries [ top ]

Mar 19- GAINESVILLE - Sunday Video
Mar 18- GAINESVILLE - Pro Mod Sunday Wrap Up
Mar 18- GAINESVILLE - Sunday Wrap Up
Mar 18- GAINESVILLE - Pro Mod Championship Points
Mar 18- GAINESVILLE - Bonus Points
Mar 18- GAINESVILLE - Championship Points
Mar 18- GAINESVILLE - Mickey Thompson Top Fuel Harley Series Championship Points
Mar 18- GAINESVILLE - Bonus Points
Mar 18- GAINESVILLE - Summary of Eliminations in Top Fuel
Mar 18- GAINESVILLE - Summary of Eliminations in Funny Car