Thu, 05 Jan 2017, 09:46 AM



Bay Area Boy- Part 2



By Steve Reyes


Photo copyright 2017 Steve Reyes





In the first part of Bay Area Boy we covered top fuel, gassers, and altereds that entertained NorCal drag fans. It was a blessing for a kid photographer to be based in the Fremont area during the golden era of drag racing. Things only got better with the advent of the funny car class.
The budding A/FX class was small in the NorCal area with Tommy Grove, Ed Terry and Butch Leal leading the charge for the class. With the dawning of the supercharged nitro burning funny cars, the Bay Area really excelled with cars owned and driven by the likes of Jim Liberman, Lew Arrington, Rich Hammonds, Ed Carter and Kip Brundage. Liberman and Arrington went on to stardom match racing and touring the USA. Carter with this partner Bob Little proved you could have fun with an outdated, slightly used funny car (Bovan's Blair's Speed Shop Nova). In the driver ranks, Clare Sanders stood out with his Lime Fire ride and then applied his talents nationwide in the Chi-Town Hustler and Ramchargers funny cars. Those were just a couple of his rides in the funny car class. Sanders also won the first ever NHRA funny car eliminator class at a national event with his 1969 NHRA Winternationals win while driving Jungle Jim Liberman's team Nova funny car.
All in all it was a fun time to be photographing race cars in the Bay area during the late 1960s and early 1970s. My images take me back to a fun time in the sport of drag racing, to a lost period in time. that can only be revisited with photographs.
If you wish to purchase prints of the photos below or any others, they may be obtained by contacting us at breyes@reyesontour.com. Other photos for purchase may be viewed by following the links at www.reyesontour.com.
With Oakland being about twenty-five miles from Fremont Drag Strip, jet car builder/owner Romeo Palamedies called Fremont Drag Strip his home track. Romeo's line up of Untouchable jet dragsters raced a lot down the Fremont quarter-mile. Sometimes his cars made single runs and sometimes the Untouchable would square off with a top fuel dragster (Waters and Edmunds is pictured) for a two out of three match race battle.
Jungle Jim Liberman got his funny car career started at Fremont. At first Liberman could be seen wheeling he and his brother's B/S Pontiac down the Fremont quarter-mile. Next a ride in the Hercules A/FX Nova, then seat time in Lew Arrington's Brutus GTO funny car. In 1967, he debuted his own blown nitro burning Nova funny car and the rest is funny car history.
I believe Clare Sanders first funny car ride was owned by Bob and Jim St. Clair. Their Lime Fire Cuda was a thing of beauty. The San Jose based team raced mainly in NorCal with a few race appearances in SoCal over its short life span. Jim St. Clair also tuned Liberman's 1968 Nova funny car and has been credited with teaching Liberman the skills to build a nitro burning race engine.
In Campbell, California, just down the road from San Jose was the Parts Mart Speed Shop. There, in 1967, Kip Brundage gave up his ride in a fuel burning flathead digger for an injected Chevy powered Camaro funny car. Then in 1968 he bolted a blower on his Camaro and went serious funny car racing. He only raced on the West Coast because of his business commitments.
Lew Arrington, a top notch mechanic for Larry Hopkins Pontiac in San Jose went funny car racing in a big way in 1966 with his Brutus GTO funny car. Arrington gave his young buddy Jim Liberman his first big time funny car ride. The bucks down Arrington had Jim's wife Bobbie letter the brown primered GTO for its first day out. His line of Brutus funny cars spanned two decades of match racing and touring in the USA.
Also coming out of the San Jose area was cabinet maker Rich Abate's Samson funny car. It was another of the stable of Goodies Speed Shop sponsored race cars. Abate started with injectors then moved to a blown 392 Hemi in 1968. Driver Rich Hammons did double duty in the NorCal funny car wars, he also drove the Hairy Canary funny car as well. The Samson team was limited to where it raced because of Abate's business commitments.
The Hammons, Williamson and Hammon's Hairy Canary was a handful for its driver Rich Hammons. This San Jose based funny car was a fan favorite because of its wild runs down the quarter-mile. Some of the car's quarter-mile adventures included spinning out and doing a giant wheel stand at the finish line and not crashing. Rich Hammons was the original driver but gave up the driver's seat to partner Don Williamson.
Bay Area resident Row Rinauro wanted something different for the new funny car class, so he built something old. His altered wheel base 1955 Chevy lived up to its name Blown Hell by being extremely loud and obnoxious. The Ted Gotelli built nitro burning engine made gobs of horsepower and it went through transmissions like they were candy.
Coming down from Sacramento area were the Garcia Brothers and their Out of Sight Camaro funny car. The car had limited outings because of a lack of funds. Joe Garcia could be found behind the wheel and brother Steve would turn the wrenches on the metal flaked Camaro.
The saga of the Watts Riot Camaro funny car was a strange and exciting one for the race fans at Fremont Drag Strip. On its first day out it managed to have a stuck throttle which caused it to come flying out of Fremont's staging lanes. It hit a Fremont police officer working the staging area and broke his legs. Then at full throttle spun and drove between the Little Red Wagon and the Hemi Under Glass hitting and then climbing up Fremont's large sign board with the rear tires smoking. Finally, because the car was at an angle, the car ran out of fuel. So all totaled, one cop with broken legs, one slightly used sign board and a slightly bent race car. I never saw the car after that long ago evening in 1968.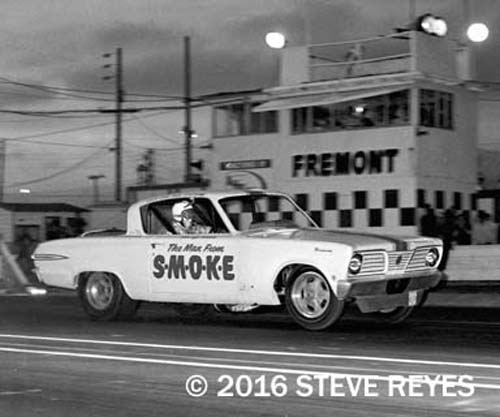 Fremont's John Skinner made the jump from top gas to funny car in 1967. Skinner built his The Man >From Smoke Cuda himself with the exception of the body. The car was high gear only and designed to smoke the tires the entire quarter-mile. Skinner and his Cuda didn't find that funny car pot of gold and soon faded from the drag racing scene.
Dave Dozier traded his Hemi powered junior fuel car for his home built Kop Kar funny car in 1966. Yes, it was a high gear only car with weed cutter headers and dragster style front wheels. The injected Hemi from his dragster was the power plant for his 'Cuda.
Here we have the Perry Brothers and their Mustang funny car. This high riding funny car had a blown nitro burning Pontiac for a power plant. Brother Paul Perry tried to drive but after a couple of spin outs the Perry Brothers replaced Paul with veteran AA/GS driver Steve Woods. Woods manhandled the Pontiac powered Mustang to some decent runs and even a few match race wins.
Ed Carter and Bob Little were a couple of good friends who just wanted to have fun in the early days of funny car racing. They pooled their money and purchased Steve Bovan's Blairs Speed Shop Nova funny car. The Newark, California, duo updated the Nova and went racing. Yeah, they had fun with their Chevy II Heavy and then Color Kart Nova. Carter later went out on his own with a tube chassis D Corvette bodied funny car. However, even with a string of engine partners including Del Doss and Rich Guasco; things didn't work out. With the rising cost of racing Carter hung up his fire suit in 1970.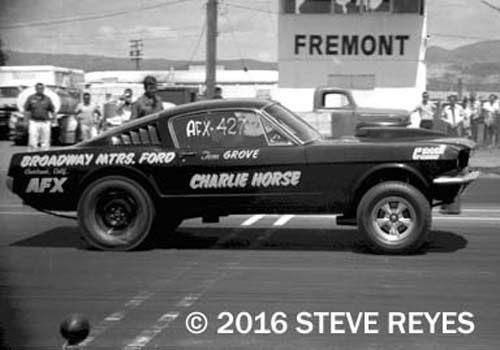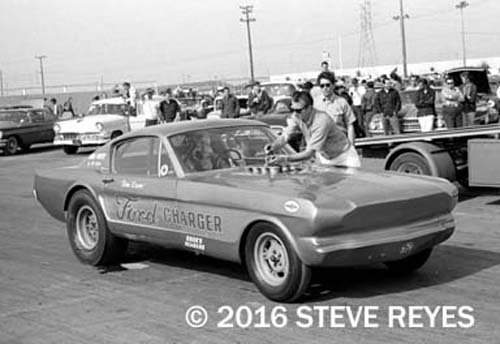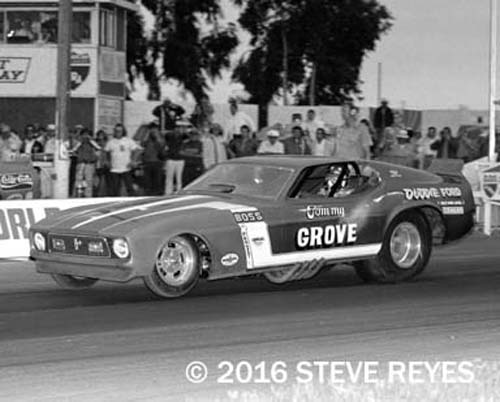 You could say Tommy Grove was sitting on top of the drag racing world with his ride in the Melrose Missile Super Stock during the mid-1960s. Then Grove voiced his opinion to the Chrysler folks about the lack of strength in the Mopar rear end and transmission. He had been using Ford components in the rear of the Melrose Missile and this did not fare well with the Chrysler executives who told him not to use the Ford parts on a factory Mopar race car. Grove decided he wanted to win more than stay with Mopar so he walked away from his Mopar gig right into a Ford Mustang A/FX factory race car. After the A/FX came the Ford Charger funny car in 1967. Grove then left the confines of the Bay area and went on tour as a pro funny car racer in a Ford Mustang with all Ford parts and power.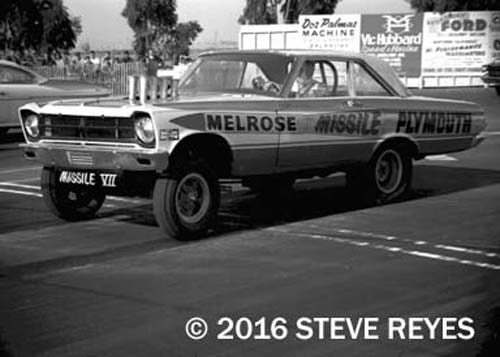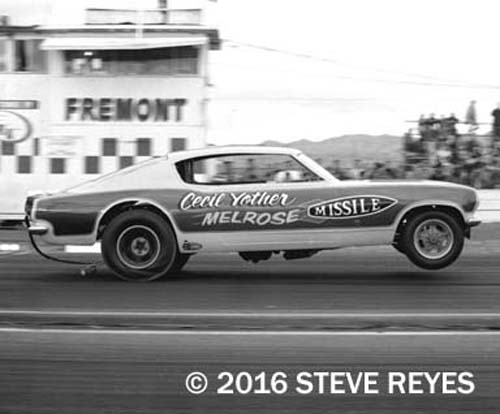 Cecil Yother took over the driving duties for the long gone Tommy Grove in the Melrose Missile Mopar A/FX. Soon a new 'Cuda hit the track in late 1966, early 1967. Cecil's new ride was a slick one but it was injected, not blown. Yother like Butch Leal, did not relish having a 6-71 time bomb in his face. So instead of converting to a blown funny car, the 'Cuda was retired. Yother returned to his Hayward, California machine shop.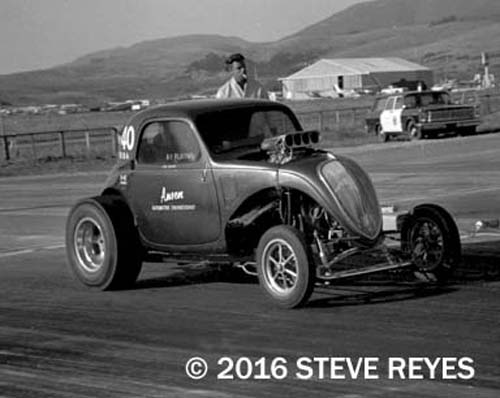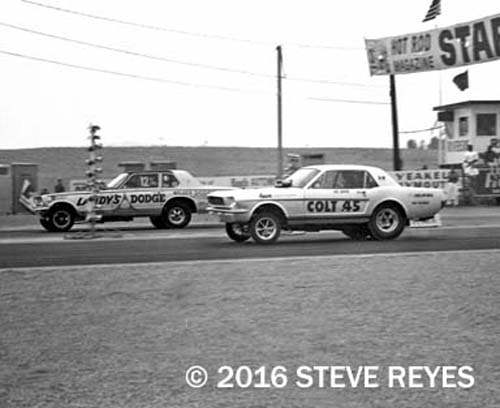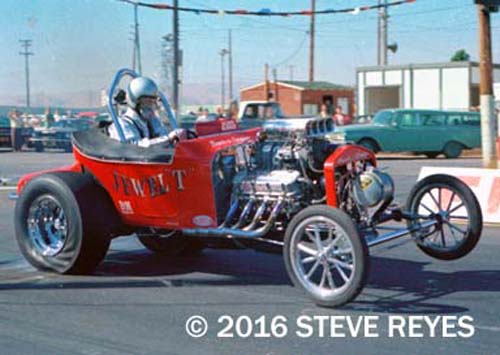 This is one of those very strange tales of a drag racer not knowing what class to run. NorCal's Joe Davis raced his BB/A Fiat in 1965. Seeing there was money to be made in the funny car class, he fitted a Mustang body on his old Fiat frame and his Colt 45 was born. Davis and his funny car raced in and around Northern and Southern California until at one race, his mind was clarified about racing in the new funny car class. While racing at a Southern California track, his Colt 45 Mustang did a giant wheel stand, at speed, in the finish line speed traps. Luckily, the car's front end returned to earth but it really shook Davis up. The Colt 45 was parked after that incident and Davis pondered his fate in the funny car wars. When Wes Ingram came into the picture with his injected Jewel T Altered, Davis and Ingram put their heads together along with their cars and the AA/A Jewel T was born. Best appearing car awards, magazine covers and national coverage were all bestowed on the candy red altered from NorCal.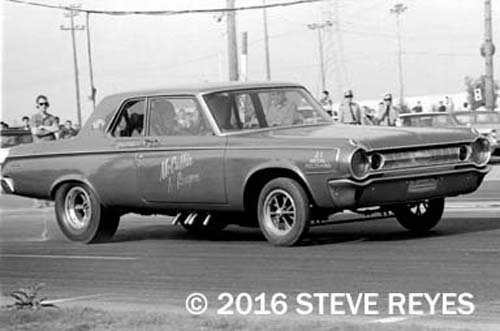 Early in 1966, McCubbin and Gwynn debuted their idea of a funny car at Fremont. The all steel car had the driver moved to the back seat and a nitro burning Ted Gotelli built race engine in the front seat. This was the only time I saw this car run.




NHRA: 10 Most Recent Entries [ top ]

Apr 20- HOUSTON - Friday Wrap
Apr 20- HOUSTON - Saturday Schedule
Apr 20- HOUSTON - Top Fuel Qualifying, Session #2 Order
Apr 20- HOUSTON - Top Fuel Qualifying Notes, Session #2
Apr 20- HOUSTON - Pro Stock Qualifying, Session #2 Order
Apr 20- HOUSTON - Funny Car Qualifying, Session #2 Order
Apr 20- HOUSTON - Pro Modified Qualifying, Session #2 Order
Apr 20- HOUSTON - Funny Car Qualifying Notes, Session #2
Apr 20- HOUSTON - Pro Stock Qualifying Notes, Session #2
Apr 20- HOUSTON - Pro Modified Qualifying Notes, Session #2