Wed, 04 Jan 2017, 09:34 AM



Then and Now Part III



By Steve Reyes


Photo copyright 2016 Steve Reyes





There really isn't much left to say in this third segment on the funny cars from the good 'ol days and their recreations running today. However, here are more examples for you to feast your eyes on and decide whether or not the owners of these retro cars have kept to the car's original design. Have they managed to recreate these cars down to the smallest detail or have they taken liberties in the design to win their class today?
A special thank you to Phil Burgess and Brad Littlefield who helped me with much needed information to complete the captions on the photos.
If you wish to purchase prints of the photos below or any others, they may be obtained by contacting us at breyes@reyesontour.com. Other photos for purchase may be viewed by following the links at www.reyesontour.com.
Craftsman and racer Al Bergler brought back one of his most popular golden era funny cars, the Motown Shaker Vega. The car is a true work of Bergler art. It was displayed with the equally fine Ramchargers AA/FC that had been driven by Clare Sanders. The husband and wife team of Jim and Julie Matuszak spared no expense bringing the Ramchargers AA/FC to the world of the retro funny car.
Don Schumacher's Stardust 'Cuda, winner of the 1973 NHRA Winternationals, was introduced to the nostalgia funny car ranks in retro form by Justin Grant from Indiana. Joe Haas drives for Grant at events through-out the USA. When I was on tour in England in 1978, I came upon a very familiar looking 'Cuda funny car that was Schumachers '73 Stardust 'Cuda which was owned by the Stones race team and driven by David Stone. Many of the US based funny cars were sold and sent to the UK. Some of them were: Paula Murphy's Miss STP AA/FC, Gene Snow's Arrow, and the Blue Max Mustang II just to name a few.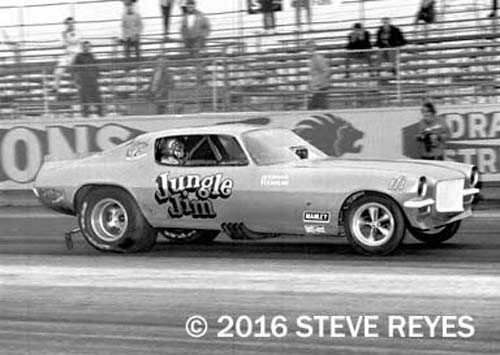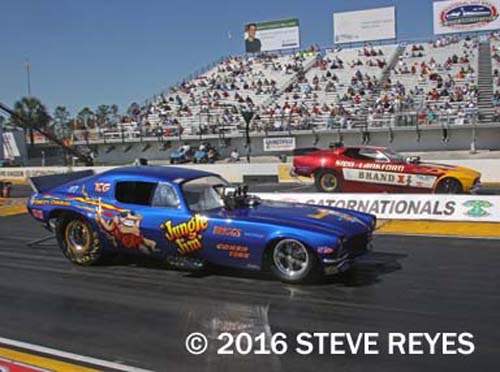 More cars coming out the Henry Gutierrez stable was the duo of Jungle Jim Liberman's Camaro and the Brand X Mustang. Paul Smith oversees the maintenance of the Gutierrez retro funny cars. Some of the drivers who have had seat time in Gutierrez cars are Mitch King, John "Bodie" Smith, Mike Smith and Mike Lewis. Sadly the whole retro team has been put on hold with the murder of team founder and owner Texan Henry Gutierrez on Christmas Eve 2015. Gutierrez was shot to death in his home and his Ford Expedition was taken. At of March 2016, police were looking for a couple of suspects who had used gift cards stolen from the home at the time of his death.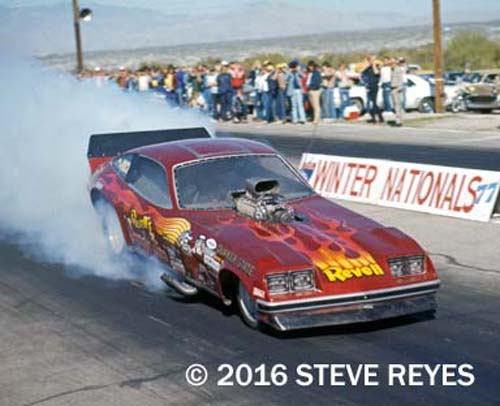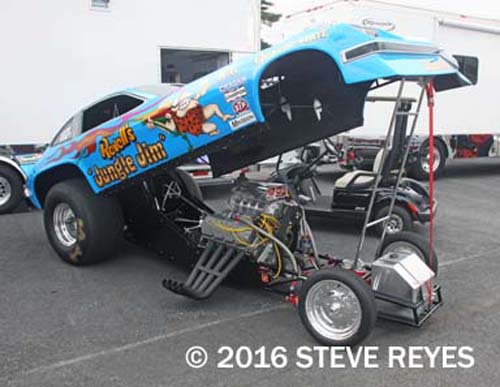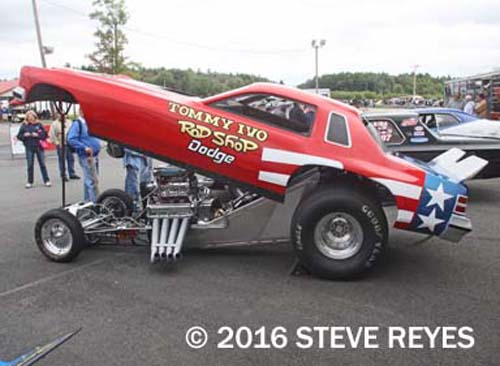 The last car I saw Jungle Jim drive was his red Monza in early 1977 at Tucson, Arizona. Jungle died in a highway accident months later in Pennsylvania. In 2014, I came upon Tom Auger's blue Jungle Jim Monza and Tommy Ivo's Mopar bodied funny cars. Both were done very nicely but didn't cackle or run that weekend. Auger put a lot of sweat and dollars into two of the nicest retro funny cars on the East Coast.
This is one car I only saw briefly in 1970 and then again in 2009 at the NHRA Hot Rod Reunion at Beech Bend, Kentucky. Of course, in 1970, it was Huston Platt at the controls of his Dixie Twister Camaro AA/FC and Randall Davis was wheeling his version of Huston Platt's Dixie Twister Camaro AA/FC at Beech Bend in 2009.
Gary Densham's funny car career spans over four decades with his rides including his own Pinto, 'Cuda and miscellaneous bodied funny cars. Heck, he even drove for his long-time friend John Force. Gary's not the only talented drag racer in the Densham family, his son Steven is kicking butt and taking names in the nostalgia funny car class. With his dad tuning, Steven brought home the 2015 Nostalgia Funny Car Championship and that was something to make 'ol dad smile.




NHRA: 10 Most Recent Entries [ top ]

May 25- BOWLING GREEN - Stock Eliminator Class Eliminations Qualifying
May 25- BOWLING GREEN - Super Stock Class Eliminations Qualifying
May 25- BOWLING GREEN - Friday Wrap Up
May 25- BOWLING GREEN - Competition Eliminator Qualifying, Friday Order
May 25- BOWLING GREEN - Stock Eliminator Qualifying, Friday Order
May 25- BOWLING GREEN - Super Stock Qualifying, Friday Order
May 25- BOWLING GREEN - Top Dragster presented by RacingRVs.com Qualifying, Friday Order
May 25- BOWLING GREEN - Top Sportsman presented by RacingRVs.com Qualifying, Friday Order
May 25- BOWLING GREEN - Sportsman Motorcycle Qualifying, Friday Order
May 25- Kurt Elliott Named Assistant Crew Chief for Langdon