Thu, 29 Dec 2016, 12:25 PM



Those Were The Days- Plastic Fantastics



By Steve Reyes


Photo copyright 2016 Steve Reyes





You must admit the early versions of the funny car class were rather strange. For a while, drag racers in the funny car class went more for the shock value than race track performance. The limit to body styles and engine combinations had no boundaries. It was a put it together and let it race environment! Of course, some of the altered and dragster owners took the lazy way out and modified their current car to run in the new and more profitable funny car class but most failed in this endeavor and either quit or built a real funny car. From these pioneers we have today's "Plastic Fantastics."
If you wish to purchase prints of the photos below or any others, they may be obtained by contacting us at breyes@reyesontour.com. Other photos for purchase may be viewed by following the links at www.reyesontour.com.
In the Land of the Misfit Funny Cars, Gene Conway and his Destroyer Jeep took on Tom Sturm's 4 Chevy Lovers Corvair at Pomona, California. In 1967, the funny cars did not have their own pro class but ran in the S/XS class. This meant the funny cars would race each other and the winner got to race in a major eliminator bracket like Super Comp, etc. NHRA finally formed a real pro funny car eliminator class in 1969. The debut of the class was at the NHRA Winternationals and Clare Sanders, driving Jungle Jim Liberman's team Nova funny car took home the class gold.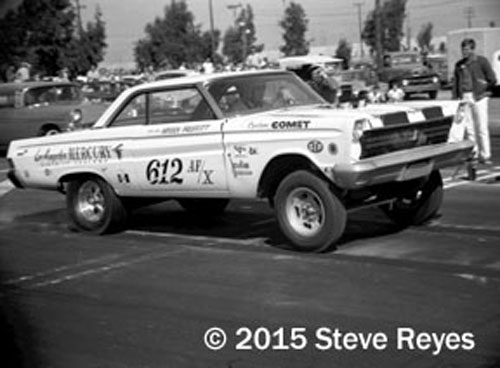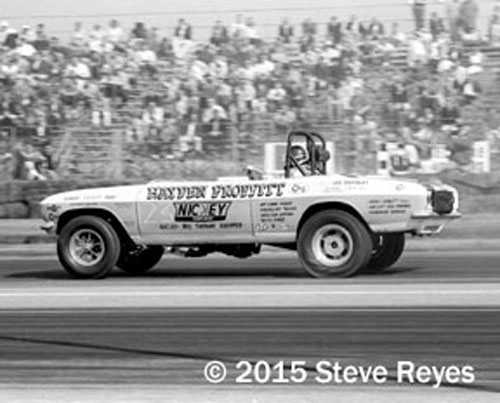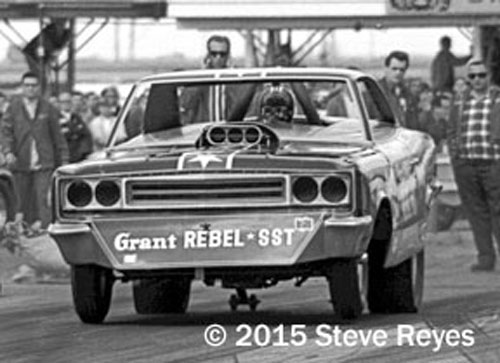 Anyone and everyone who attended the races in the early days of funny cars knows of the legendary Hayden Proffitt. Not only was he popular but he was the only funny car racer who raced for each factory teams that came out of Detroit. He drove a Mercury A/FX, A Chevy Corvair, an American Motors, and somewhere he drove briefly for team Mopar. Hayden and his son Brad even raced a rocket powered dragster towards the end of Proffitt's racing career. If you think Hayden only drove door slammers you would be wrong. He also piloted blown gas dragsters in the early 1960's. Yes, Hayden is still with us, so if you ever get to talk to him, you will enjoy a great journey into the good old days of drag racing.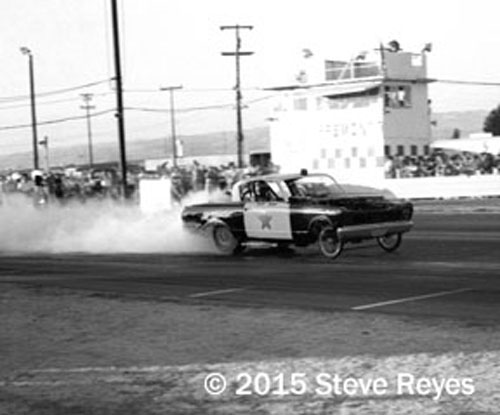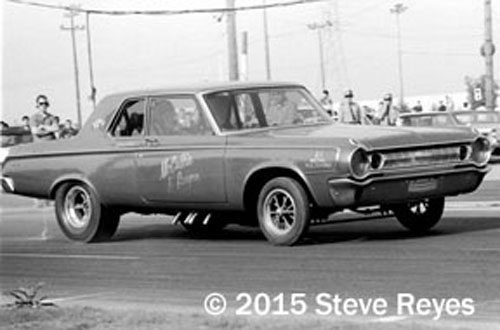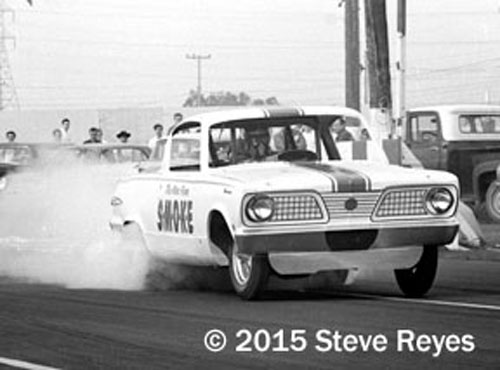 When the funny car craze hit drag racing in the mid 1960's, Northern California racers were quick to jump into the class. Junior fuel racer Dave Dozier home built his Hemi injected fuel burning Kop Kar Cuda. McCubbin and Gwynn went out and got an all steel Valiant and put an engine in the front seat and moved the driver to the back seat and went racing. Top gas racer John Skinner's steel bodied The Man From Smoke Cuda was home built and did feature a 392 Hemi on nitro. All three would fade very quickly with Skinner holding on the longest.
These funny cars were on tour in 1968 and stopped off in Fremont, California to race. It was the first appearance on the West Coast for the Farkonas, Coil and Minick Chi-Town Hustler 'Cuda and for Terry Hedrick and Seaton's Super Shaker Corvair. These guys had just towed from Chicago to the San Francisco Bay area using these tow trailers. Who says early funny guys weren't brave?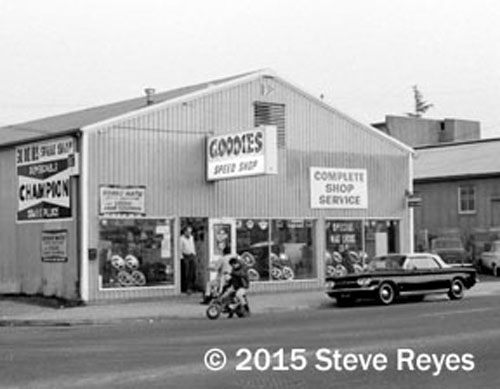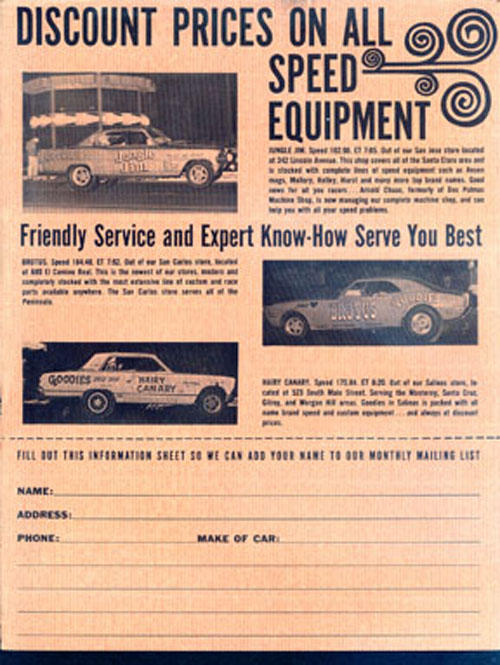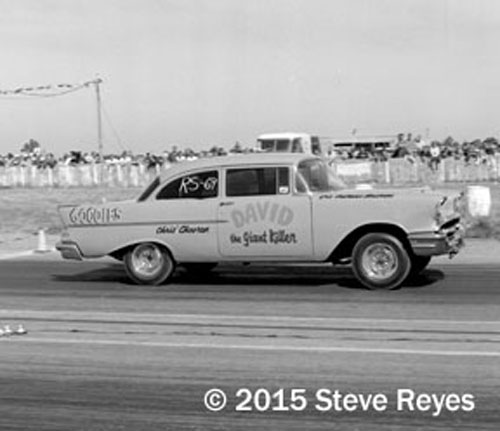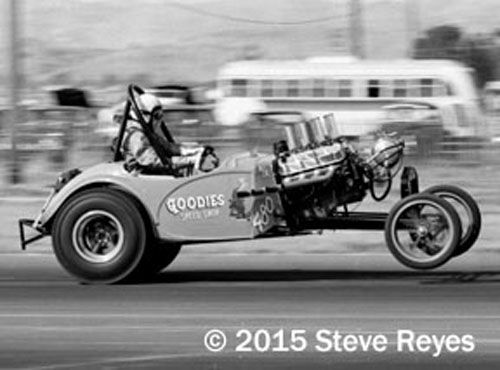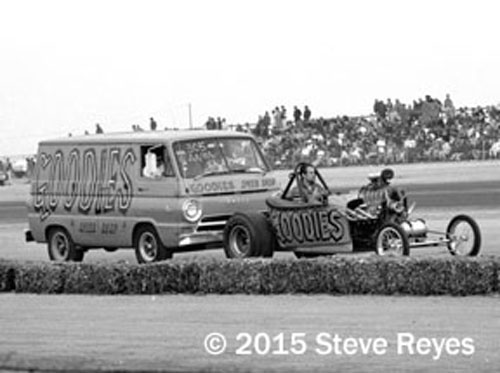 Standing in the doorway of his Goodies Speed Shop is owner Richard Guess. It was 1967 and Guess was starting to make his business known throughout the entire drag racing community. Four of the biggest early names of funny car racing were flagships for the Goodies brand including Jungle Jim Liberman, Lew Arrington's Brutus, The Hammons, Williamson and Hammons Hairy Canary and Rich Abate's Samson. They were all moving billboards for Goodies. Guess used their images on flyers and parts catalogs that were sent all over California and through-out the United States. If a little guy racer needed help, Guess was usually there to lend a hand. David the Giant Killer, a 1957 Chevy stocker was a Goodies car as well as John L. Williams Altered and Terry Erven's Axis Power AA/FA. Guess wasn't to big to lend a hand to the little guy racers that needed it.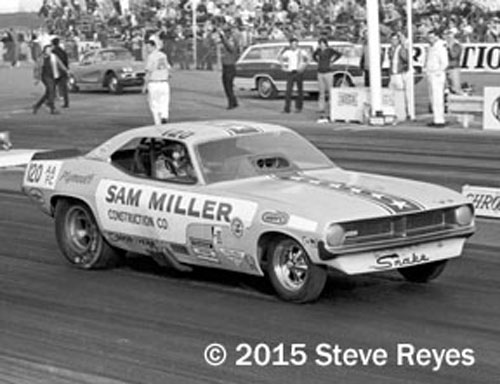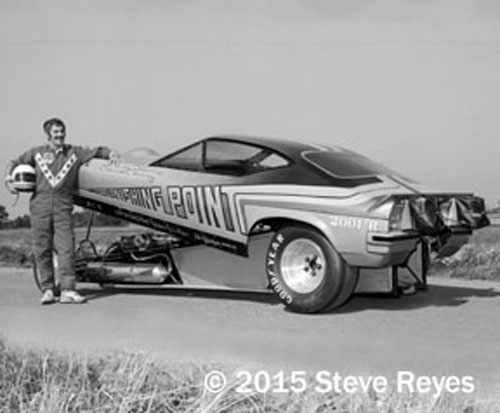 My first sighting of Slammin Sammy Miller was in 1971 at the NHRA Winternationals in Pomona, California. Sam had purchased Prudhomme's Hot Wheels 'Cuda and just changed some of the lettering to rename it Sam the Snake and he was off to race funny cars. After his Pomona venture I spoke with Sam and he clued me in on his new Duster funny car which was being finished. We got together and his new racer was photographed for Drag Racing USA magazine. For the next seven years our paths crossed at different race tracks. During that time, Sam drove a Mustang AA/FC and then a very radical "shorty" style top fuel dragster. While I was on tour in 1978 at Santa Pod Raceway in the UK, I came across Sam. There was good Ol' Sam with a rocket powered funny car named Vanishing Point. His Vega bodied car had been clocked at over 300 mph in Europe - remember this was in 1978! Of course, we got to talking about racing and our touring. We took his car down to the end of the track and I shot a few photos for him. It was nice to hang out with Miller and again, he was quite the character. We lost touch after our photo shoot in England and then in October of 2002, I heard Sam had lost his life in an oil rig explosion. I am glad I got to know one of funny car racing's true characters.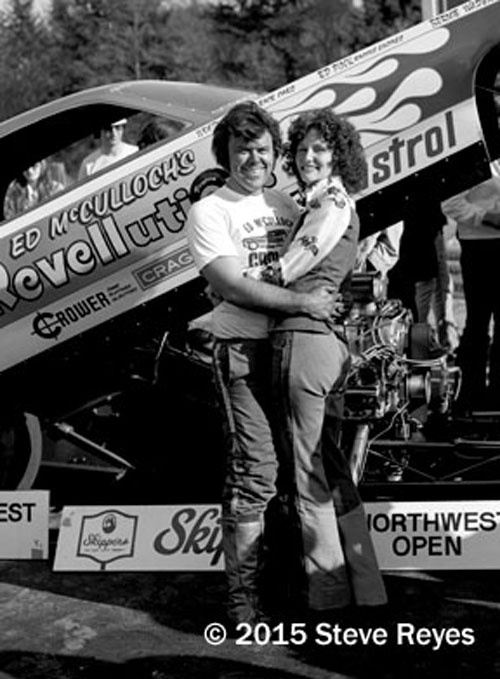 This is Ed "The Ace" McCulloch snuggling up to Seattle race queen Linda Lovelace. You may have heard of Ms. Lovelace when she was the biggest porn star at the time of this shoot in 1973. Her lead role in the move Deep Throat gave her incredible stardom. Promoter Bill Doner pulled off a major deal to get Linda as his race queen. Linda seemed to enjoy the racing and really liked the funny car class. Just prior to the final round, Ms. Lovelace was seen leaning in and talking to McCulloch. I don't know what she said but McCulloch went out and won the race and set low ET and top miles per hour for the event. It must have been some pep talk, right Ace? Linda Lovelace wasn't the only porn star ever to be a race queen on the West Coast. In fact, in 1967, at one of OCIR's big top fuel and funny car events, Renee Bond was thereto hand out the trophies.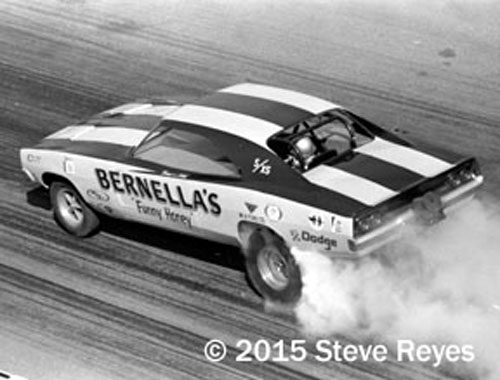 With all the hoopla about women in the nitro classes, one woman pioneer seems to get lost and that would be Michigan's Della Woods. Della has been mixing it up with the boys since the very early days of the funny car or S/XS. In 1964-65, she drove one big bad blown Dodge Coronet that looked much like the Dodge Chargers of Jimmy Nix and Jim Johnson. With her brother Bernie, they raced her Funny Honey all over the Midwest and East Coast. She is credited by NHRA as being the first female to enter a car in a pro class when she entered the 1969 NHRA Winternationals in Pomona, California. She also did a lot of match racing and was always one of my favorite female racers in the 1970's and 1980's.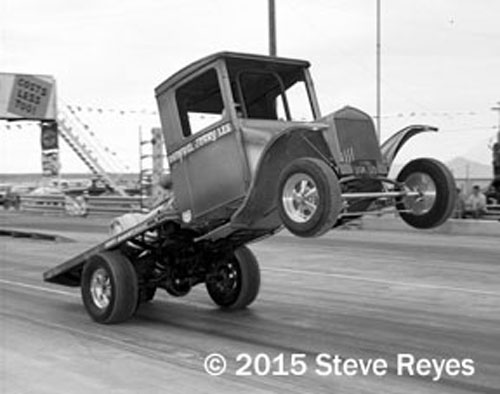 In the late 1960s and early 1970s, Sacramento, California's General Jerry Lee raced his Ford SOHC powered wheel stander all over the West Coast. Jerry was a showman with his green flatbed truck and could be found at big and small race tracks. Even when he crashed , he put on a show. At Lions one evening, he and his truck climbed a light pole right off the starting line. I don't remember which direction he was going, but he crunched his truck. When he ran into a dispute with the IRS, he made national news by paying off a tax issue with the IRS by paying them with $12,000.00 of pennies. Yes, his picture was in the newspaper dumping the pennies in the Sacramento IRS's office. One thing I can say, things were never dull when General Jerry Lee was there!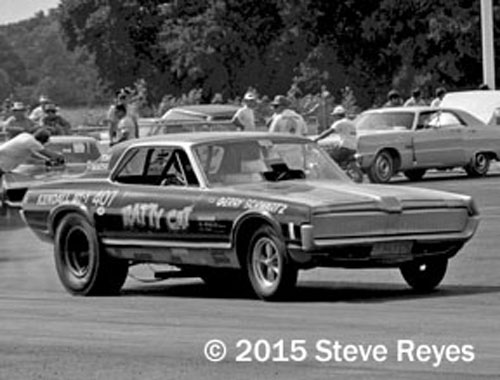 In 1969, Gerry Schwartz raced his last race with the Ratty Cat Cougar funny car at Dallas, Texas, when he was killed in a two car crash involving Pat Foster in the red MT Mach 1 funny car. It was somewhat ironic because John "Zookeeper" Mulligan made a few passes in the Ratty Cat at Lions. Mulligan did not like funny cars and told friends, "It was like a coffin lid being closed on you." Of course he was referring to the body being put down on the car. Mulligan went back to the Beebe& Mulligan AA/FD and Schwartz took his car to Dallas. However, Mulligan lost his life in a horrific fiery crash at the U.S,. Nationals later in 1969. So two drivers of the same car both lost their lives in racing crashes in the same year. Not a good record for the Ratty Cat.




NHRA: 10 Most Recent Entries [ top ]

May 21- Second JEGS SPORTSnationals Added, to be held in mid-August in New England
May 20- DENSO Sponsors NHRA Champs' Shelter-in-Place Dachshund Race
May 14- To Our Racing Community-From Racers for Christ
May 13- The Name Game Part I
May 12- Morgan Lucas, Son of Forrest and Charlotte Lucas, Appointed President of Lucas Oil Products, Inc.
May 05- Cancellation of the 14th Annual Summit Racing Equipment NHRA Nationals
May 04- NHRA Announces Revised Plan to Restart 2020 Mello Yello Drag Racing Series
Apr 29- DSR Drivers Join Global Superstars in Fight for COVID-19 Relief
Apr 02- NHRA National Dragster will Temporarily Shift to a Free-to-All Digital Magazine
Apr 02- NHRA Announces Revised E3 Spark Plugs Pro Mod Drag Racing Series Schedule