Thu, 29 Dec 2016, 11:55 AM



Those Were The Days- Top Fuel Follies



By Steve Reyes


Photo copyright 2016 Steve Reyes





Once again it is time to pile into the good ol' time machine and head back to the glory days of drag racing. This time to explore the top fuel dragster class and the men and women who owned and drove those early four-wheeled land missiles. With ninety-eight percent nitro in the tank, these racers raced everywhere and anywhere there was a drag strip. Like their quarter-mile counterparts the funny car racers, being on tour could be a moving party from race to race.
If you wish to purchase prints of the photos below or any others, they may be obtained by contacting us at breyes@reyesontour.com. Other photos for purchase may be viewed by following the links at www.reyesontour.com.
Robert Anderson's new top fuel dragster posed with the Queen Mary in Long Beach, California, in 1972. It took driver Ronnie Martin, Tom West, and myself to get the Louisiana-based top fuel car into position for the shoot. Finding the right angle for the shoot took a bit of thought and some multiple rearrangements of the vehicle. When we finally started the shoot, Tom West was my "grip" or strobe guy while Martin remained a look out for the police.
After about a roll of film was shot, all of a sudden there were spot lights shining down on us from above. A Coast Guard helicopter asked us what we were doing there. Then a Coast Guard boat was checking us out from the harbor. It seemed someone had called the Coast Guard and told them we were attacking the Queen Mary with bombs. I guess my strobes looked like explosions but after the Long Beach Harbor police car arrived, they radioed the Coast Guard what was really going on. Ronnie Martin ran interference with the police while West and I finished the shoot. Just another fun shoot in 1972.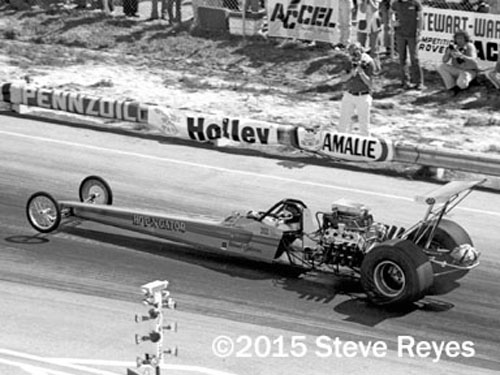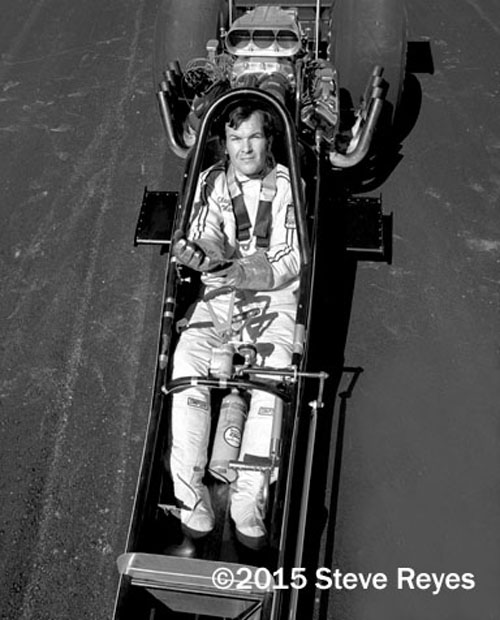 Things were looking up for Clayton Harris in 1973 when he scored his first NHRA national event victory at the Summernationals in Englishtown, New Jersey. The next event for Harris was the NHRA Grandnationals in Montreal, Canada. Well, Clayton's good friend Charlie Mouldner needed some help with his Hop n' Gator top fuel dragster at the Canadian event. Of course, Harris grabbed a wrench and applied some last minute adjustments to the Hop n' Gator in the staging area. Charlie repaid Clayton for his help by running him over in the staging lanes and shattering his leg. Clayton would recover but whenever it got cold his leg would remind him of his pal Charlie Mouldner.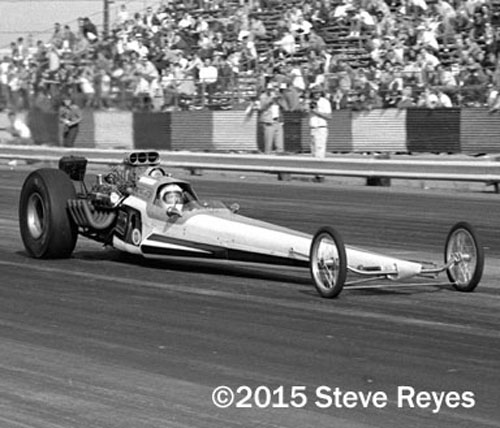 Then there is the saga of "Handgrenade" Harry Hibler and his "fun" day at the races. To set up the story, Harry was one of the first to pilot a rear engine top fuel dragster in Southern California. His ride was the former Fling Traylor U.S. Turbine dragster that had been converted to a top fuel dragster. Hibler was a veteran top fuel pilot with quite a few nitro rides in his portfolio, including an occasional ride in Don Green's Rat Trap AA/FA. At OCIR, Hibler tried to qualify the rear engine dragster but had a chute and brake failure that left the dragster wadded up in the sand trap. Harry escaped the wrecked top fuel car and headed back to the pits with the bent car and Don Green was waiting in the pit area. It seemed Green's driver of his Rat Trap AA/FA had become ill and Green needed a driver for the first round.
Shaking the sand out of his fire suit, Harry climb into the Rat Trap AA/FA and won his first round pairing. After losing the second round and loading up the bent dragster, Harry decided to go to the hospital and have one of his arms looked at because of the pain. Yes, his arm was broken. He's the only driver I have known to drive a top fuel dragster, crash it and then drive a AA/FA with a broken arm for two rounds.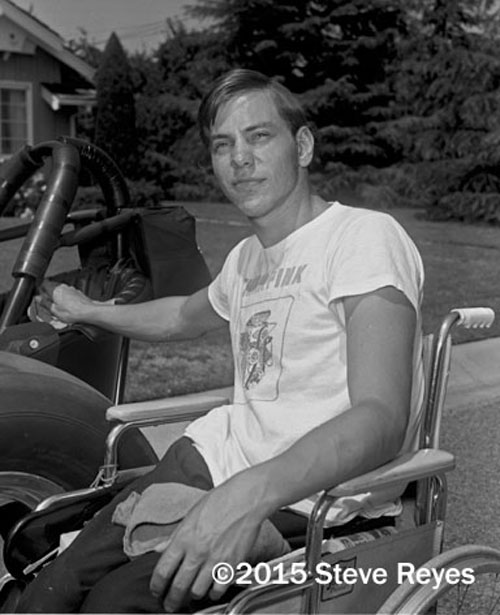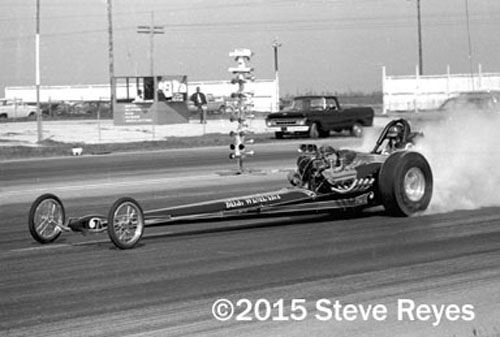 It was in the late 1960's when I met Bill Wishart who was a regular at Fremont Drag Strip and a huge top fuel dragster fan. At first Wishart came across as this wise ass kid in a wheel chair but once you got to know him, you found out he was on a mission to own and race his own top fuel dragster. A wayward gunshot to his back when he was nine years old put him in a wheel chair for life but this didn't seem to slow him down much. Bill always spoke of a trust fund that he would receive on his twenty-first birthday and that was his "top fuel fund" Sure enough when he turned twenty-one he ordered a Pete Ogden chassis and hired local top fuel racer Bob Sparboro to assemble and maintain his top fuel dream. Southern California's Wild Bill Alexander was hired to fill the cockpit and with a complete race car and trailer, the team was a top fuel fixture in 1970 and 1971.
Wishart's car was nice enough and ran well enough to grace the pages of Hot Rod Magazine. That was the other "dream" of Bill's, to have his car in Hot Rod Magazine. He told me he would have his own top fuel dragster and he did fulfill his dream. I lost track of Bill after moving to Los Angeles in the early 1970's. I understand he passed away in 2004 but his top fuel dragster has re-surfaced as a Cacklefest car. Wishart's dream lives on.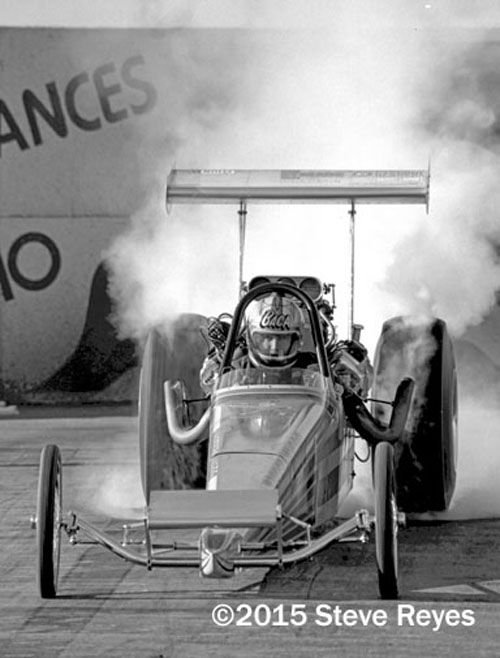 Just like any family, drag racing families have disagreements. When Dennis Baca and his son argued it went to the next level of craziness. Baca and his son got into a heated disagreement at the Baca Race Shop in Northern California, Baca stormed out of the shop and the wheel's started turning in his son's head. The younger Baca had a plan, he and his friends lifted the Baca top fuel car (sans engine and wheels) to the rather high ceiling of the shop. There the younger Baca proceeded to weld the car to the ceiling. Everything was put back in its place as the son waited for his dear old dad to return.
When the elder Baca returned he quizzed his son on the whereabouts of his now missing top fuel dragster, the son shrugged and said he had no clue what had happened to the missing race car. Baca called the local police to have them come down and check out he crime scene, which they did. As the father and son were questioned, the police asked the son about the missing race car and the son calmly looked the police in the eye and pointed to the ceiling of the shop. The crime of the century was solved.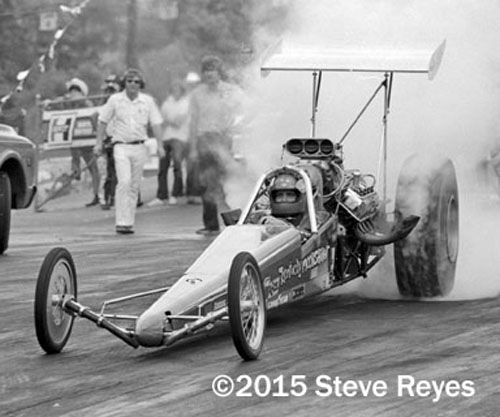 Personally I don't think there is any crazier top fuel driver than Owen Dale Funk. Dale was the driver of the English, Frakes and Funk Moonshiner top fuel dragster in the 1970's. Funk and the gang were racing in the south one weekend and while Dale was suiting up for his qualifying run, he glanced over at the swamp land that runs adjacent to the push down road and saw a good sized turtle just sunning itself on the swamp bank. He strolled over, picked up the turtle, held it up and asked his new found friend if he would like to go for a top fuel dragster ride. Then he went to the push truck, grabbed a roll of silver tape and taped the turtle to the front of the top fuel dragster. Funk jumped into the top fuel car, buckled up and away they went down the pushdown road. A burnout, then staging and off down the quarter mile went Dale with his new friend. About six and a half seconds later and after 220+ miles per hour, the fuel car stopped on the return road, Funk exited the car and gently removed his turtle friend from the front of the race car and took him over to the side of the road and set him down so he could go back to sunning himself.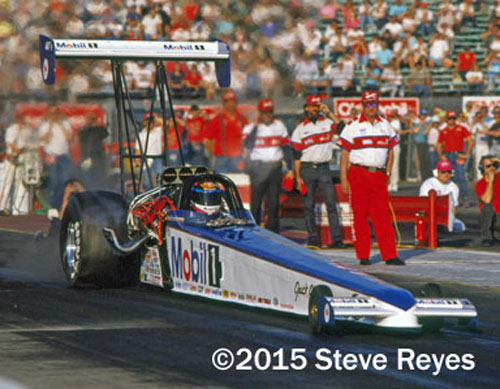 When the NFL and MLB went drag racing they did it in the top fuel dragster class. Ex-Houston Oiler quarterback Dan Pastorini traded in the gridiron for a ground pounding nitro burning top fuel dragster sponsored by Coors Light in 1985. His first car was the former Blue Max top fuel car with Bobby Rowe as his crew chief. In 1986, Pastorini won his first and only NHRA National event, the Southern Nationals in Atlanta, Georgia, when he defeated Gene Snow in the final. Donnie Couch was his crew chief by then.
Late in 1990, MLB's all-star Jack Clark announced he was going top fuel racing in 1991 with Mobil One as his sponsor. His driver was none other than the Mongoose himself, Tom McEwen. The Clark and McEwen partnership didn't last long but long enough for McEwen to score his final national event of his storied career. He won the 1991 NHRA Summernationals in Englishtown, New Jersey. Clark took over the driving in 1992 with a Taco Bell sponsorship but the only driver to win in that car was Tom McEwen.
In the early 1970's, John "Budget" Blanchard built a first class top fuel dragster for $5,500. The San Mateo, California, resident built the 1957 Chrysler Hemi himself and Dave Uyehara built the 205 inch wheel base classic. The car took ninety days to build from start to finish. Veteran top fuel driver Denver Schutz was at the controls of Blanchard's Budget mobile.
Before going drag racing Richard Ogg had a different kind of hobby, he made pipe bombs. With his driving nickname of Captain Hook, you can guess what happened to him when he was building one of his pipe bombs. However, Ogg never let his hook get in the way of anything he did. If there were drivers with one eye (Kalitta and La Haie), one leg (Joe Winter), and no legs below the knee (Doug Rose), why not one hand? In the mid-1970s, Captain Hook could be found at the controls of the Zappentini and Garatti Top Wop top fuel dragster based in Northern California.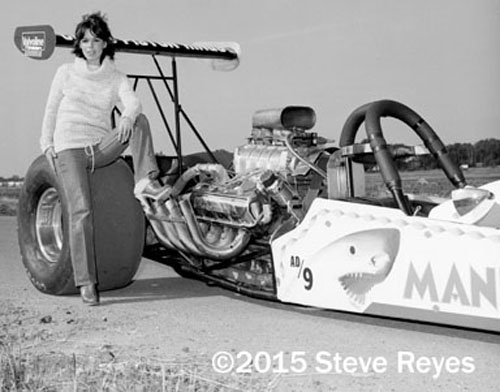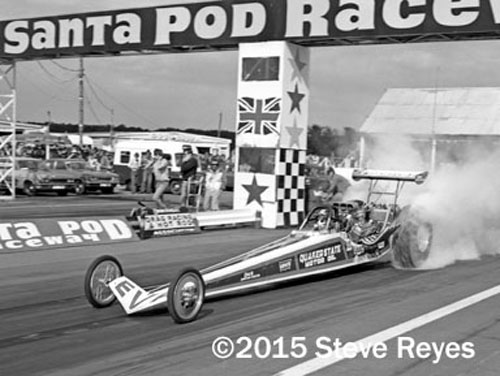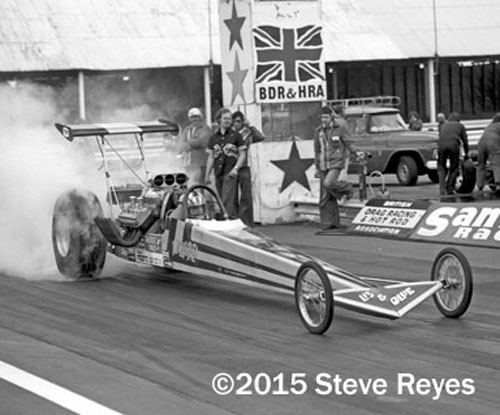 While on tour in England in 1978, I met and photographed three European female dragster drivers. Two ran nitro burners, Roz Drior and her Maneater and Eva Kjleen and her Quaker State nitro burning Chevy. Liz Burn and Ollie Burn raced an alcohol burning dragster. Prior and Burn were based in the United Kingdom while Eva called Sweden her home. After Liz Burn retired from driving she wrote a book about her adventures in driving her alcohol dragsters.
I first noticed Paul Longnecker racing his N/SA Camaro Stocker at Dallas, Texas, in 1970. Then it seemed like over night he was in his own top fuel dragster. Paul could be the high light of any top fuel show with his fires and blower explosions. His real crowd pleaser took place at the 1973 Popular Hot Rodding Championship in Martin, Michigan. Longnecker put the action in the first round of top fuel by doing a blow over right off the starting line. Paul wasn't hurt but his race car was junk. Yes, he rebuilt and returned to racing.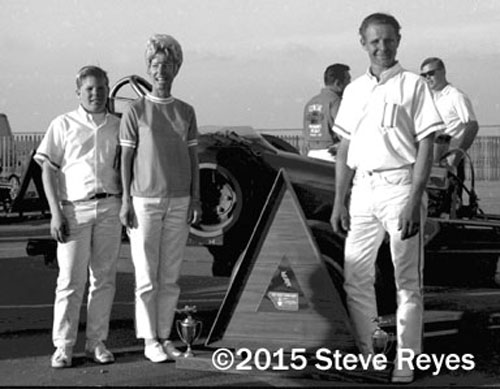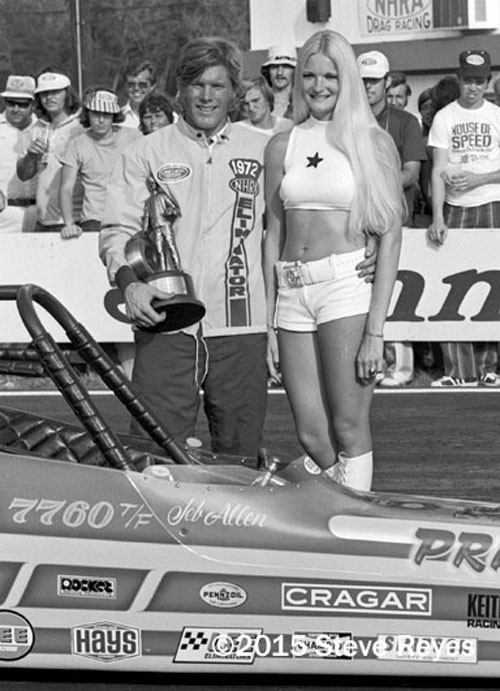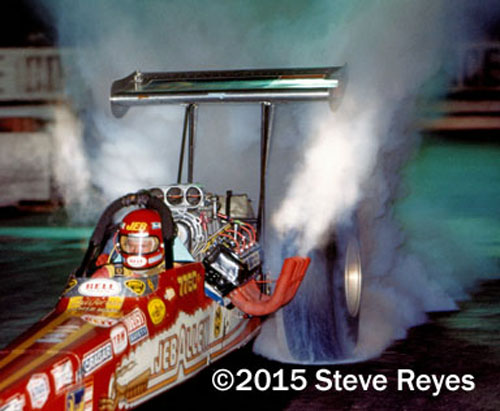 A young Jeb Allen posed with his parents Guy and Bettie Allen at Bakersfield, California in 1968. Three years later, Jeb debuted the Allen family's rear engine Praying Mantis top fuel dragster. At seventeen years old, Jeb was one of the youngest drivers ever in the top fuel dragster class, heck he was still in high school. Jeb won his first NHRA national event at Englishtown, New Jersey, in 1972, by defeating none other than old pro Tom McEwen in the final. Spring forward to 1981 and Jeb Allen was NHRA's World Champion in top fuel edging out Gary Beck by thirty-one points. Not bad from a Southern California kid who wiped the tires of his brother's junior fuel dragsters in 1967 and 1968.




NHRA: 10 Most Recent Entries [ top ]

May 21- Second JEGS SPORTSnationals Added, to be held in mid-August in New England
May 20- DENSO Sponsors NHRA Champs' Shelter-in-Place Dachshund Race
May 14- To Our Racing Community-From Racers for Christ
May 13- The Name Game Part I
May 12- Morgan Lucas, Son of Forrest and Charlotte Lucas, Appointed President of Lucas Oil Products, Inc.
May 05- Cancellation of the 14th Annual Summit Racing Equipment NHRA Nationals
May 04- NHRA Announces Revised Plan to Restart 2020 Mello Yello Drag Racing Series
Apr 29- DSR Drivers Join Global Superstars in Fight for COVID-19 Relief
Apr 02- NHRA National Dragster will Temporarily Shift to a Free-to-All Digital Magazine
Apr 02- NHRA Announces Revised E3 Spark Plugs Pro Mod Drag Racing Series Schedule