Wed, 28 Dec 2016, 10:00 AM



Those Were The Days- Top Fuel Fever



By Steve Reyes


Photo copyright 2016 Steve Reyes





The top fuel class is my personal favorite and it is always good to take a trip and relive those good old days. From the first time I ever smelled nitro and watched those long skinny cars smoke the tires in 1963, to the 2016 NHRA Gatornationals, top fuel is still my personal favorite. So here are a few golden oldie top fuel moments to enjoy.
If you wish to purchase prints of the photos below or any others, they may be obtained by contacting us at breyes@reyesontour.com. Other photos for purchase may be viewed by following the links at www.reyesontour.com.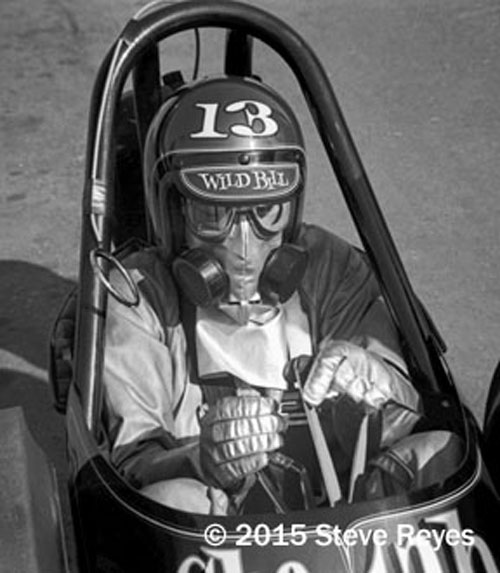 Wild Bill Alexander was one of my favorites in top fuel racing during the 1960s and early 1970s. Alexander had some great stories about driving in the 1960s. The one that stands out was his driving and crashing the Ernie's Camera AA/FD at San Fernando, California, in the mid-1960s. Alexander was on a banzai run when the car got a bit sideways and started to barrel roll down the race track. Alexander was very woozy when he was pulled from the wreckage and laid in the back of one of San Fernando's ancient ambulances. The car was totaled but Alexander seemed okay even if a bit dizzy. Like waking up from a bad dream, a startled Alexander sat up suddenly in the back of the ambulance and smacked his forehead on the inside rear door lip, leaving him with a five or six inch gash. He hit so hard that he knocked himself out. After Alexander's violent crash in a top fuel car where he came away uninjured, he knocked himself out in the ambulance, go figure.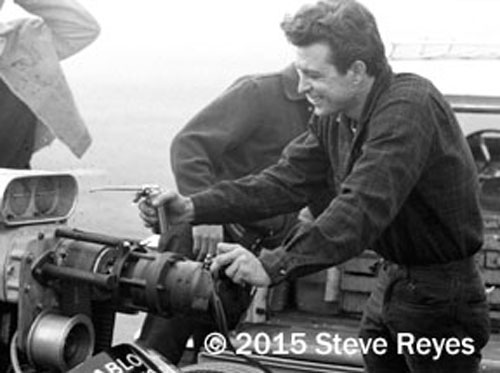 So who is that smiling gentleman with the gas squirt bottle? That is top fuel driver, owner, and chassis builder Jim Davis. Davis was about to warm up his Northern California based top fuel car with his newest invention, a self-starter for top fuel and funny car engines. Yes, a self-starter for fuel cars was the brainchild of this Walnut Creek racer. The year was 1966 and soon the Davis starters would be starting top fuel and funny cars nationwide.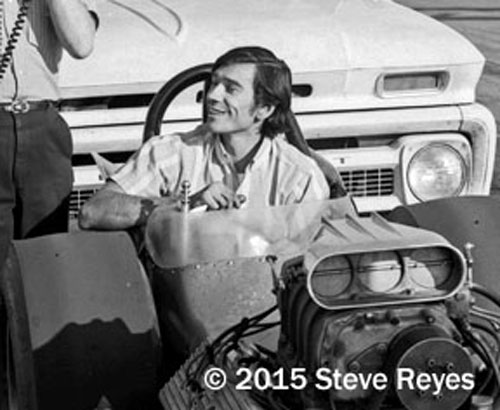 Frank Pedregon had a few nicknames including "Taco Taster," "Flaming Frank," as well as a couple of lesser known ones. He was a legend in Southern California top fuel racing. From his flaming tire Taco Taster Coupe to his top fuel dragster, Pedregon was the Mexican in fuel racing. He was known for collecting everyone's discarded parts and building nitro burning Hemi's for $50.00! To say Frank was a low budget racer would be a massive understatement. His exploits were very well known in the California racing community and his legacy is carried on by this three sons, Cruz, Tony and Frank Pedregon.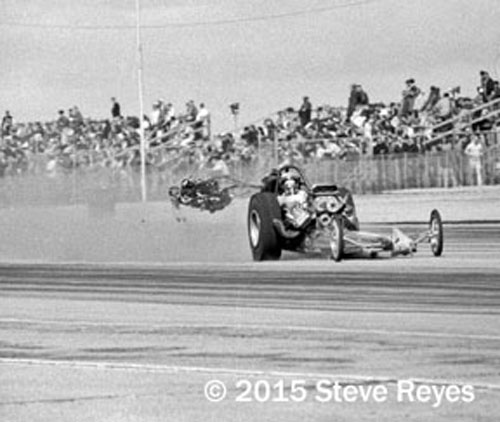 New Yorker, "Broadway" Freddy Dename ran over the timing lights with his one of a kind top fuel dragster at Bakersfield in 1968. What was so special about Freddy's top fuel car? Well, when the officials of the event got a good look at the car, they asked Freddy to put it back in the trailer. It seemed when bright sunlight shined just right on the cars beautiful candy pant job, you could see pornographic images all over the car from the nose to the tail. The car number 69 was - you guessed it - an image of a man and woman and they were not holding hands. That was Freddy and he carried his craziness on to the funny car class.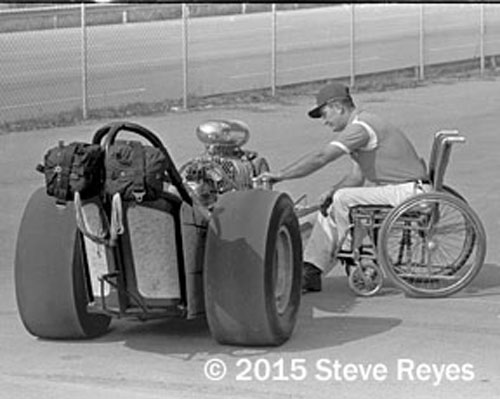 One of the most well-known top fuel owners of the 1960s and funny car owner of the 1970s was Memphis, Tennessee's Raymond Godman. Godman's Korean war injuries didn't prevent him from racing his long line of Tennessee Bo Weevil dragsters. After adapting to his wheelchair, Godman's Tennessee Bo Weevil race cars could be seen racing at early NHRA national events and then racing his top fuel dragster with Preston Davis at the helm. The Bo Weevil raced AHRA, IHRA, and of course NHRA events. When the bookings slimmed down for the top fuel car a Tennessee Bo Weevil funny car took its place and raced into the late 1970s. Yes, Godman is still around making components for race engines and he can be found every March at the Don Garlits Museum of Drag Racing Hall of Fame Banquet in Gainesville, Florida. Godman is a well-deserved member of the International Drag Racing Hall of Fame and one great guy.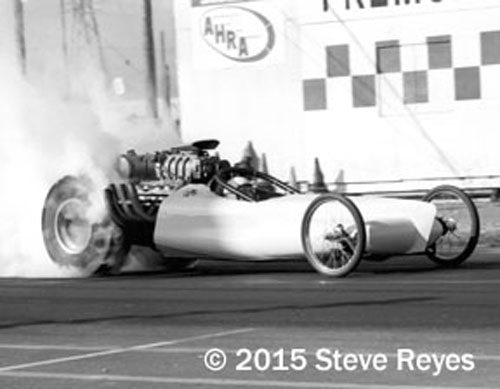 I got my first taste of rear engine top fuel dragsters at Fremont, California, in 1967. This rather strange unknown top fuel car made a few passes down the Fremont 1320 and I never saw it again. One of the highlights about this unknown car is the bicycle front wheels. Add four years (1971) to when I first saw this car and it would have been the state of the art in top fuel dragsters, go figure!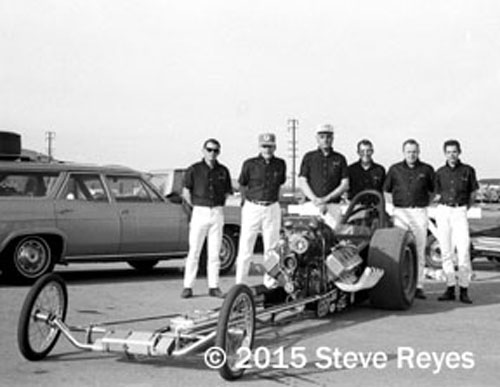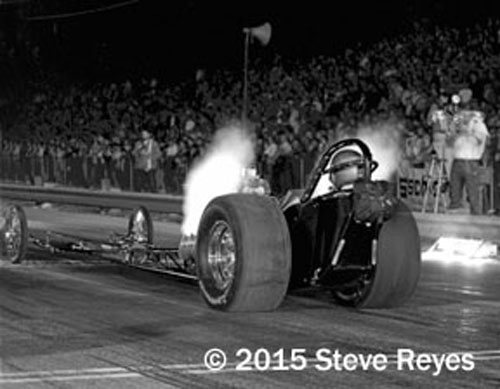 The top fuel team of Jack Ewell and his gang from Long Beach, California, attended the 1967 NHRA Winternationals at Pomona, California. The crew man on the far right is my pal Carl Olson, who at the time was driving his own junior fuel car and helping Ewell on top fuel weekends in Southern California. Ewell was getting ready to retire and hand over the driving of his AA/FD to junior fuel star Ed Allison. At the time, Allison was the junior fuel driver to beat in Southern California drag racing. Allison and his soon to be crew were looking forward to Ed's debut in Jack's top fuel car. However, life can be very cruel, just when Allison was set to debut in the Ewell car, he raced and crashed his junior fuel car at a race in Carlsbad, California. Allison's car suffered a horrific clutch explosion which tore the junior fuel car apart. A gravely injured Allison was in a coma which he would never come out of.
The whole family of Southern California drag racers were distraught about Allison's injuries and none more so than the Jack Ewell team. Ewell still wanted to retire and race his top fuel car but his choice for driver was no longer available. Then Ewell decided to look at his team for his next driver and that is where Carl Olson came in to play. Olson was great friends with both Ewell and Allison so it wasn't easy for Olson to decide on replacing his injured friend. With coaching from Ewell and the rest of the crew, Olson became the driver for the Jack Ewell AA/FD.
On July 4, 1969, Carl won his first big top fuel race, the Irwindale Grand Prix of drag racing. He waded through a stellar field of top fuel cars for the crown that long ago evening. Carl went on to partner with Mike Kuhl and win the 1972 NHRA Winternationals and the last race at Lions Drag Strip before retiring in 1974.
In 1968, Kenny Youngblood was a struggling junior fuel racer and an aspiring automotive artist. He soon set aside the driver portion of his life and became a most incredible automotive artist in motor sports. To get there, he first toiled creating ads in Drag News and Drag Racing Magazine. Pictured is his first published ad in Drag News for a big time funny car event at Lions Drag Strip in November 1968. Kenny's come a long way since his rabid funny car drawing, don't you think?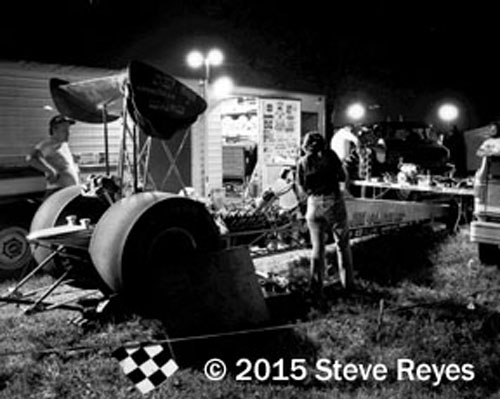 When one mentions women in top fuel racing, the first name that may come to mind is Shirley Muldowney, right? For the old time drag fan, that name would be Alison Lee. Yes, Alison Lee, from the husband and wife team of Jim and Alison Lee of Plains, Virginia. Their line of Great Expectations top fuel dragsters were a force to be reckoned with during the late 1960s and through the 1970s. Turning the wrenches on the mighty top fuel car was Alison Lee who lent a female touch to a male dominated sport. Whether it was their front engine or rear engine fuel car, she was there getting her hands dirty and making horsepower with the dragsters nitro gulping Hemi's. These days you will find her at different Hot Rod Reunions all over the United States and she is as sharp as ever.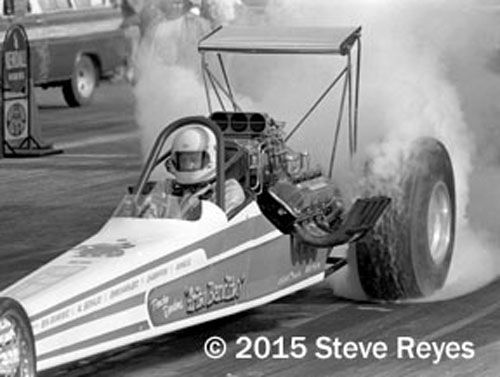 Bob "Pancho" Rendon proved it helps to have great friends in the top fuel class. When Shirley Muldowney needed a car to get her top fuel competition driver's license, her long-time friend, Rendon came forward and offered his car for the task. In April of 1973, at Drag Way Park, Cayuga, Canada, under the watchful eyes of Don Garlits and TV Tommy Ivo, Shirley Muldowney became the first woman to become a licensed top fuel driver. Both Garlits and Ivo signed her application for her license. A sad foot note concerning Rendon and his Frito Bandito top fuel dragster: on March 31, 1974, in St. Louis, Missouri, Rendon's driver, thirty-one year old Gene Domagalski lost his life in Rendon's top fuel dragster and ended Rendon's racing in top fuel. He returned with Tom Prock driving his Detroit Tiger AA/FC later that year.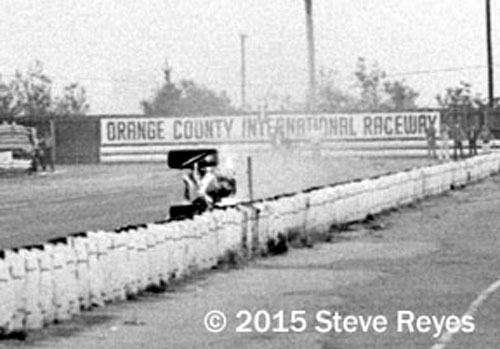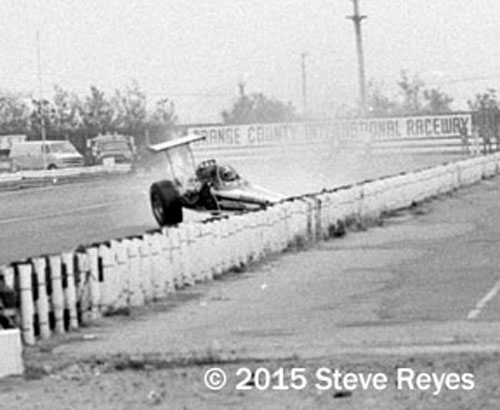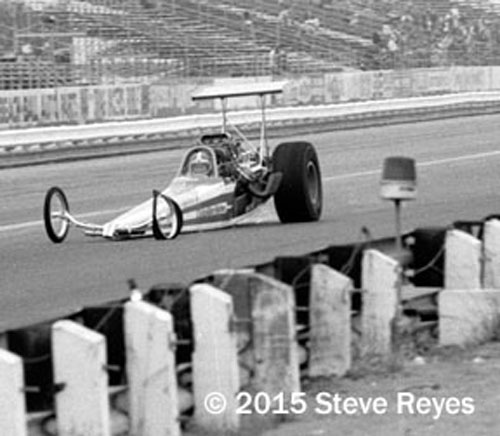 In the early years of the modern era rear engine dragsters, there where what you might say were some rather exciting runs made in that class. Here, Bruce Walker driving the Addict made one of the most "out of shape" runs that did not crash. The car was a little worse for wear but it didn't go upside down. The car was just a little bent and the driver needed new underwear.




NHRA: 10 Most Recent Entries [ top ]

May 21- Second JEGS SPORTSnationals Added, to be held in mid-August in New England
May 20- DENSO Sponsors NHRA Champs' Shelter-in-Place Dachshund Race
May 14- To Our Racing Community-From Racers for Christ
May 13- The Name Game Part I
May 12- Morgan Lucas, Son of Forrest and Charlotte Lucas, Appointed President of Lucas Oil Products, Inc.
May 05- Cancellation of the 14th Annual Summit Racing Equipment NHRA Nationals
May 04- NHRA Announces Revised Plan to Restart 2020 Mello Yello Drag Racing Series
Apr 29- DSR Drivers Join Global Superstars in Fight for COVID-19 Relief
Apr 02- NHRA National Dragster will Temporarily Shift to a Free-to-All Digital Magazine
Apr 02- NHRA Announces Revised E3 Spark Plugs Pro Mod Drag Racing Series Schedule