Mon, 19 Dec 2016, 19:28 PM



Those Were The Days- The "Triple Double" Part One



By Steve Reyes


Photo copyright 2016 Steve Reyes





| | |
| --- | --- |
| | |
While watching an ESPN 2 telecast of a NHRA national event the announcers sounded excited that Dave Connolly went from Pro Stock to Top Fuel and was doing well driving in the Top Fuel class. The announcers are always quick to mention that Antron Brown got his start in Pro Stock Motorcycle before coming into the Top Fuel ranks. I hate to burst their bubble but drivers spreading their driving talent around different classes has been going on for a long time in drag racing. It was fun to see drivers like Dale Emery, Tom Ferraro, Dave Beebe, Gary Read, Jim Dunn, Gary Southern, Ed Moore, Henry Harrison, Dale Armstong, Jay Howell, Pat Foster, TV Tommy Ivo, Willie Borsch, Shirley Muldowney, John Schumacher, Gary Gabelich, and Sherm Gunn compete in three classes in three different race cars. Many of the early drivers I saw would drive two or three different nitro classes in the same weekend on different race tracks. In the modern era for a driver to compete in more than one pro class is rare but two female racers have made their mark in the modern era by racing in three or more pro classes. Melanie Troxel competed in Top Fuel, Funny Car and Pro Mod, winning in each of these classes. Top Fuel standout Leah Pritchett's career has included AA/Altered, Retro Funny Cars Regulation Nitro AA/FC and Pro Mod.
As you can see musical cockpits arent' anything new in drag racing. Back in the good ol' days it was a lot of fun to watch drag racing's nomad drivers and see where they turned up next.
If you wish to purchase prints of the photos below or any others, they may be obtained by contacting us at breyes@reyesontour.com. Other photos for purchase may be viewed by following the links at www.reyesontour.com.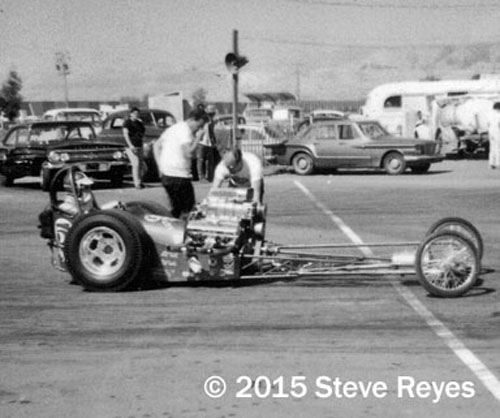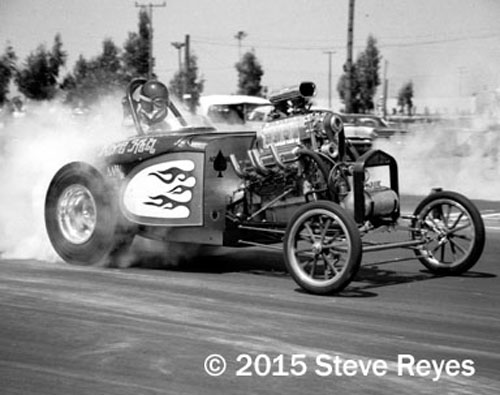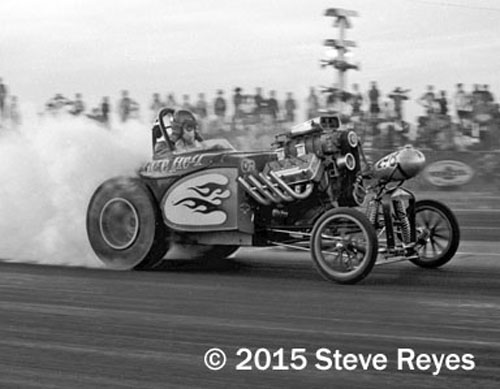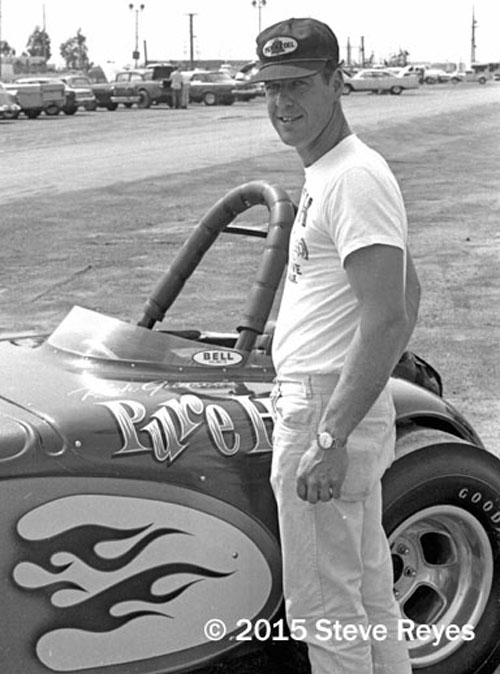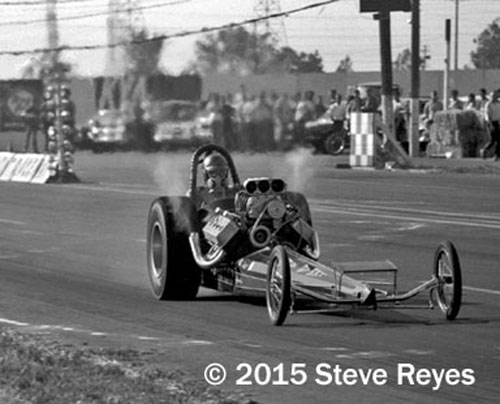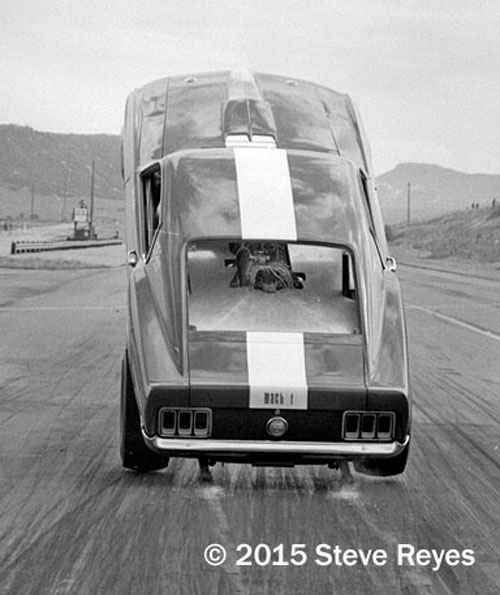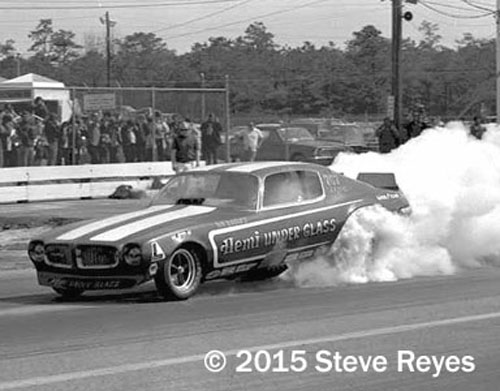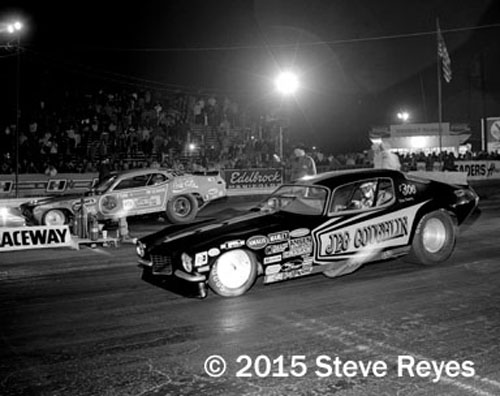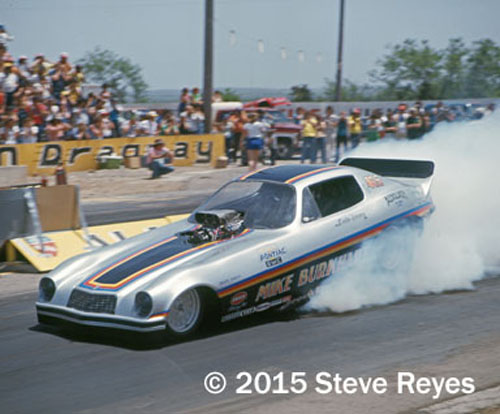 Northern California had its ultimate journeyman driver, Dale Emery. When I first saw Emery,
he was at the controls of the KP Automotive Olds Powered top fuel car in 1964. The following
year Emery was shoeing Rich Guasco's Pure Hell fuel altered and when they weren't racing
the fuel altered, Emery could be found behind the wheel of the Wailer AA/FD or sometimes the
Fuller/Emery AA/GD. After his stint in Pure Hell ended at the end of 1969, he drove a few
Texas AA/FD's and then switched to the Flying Red Baron wheel stander of Gary Watson.
Soon after the wheel stander gig ended, he ventured into the world of funny cars. Driving for
Bob Riggle and his formerly Gay Brothers Firebird AA/FC, Jegs Camaro and finally Mike Burkhart's
Camaro AA/FC. Not too bad a resume for the "Snail."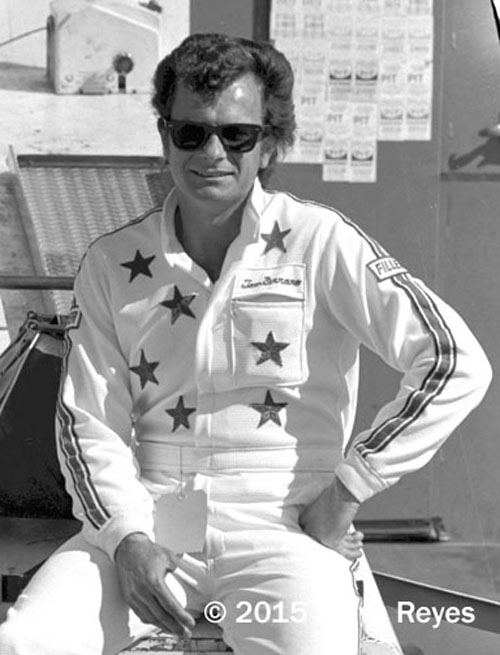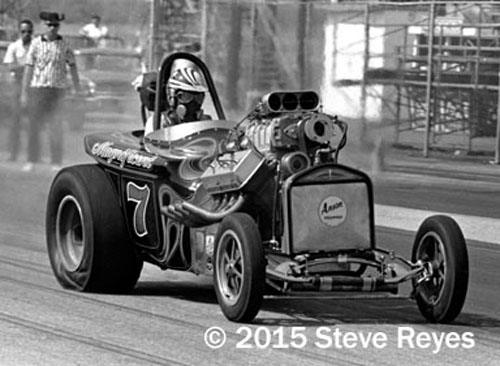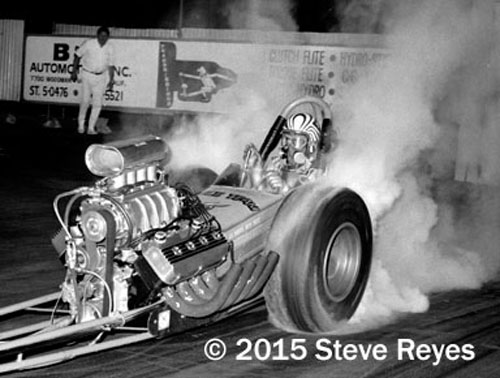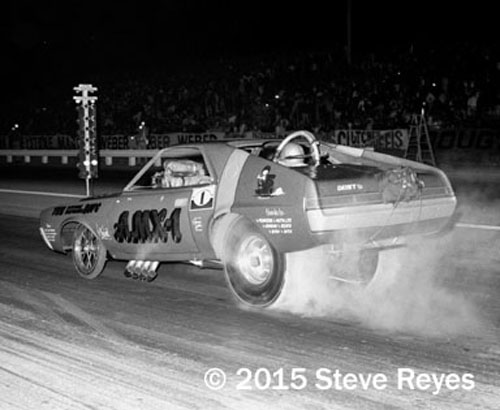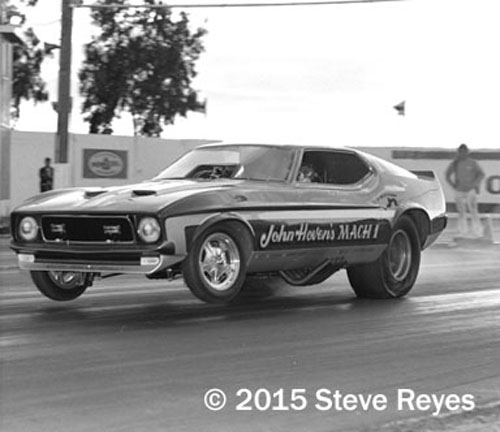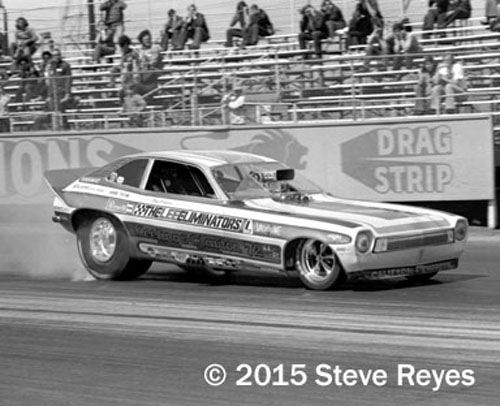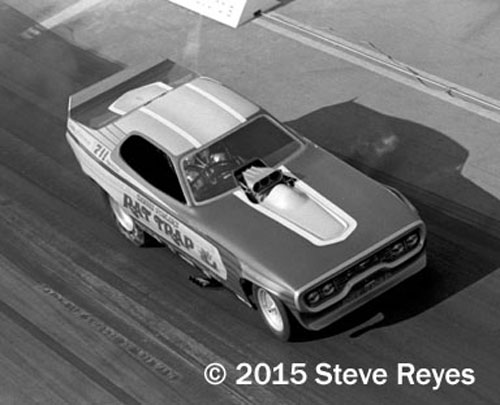 One of my favorite journeyman drivers in Southern California was Tom Ferraro.
For a while it seemed like there wasn't a nitro burning race car that Ferraro didn't
have seat time in. I first saw Ferraro on the cover of Drag Sport Illustrated back
in early 1965 driving the Stone, Ingerborg and Ferraro fuel altered. The next thing
I know he was at Fremont racing the Walker and Geary fuel altered against Guasco's Pure Hell.
For a while Ferraro's career seemed to be playing musical cockpits with the
Southern California Fuel Altered racers. Meanwhile he drove a number of Top Fuel
dragsters at the same time. So when funny cars became popular, Tom could be found
in the Walker & Geary AMX-1, John Hovan's Mustang, the California Charger Pinto and
Dennis Fowler's Rat Trap. And yes, he still could be found driving a fuel altered on his weekend "off."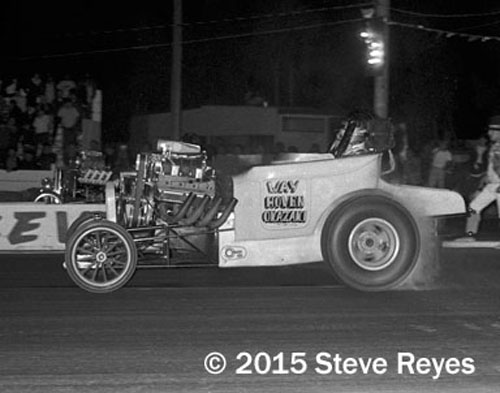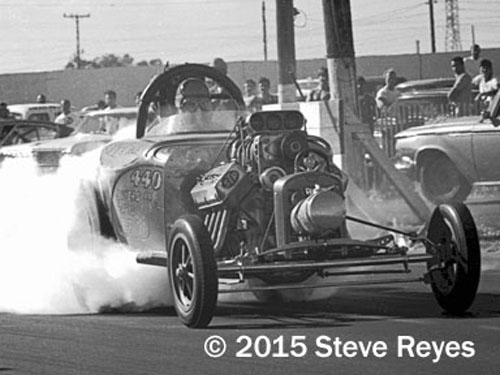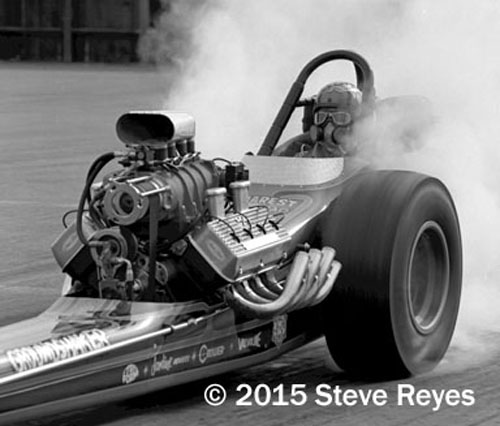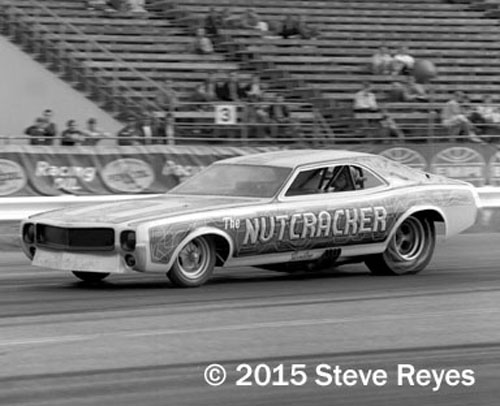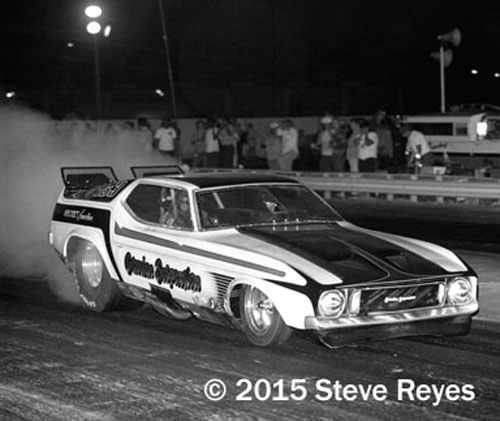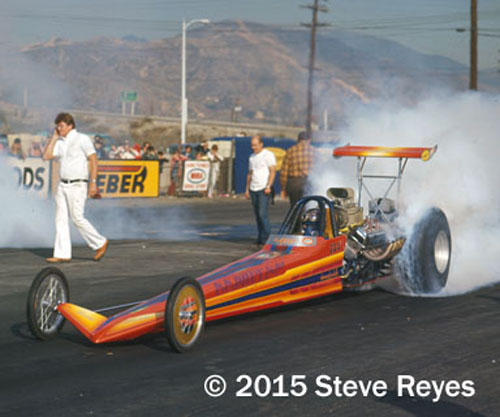 Gary Read like Tom Ferraro was based in Southern California and there wasn't a nitro class
that didn't have a car that hadn't been driven by the talented Mr. Read. Gary split his seat time
in the Groundshaker Sr. top fuel dragster, The Groundshaker Jr. AA/FA, the Mother-in-Law fuel altered
and the Nutcracker AMX bodied funny car. When the rear engine top fuel era began there was Gary
behind the wheel of CC Dunn's top fuel car or the Over the Hill Gang top fuel dragster, all the while he
was still driving in the fuel altered and funny car ranks in the Genuine Suspension AA/FC.




NHRA: 10 Most Recent Entries [ top ]

Dec 03- Megan Meyer Wins Second Consecutive Top Alcohol Dragster World Championship
Dec 02- Stevie "Fast" Jackson Wins Second Consecutive Pro Mod Championship Title
Nov 16- Torrence Wins Camping World Title
Nov 11- NHRA Announces Complete 2021 Class Schedule
Nov 10- Don Prudhomme Shares Life Story On and Off the Track
Nov 10- Justin Ashley Wins 2020 NHRA Rookie of the Year
Nov 10- Matt Hagan Crowned 2020 NHRA Funny Car World Champion
Nov 09- LAS VEGAS - Enders Claims Her Fourth Pro Stock World Championship
Nov 05- LAS VEGAS SN - Super Stock Final, Round 7 Eliminations
Nov 05- LAS VEGAS SN - Stock Eliminator Final, Round 7 Eliminations