Mon, 19 Dec 2016, 18:10 PM



Happy 50th Birthday to the Funny Car Part 6



By Steve Reyes


Photo copyright 2016 Steve Reyes





Today's funny car class competitors are racing the closest they ever have due to the team concept and the sharing of information between the teams. Team Force, Team Schumacher, and Team Kalitta usually fill ten of the sixteen slots available at any major NHRA event. That means there are only six spots available for independent funny car drivers like Bode, Pedregon, Haddock, Diehl, Tasca, Hale and Wilkerson. With all the technology, sharing of information, and rule changes, racing has become quite interesting with many a photo finish race with only inches between the winner and runner-up.
This wraps up my salute to fifty years of funny car racing. I hope you have enjoyed the many photos and mini-stories that have accompanied them.
If you wish to purchase prints of the photos below or any others, they may be obtained by contacting us at breyes@reyesontour.com. Other photos for purchase may be viewed by following the links at www.reyesontour.com.
So what goes better than Rock-n-roll with a fuel burning funny car? In the early 2000's,
Tony Pedrogon drove John Force's Kiss Army AA/FC and Motley Crew was
found splashed on Jim Epler's AA/FC.
Ron Capps went from top fuel to driving one of Don Prudhomme's Skoal AA/FC's and
then on to Don Schumacher's NAPA sponsored AA/FC. Capps has posted fifty nitro wins
in his career.
It has been one of those long standing rivalries in the world of funny car racing.
Cruz Pedregon vs. John Force. To say these two have a history together is an understatement.
Friends off the track, bitter foes on the track and its a lot of fun to see them square off
at any one of NHRA's major events.
Currently one of the big names in the world of funny car racing is Fast Jack Beckman.
He is part of Team Schumacher and can be found at the controls of the Jimmy Prock
tuned "Prock Rocket" Mopar bodied AA/FC. Fast Jack is a former Funny Car World Champ
(2012) and is also a NHRA Competition Eliminator World Champ. Then in his spare time he beat cancer!
For quite a while the Pedregon Brothers battled each other in NHRA funny car wars.
Brother Frank stepped away from drag racing a few years ago and left Cruz and Tony
to race each other and the class for funny car glory. Alas, in 2016, brother Tony Pedregon
left the driver's seat to become a race commentator and partner to Fox Sports Dave Rieff in
the broadcasting booth. With his (Tony) vast racing background of being a two time funny car
champion, he will bring great knowledge of drag racing to the fans who tune in to
Fox Sports drag racing coverage.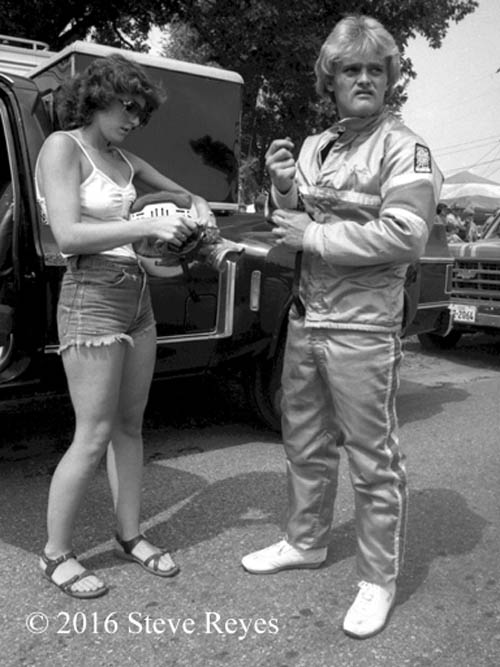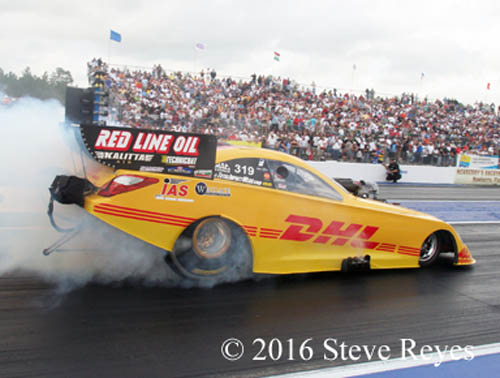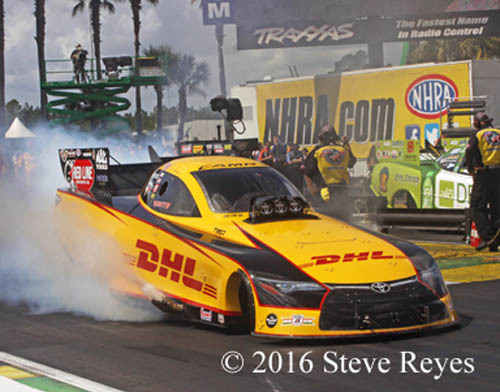 After Scott Kalitta's death at Englishtown, New Jersey, in 2008, NHRA made major changes
in drag racing that included catch nets and sand traps at every track that hosted a NHRA national event.
However the biggest change was reducing the race surface from 1,320 feet to 1,000 feet for nitro cars.
Racers and fans complained but NHRA held their ground saying it was a safety issue and it is still in
place seven years later. Connie Kalitta returned his son's DHL funny car to NHRA racing with Jeff Arend
driving. Arend was replaced after a few years with funny car and top fuel driver Del Worsham.
Worsham won the Funny Car World Championship in 2015 in the DHL AA/FC. This win made Del only
one of three drivers ever to win both a championship in top fuel and funny car. So do you know who
the other two drivers were?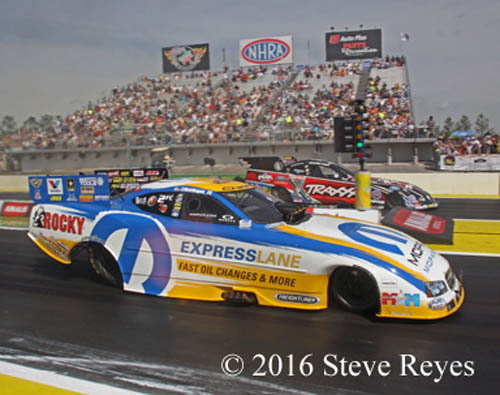 The Flyin' Farmer, Matt Hagan, out of Virginia is a big part of Team Schumacher's funny car
assault at NHRA national events. Hagan holds the ET and speed record in the funny car class
with the Dickie Venerable tuned Mopar. In his short funny car career with Team Schumacher he
has already collected two Funny Car Championships and missed a third by a few points.
If you are at the races and want to find Hagan, just look for the driver that has boyish good
looks and is built like a WWE Wrestler/Marvel super hero, that will be Matt. The race within
the race in funny car is Team Force and Team Schumacher. Here in 2010, Hagan (top) lead
the Team Schumacher charge against John Force and daughter Ashley Force with teammate
Ron Capps and the Team Schumacher NAPA AA/FC at Charlotte, North Carolina.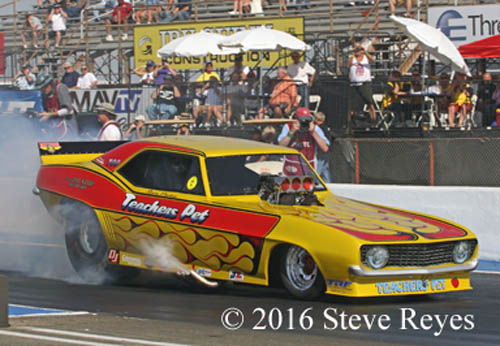 It was one of those feel good stories in 2015 drag racing when funny car veteran Gary Densham
tuned and turned wrenches on his son Steven's nostalgia AA/FC. Steven won the 2015 Nostalgia
Funny Car Championships with his dad's help.




NHRA: 10 Most Recent Entries [ top ]

May 21- Second JEGS SPORTSnationals Added, to be held in mid-August in New England
May 20- DENSO Sponsors NHRA Champs' Shelter-in-Place Dachshund Race
May 14- To Our Racing Community-From Racers for Christ
May 13- The Name Game Part I
May 12- Morgan Lucas, Son of Forrest and Charlotte Lucas, Appointed President of Lucas Oil Products, Inc.
May 05- Cancellation of the 14th Annual Summit Racing Equipment NHRA Nationals
May 04- NHRA Announces Revised Plan to Restart 2020 Mello Yello Drag Racing Series
Apr 29- DSR Drivers Join Global Superstars in Fight for COVID-19 Relief
Apr 02- NHRA National Dragster will Temporarily Shift to a Free-to-All Digital Magazine
Apr 02- NHRA Announces Revised E3 Spark Plugs Pro Mod Drag Racing Series Schedule