Mon, 19 Dec 2016, 17:24 PM



Happy 50th Birthday to the Funny Car Part 5



By Steve Reyes


Photo copyright 2016 Steve Reyes





The funny car birthday bash continues with more fun facts about drag racing's funny car class. Many racers sought fame and fortune in the class during the late 1990s and into present day racing. Only a handful have earned the right to become stand outs in the class. Those finding star status by winning the NHRA Championships include: John Force, who along with his master crew chief's Austin Coil and Mike Neff, collected sixteen NHRA Funny Car Championships for the years 1990,1991,1993, 1994-2002, 2004,2006,2010 and 2013; Cruz Pedregon in 1992 and 2008; Tony Pedregon in 2003 and 2007; Gary Scelzi in 2005; Robert Hight in 2009; Matt Hagan in 2011 and 2014; Fast Jack Beckman in 2012; and Del Worsham in 2015. I guess you could say the funny car class in the past years has been a "boys club" without much competition from the ladies.
However, that has changed in recent years as there has been an influx of female funny car racers to compete with the "boys club" that hasn't been seen since the days of Shirley Muldowney, Della Woods, or Paula Murphy. In 2008, Ashley Force entered the funny car world driving one of her famous father's team GTX Mustang funny cars. Her sister Courtney soon followed along with Patron Tequila heiress Alexis DeJoria. Ashley Force raced a few years before retiring to raise a family with husband Danny Hood but before she hung up her fire suit, Ashley became the first woman to win Funny Car Eliminator at an NHRA national event. Courtney Force and Alexis DeJoria both pilot three second, 325mph winning funny cars and will continue to leave their mark on the world of drag racing.
If you wish to purchase prints of the photos below or any others, they may be obtained by contacting us at breyes@reyesontour.com. Other photos for purchase may be viewed by following the links at www.reyesontour.com.
After hiring Austin Coil in 1985, John Force soon became the "Force" in funny car racing.
As Coil turned the wrenches on Force's AA/FC, the wins started to pile up and in 1987,
at the NHRA LeGrandnational-Molson Canada, Force won his first NHRA national event.
This was after fourteen years and nine runner-ups.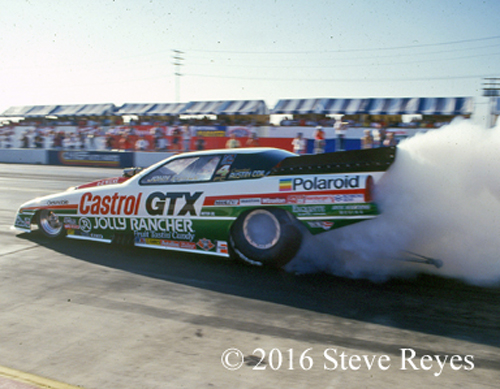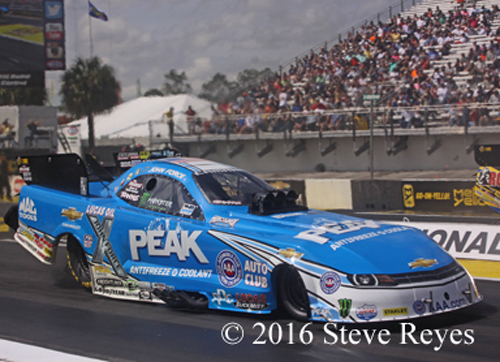 The funny car juggernaut known as John Force would collect NHRA Funny Car Championships
for 1990, 1991, 1993, 1994, 1995, 1996, 1997, 1998, 1999, 2000, 2001, 2002, 2004, 2006, 2010, and 2013.
Most were gathered with Austin Coil's masterful tuning and the last few were accomplished with Mike Neff
who had replaced a retiring Coil. For twenty-five years, Force flew the sponsor colors of Castrol GTX oil,
but that came to a halt when Castrol decided to forgo the sport of drag racing a few years ago.
Undaunted, Force began knocking on corporate doors for a new full-time sponsor for his AA/FC.
Lucas Oil and Peak Anti-freeze saw a good thing and soon Force's AA/FC was sporting their colors on
his new Camaro bodied funny car. Yes, Force also changed bodies on his, Courtney's, and Hight's
Team Force cars because at the same time Castrol pulled the sponsorship rug from under John Force Racing,
Ford did the same. GM also saw Force as a great spokesperson and signed on to Team Force.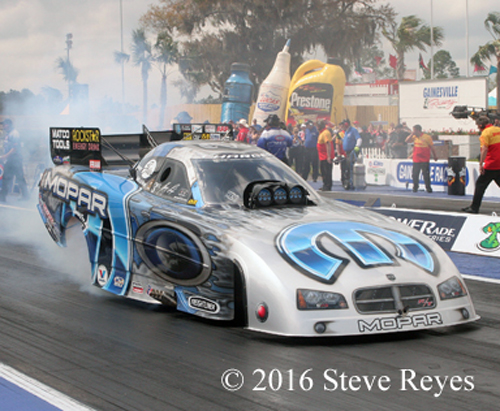 Before retiring, Central California's Gary Scelzi became only one of three drivers to ever win
Championships in top fuel (1997,1998, and 2000) and funny car (2005). He has since retired to
devote more time to his business and family.
Joining her famous father in the funny car ranks in 2007/8 was Ashley Force.
In 2009 she became the first female to win a major NHRA event funny car and finished
second to team mate Robert Hight for the Funny Car Championship in 2009.
While testing on March 19, 2007, after the Gatornationals in Gainesville, Florida,
Team Force driver Eric Medlen became a victim of the tire shake. He crashed into
the concrete barrier and at age thirty-three, on March 23, 2007, succumbed to severe head injuries.
This was a great loss to John Force racing and to the sport of drag racing.
Of course the second John Force daughter to race in the funny car class is Courtney.
In her brief but productive career, she has racked up several NHRA Funny Car national
event wins including one in 2015. She also achieved the 100th all-time national event win
for the females in drag racing. You can't call Courtney bashful, she is the only drag racer
I can remember who has posed nude for the ESPN body issue in 2013. She graced the cover
as well as a full nude spread on the inside. Most recently she has married Indy car racer
Graham Rahal in November of 2015.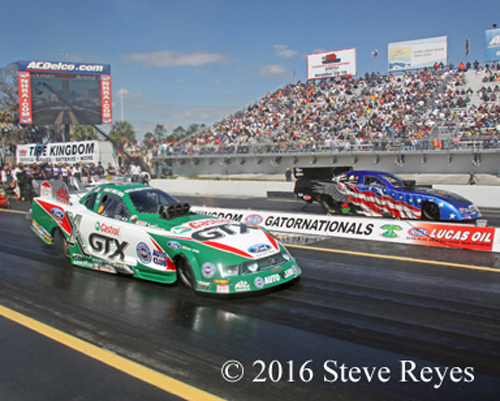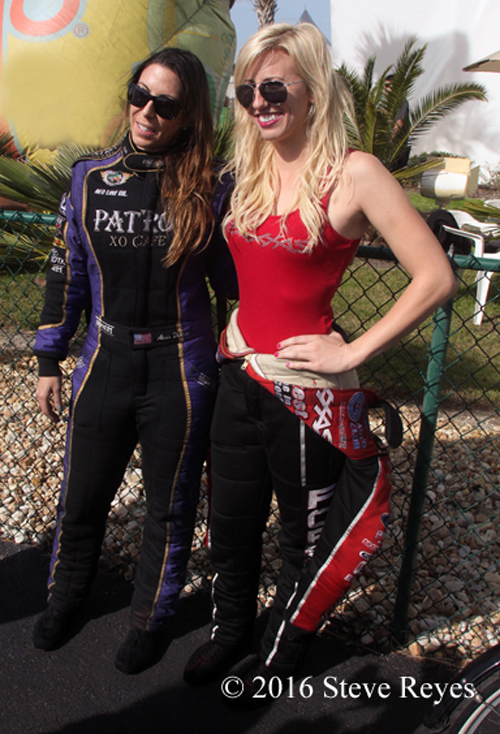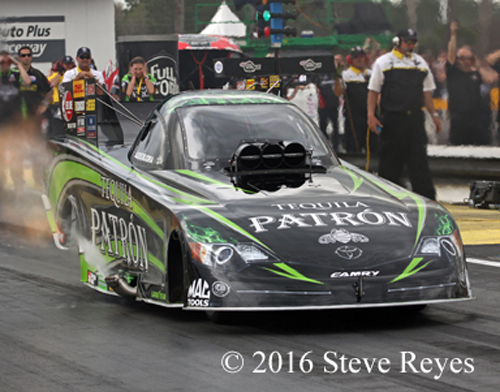 Not since the days of Shirley Muldowney, Della Woods and Paula Murphy has the funny car class
had a female touch. Here in 2010, Ashley Force squared off against Melanie Troxel at Gainesville, Florida.
Patron Tequila heiress Alexis DeJoria posed with Courtney Force before racing in 2015. DeJoria can be
found at the controls of her Patron Tequila AA/FC and she is no push over in funny car racing with a number
of NHRA major event wins including the U.S. Nationals.




NHRA: 10 Most Recent Entries [ top ]

May 21- Second JEGS SPORTSnationals Added, to be held in mid-August in New England
May 20- DENSO Sponsors NHRA Champs' Shelter-in-Place Dachshund Race
May 14- To Our Racing Community-From Racers for Christ
May 13- The Name Game Part I
May 12- Morgan Lucas, Son of Forrest and Charlotte Lucas, Appointed President of Lucas Oil Products, Inc.
May 05- Cancellation of the 14th Annual Summit Racing Equipment NHRA Nationals
May 04- NHRA Announces Revised Plan to Restart 2020 Mello Yello Drag Racing Series
Apr 29- DSR Drivers Join Global Superstars in Fight for COVID-19 Relief
Apr 02- NHRA National Dragster will Temporarily Shift to a Free-to-All Digital Magazine
Apr 02- NHRA Announces Revised E3 Spark Plugs Pro Mod Drag Racing Series Schedule