Mon, 19 Dec 2016, 15:42 PM



Little Wins Big in Talbert Pro Junior Dragster



Courtesy of Lisa Collier


Photo: Gary Rowe / RaceWorks.com / PDRA660.com





PITTSBORO, N.C. --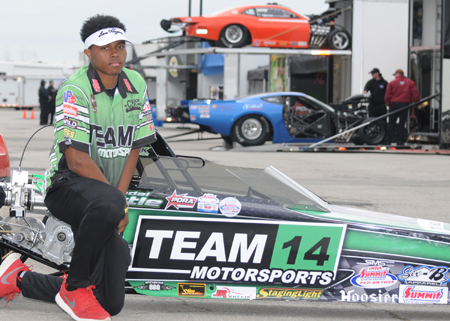 Kendal Little
In 2015, Kendal Little earned top honors in the junior dragster category at his home track, Little River Dragway in Holland, Texas. After winning that track championship, Little and his father decided to begin the 2016 season competing at the PDRA season opener in Tulsa, Oklahoma, the second closest stop to them on the tour. When that event was postponed until the Spring Drags in Rockingham, N.C. the Littles decided to make the trip east. It turned out to be a good decision.
Little not only won the postponed season opener, he won the Rockingham Spring Drags, as well. "Winning Tulsa and Rockingham in the same weekend got us off to a great start," told Little. "So me and my dad decided to chase the series and see what we could do."
Following the series was a second good decision by the Little family. Kendal added another win at Dragstock XIII and two semi-final finishes in Memphis and Virginia for an overall win/loss record of 23 wins out of the possible 32 rounds of competition at the races he attended. His incredible performance this season earned him the 2016 PDRA Pro Junior Dragster Championship. He had such a lead on the competition that he didn't have the chance to build up nerves before the championship was his. When Courtney Howard lost in the semi-finals of the Sunshine State Shootout, Little knew he was untouchable.
"I definitely had a lot of breathing room," told the college freshman. "I felt very confident in the weekend going my way and clinching the championship early. Luckily that's the way it happened. [This championship] is definitely different [from the track championship] with all the hours traveled and money spent on hotels, getting from place to place. With the PDRA you race the top notch competition from around the country."
Incredibly, this was Little's first season competing for a national-level championship. He says that competing in various parts of the country due to moving for his father's military service helped prepare him for chasing the series.
"Definitely got to thank my mom and my dad," thanked Little, who's a third generation driver. "My mom lets me and my dad travel around the country. My dad for everything he puts into it, taking the time off of work to pursue this, the money and time he puts into it. He's still active duty in the Army. He puts his racing to the side sometimes, even when I don't want him to, just so I can race. Craws Racing Racing, Mike Bos Chassis, TT Jones Racing out of Huntsville Dragway, Six B Apparel, Shultz Performance and Noble's Performance. Coming back from one race we accidentally hit a deer and the crew from Nobel's came and picked us up at around two or three in the morning. We really appreciate them helping us out in a pinch. I also want to give a big shout out to the Cheatersquad."
Little aged out of junior dragster categories this year and certainly made the most of his last season. He's not looking back, however. During this transition season, Little has already had some seat time in full size cars and dragsters.
"The first time I ever drove a full size car we entered a big money bracket race," he storied. "I think it was $5,000 to win that day. I didn't even plan on driving. I just went for my dad to spectate and somebody asked if I wanted to drive the dragster. It was pretty exciting. It definitely got my attention quickly about how different everything is [from a junior]. The competition is a lot harder, but I ended up doing pretty well. I went four rounds, which I don't think anybody expected me to get past first round. I've been driving for people ever since."
The Little family is wasting no time for Kendal to make the complete transition to full size racing. Last weekend they sold the complete junior dragster race setup and Kendal drove his father's Camaro in a local bracket race. This winter they plan to purchase a dragster to compete in big money bracket races and class racing on a local and national level.
As if all his on-track success isn't enough, Little is also a talented basketball player. This fall he entered the University of Mary-Hardin Baylor on a basketball scholarship, pursuing a degree in Business Marketing. It seems Kendal Little is the whole package. One thing is for sure, he'll certainly be a racer to watch for years to come.




PDRA: 10 Most Recent Entries [ top ]

Mar 10- Lucas Oil Top Dragster Heads into New Era
Mar 10- PDRA Announces 2018 Contingency
Mar 06- PDRA Welcomes Stand 21 as Official Safety Equipment Partner
Mar 02- Door Slammers Plus Recognizes Value of Junior Racers
Feb 26- Drag 965 Pro Extreme Motorcycle Ready for Turbos
Feb 23- PDRA TS 32 and TD 32 Payout Increased Thanks to Generous Class Support
Feb 15- Flatout Gaskets takes Nitrous Wars into Third Straight Season
Feb 06- Switzer Dynamics, MoTeC and JESEL Continue Pro Nitrous Sponsorships in 2018
Jan 25- Bryant Industrial Crane and Rigging Pro Extreme presented by ProLine Racing Gears Up for 2018
Dec 22- Liberty's Gears Named Title Sponsor of PDRA Extreme Pro Stock