Mon, 19 Dec 2016, 09:41 AM



John Force and Robert Hight Recap 2016 Season



Courtesy of JFR Public Relations


Photo credits to Gary Nastase Photography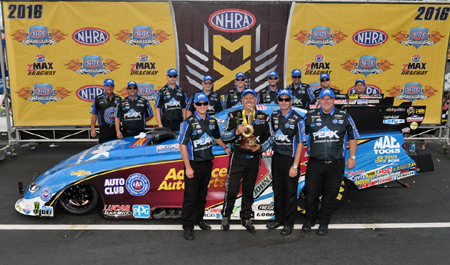 John Force and team celebrate win.
The chase for the 17th NHRA Funny Car championship may have come up short for John Force, but the 147-time winner won four races, made a run at sweeping the Western Swing and was in half of the final rounds of the Countdown to the Championship. The winningest driver in NHRA history wrapped up the season in 4th place in the Mello Yello Funny Car point standings. Force's teammate and JFR president Robert Hight powered the Auto Club Chevrolet Camaro SS team to his third win at the Gatornationals and his third consecutive Traxxas Shootout Final round during the Chevrolet Performance U.S. Nationals before racing to a Top Ten finish. Hight continued his streak of winning at least one race, qualifying No. 1 and setting Top Speed every year of his professional career with his 2016 performance.
Looking back at 2016 what was your breakout moment or biggest success?
John Force - "It is always about teamwork at John Force Racing and with this PEAK Antifreeze team. The first breakout moment for me was seeing Brittany (Force) and the Monster Energy Top Fuel dragster win in Gainesville along with Robert (Hight) in the Auto Club Funny Car doubling up. That was a big success. It wasn't just big for me as a father to Brittany and teammate to Robert it made me feel like I knew what I was doing in my choice of people to run the Top Fuel and Funny Car program. That was the key. I knew wins would come but that double up in Gainesville was very big."
JF - "The other big moment was I got the opportunity with my crew chief young Jon Schaffer to try and win the Western Swing. We almost got it done. It was fun to come off the mountain in Denver with the win and to watch this young team led by a young crew chief evolve. Then to go into Sonoma and win again to give us a shot at the Western Swing was great. We didn't get it done but we were the only ones with a chance. Those are my two high moments of the season."
Robert Hight - "The biggest success last season was winning the Gatornationals. When you win a huge race that early in the season, it gives you high expectations for the rest of the season."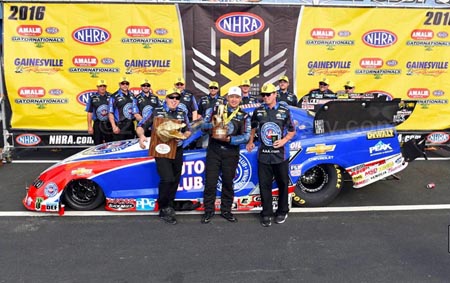 Robert Hight and crew celebrate win.
Talk about how well your team came together this season..
JF - "Mike Neff has been working with Jon Schaffer for almost five years to give him the opportunity to be a crew chief. Schaffer proved himself to me and to Neff but you never know until you are under the real pressure. He led that PEAK team with Nick Casertano and the addition of Jason McCulloch and we all fed off of each other's passion and enthusiasm. We took all that energy to the starting line. I took my experience and they took their youth. Together we made a pretty good race team."
RH - "I am fortunate since I have a team that has been together for a long time. They know what it takes to win and they also know how hard it is to win these days. They just kept digging all year long."
What has you most excited about the upcoming season with your team?
JF - "I love being with my family. I have loved cars and trucks my whole life. I love my 18-wheelers and I stand out in the pits and stare at them. I was a trucker in the early days. That love continues to grow. To watch this team in the good times when we dominated with Austin Coil and Bernie Fedderly and also when we struggled when we lost sponsors and teammates, to continue to fight. That is when you show your true grit. That is what drives me. I surround myself with experience and youth. I have to do that to keep me going. I have a young Robert Hight and young daughters driving. I have young crew chiefs tuning. It feels like we are starting John Force Racing all over again. That is where my excitement comes from."
JF - "I have to admit Schumacher Racing is a motivator also. Schumacher loves it as much as I do. His motivation and the success of his drivers make me want to work harder. I feel like I always have an opportunity to win. If you never lose heart and you never lose the love you will find your way. That is the key."
RH - "We finished 2016 with a strong car. We qualified number one at two races in the Countdown in St. Louis and Dallas. I am looking forward on building from that performance in 2017."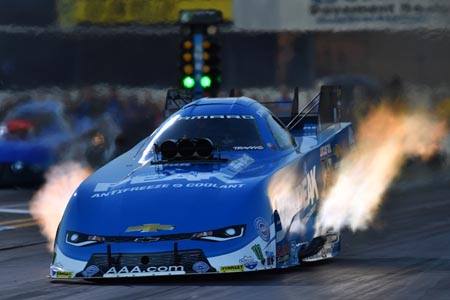 John Force
Going into 2017 with the Camaro body do you think you will be even more successful?
JF - "We learned so much about the new Camaro last year. You don't realize how much about a race car you take for granted after you have raced it for 16 years. We came back home to Chevrolet and they are a great partner and we are working on aerodynamics and our engine program. I struggled the most with the new Camaro last season. It was all me. It was all my fault and it is hard to explain unless you are a driver. The new visual just gave me too much to look at. It was so good I was doing stuff and people were telling what I was doing and I didn't believe them. Robert and Neff had to sit me down and we fixed it. Putting the St. Christopher on the injector helped me line my race car up and get it straight down the race track. The other car was boxy and it forced me to focus down the race track by design. This new wrap around windshield with the new Camaro, which is so much better, had me looking everywhere and I didn't know why. It's crazy but the truth. We will be more successful because we corrected these issues last season."
RH - "Getting the new 2016 Camaro SS Funny Car body was a highlight in 2016. I believe there is more untapped performance in that new body. Chevy will be working to make it even better for JFR in the future."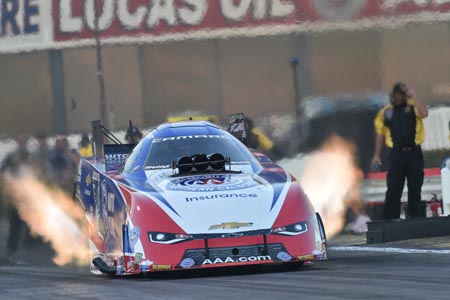 Robert Hight
Fans are an important part of our sport. How exciting was it to see the growth in 2016?
JF - "Fans are your lifeline. You can't live without them. I am 67 years old. I have just been hired by a company Old World Industries with PEAK Antifreeze because of my performance and how I have showed I can still fight back to race until the end of my career. I can drive as long as I want."
JF - "I owe the fans for all the support over the years. You have my word I won't quit just because of my age. I am going to stand there with you and we'll fight this thing until the very end together. I want to say thank you and my gift to the fans is I'll always give you respect since you stood by me in the good times and the bad times. You cheered for me when I was broken up in the hospital. I will promise not to quit you after all your years of support."
RH - "I want to thank the great NHRA fans for all of their support. AAA had a contest in 2016 that put me up against Joey Logano in NASCAR to see which is the greatest league in motorsports. We won thanks to the great NHRA fans. This proved that the NHRA fans are the greatest in all of motorsports!" Talk about your personal goals for 2017...
JF - "My No. 1 goal in 2017 is I want to be the champion. I will live on the treadmill and in the weight room. I am going to do everything that I can to keep this body fit so I can keep running with the young kids. I have found the money and now I have to keep me right mentally and physically."
RH - "My goal for 2017 is the same as it has been every year I have been driving. I want to win another championship for Auto Club and Chevrolet. We have everything we need to make this happen. To do this, we need to work harder than everyone else. 2017 started Sunday November 13, 2016."




NHRA: 10 Most Recent Entries [ top ]

May 21- Second JEGS SPORTSnationals Added, to be held in mid-August in New England
May 20- DENSO Sponsors NHRA Champs' Shelter-in-Place Dachshund Race
May 14- To Our Racing Community-From Racers for Christ
May 13- The Name Game Part I
May 12- Morgan Lucas, Son of Forrest and Charlotte Lucas, Appointed President of Lucas Oil Products, Inc.
May 05- Cancellation of the 14th Annual Summit Racing Equipment NHRA Nationals
May 04- NHRA Announces Revised Plan to Restart 2020 Mello Yello Drag Racing Series
Apr 29- DSR Drivers Join Global Superstars in Fight for COVID-19 Relief
Apr 02- NHRA National Dragster will Temporarily Shift to a Free-to-All Digital Magazine
Apr 02- NHRA Announces Revised E3 Spark Plugs Pro Mod Drag Racing Series Schedule