Wed, 14 Dec 2016, 11:07 AM



My Favorite Fifty- Part 5



By Steve Reyes


Photo copyright 2016 Steve Reyes





Here are the last ten of my favorite funny car picks from 1965-1970. I would like to know whether or not you found any of your favorites among these fifty that I have portrayed. As you can tell my list was chosen from when A/FX, S/XS were turning into true funny cars. If you weren't around in those early years, you did miss a lot of changes and great racing in those wild and crazy days. It was a learning process shared by the car owners, drivers and fans alike that developed the funny car into the most popular sport of drag racing then and now.
If you wish to purchase prints of the photos below or any others, they may be obtained by contacting us at breyes@reyesontour.com. Other photos for purchase may be viewed by following the links at www.reyesontour.com.
One of the coolest early Corvair funny cars belonged to Rapid Ronnie Runyan.
His Blue Hell Corvair was a fan favorite wherever it raced. Ronnie and brother Mike
were one of the first of the California funny cars to tour nationwide. When Ronnie was
feeling bad or tired from touring, brother Mike donned Ronnie's fire suit and drove.
In fact Mike was asked by Harry Schmidt to drive his new (not yet) Blue Max Ford Mustang.
However, Mike had promised his dad he would return from touring and finish school.
When Fast Eddie Schartman brought his Airlift Rattler to the West Coast, I had never seen
a car with so much awesome raw horsepower. I had only seen top fuel dragsters smoke the
tires and carry the front wheels. Here was a full size funny car doing that and wow, was that very cool.
Schartman was a true showman in the funny car class and had a huge fan base nationwide.
One of those wild and wacky NorCal based Goodies sponsored funny cars was the
Hammons, Williamson and Hammons Hairy Canary. The car debuted in early 1967
with Rich Hammons trying to get down the quarter-mile in the ill-handling Valiant.
It was a Kodak moment every pass it made.
One of the best running Cougar bodied funny cars in the country was raced by the
Colorado team of Kenz and Leslie. The mild-mannered, Clark Kent look-a-like, Ron Leslie,
was at the controls of the mighty High Country Cougar. The team raced at Fremont, California,
many a time in the late 1960s and did very well.
Flash Gordon Mineo was the West Coast's tough little guy in funny car racing.
He and his crew chief/wife Ann toured their Firebird throughout California and across the USA.
Mineo had fires, blew bodies off and hit guardrails. Nothing seemed to get this tough little guy down.
The Mineo's always had their funny car ready for the next race date no matter what.
You have to admire a racer like Mineo.
Coming up from the San Diego area to race in Southern California funny car wars was
privateer Randy Walls. He and wife Cheri were regular racers at funny car events with
their Super Nova funny car. In 1969, Walls had one of the most popular cars in Southern California.
I guess it helped that his lovely wife Cheri helped back up the Super Nova after every burn out.
I believe Michigan's Della Woods was the first female ever to pilot a funny car.
This would have been her second Funny Honey. Her first was a stock looking
Dodge Coronet with a blown nitro burning Hemi. Della and her brother Bernie raced
across the USA with her 1969 Charger S/XS
Always fun to watch and photograph was the Pisano Brothers Corvair funny,
with Frankie Pisano attempting to drive. Yes, Frankie was fun to watch anytime
the Corvair went down the track. Randy Walls wasn't a big fan of Frankie's driving
when he (Frankie) drove the Pisano funny car into the side of Walls' original Super Nova
at the finish line in Irwindale, California. Both cars tangled up, went over the guard rail
and were destroyed. Both drivers were uninjured. Walls went and bought Hayden Proffit's Corvair
to finish the season and the Pisano Brothers rebuilt their funny car.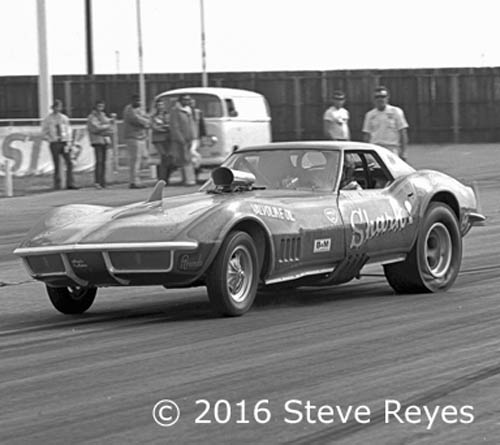 The wild man from the Northeast, Frank Federici and his very popular Shark corvette funny car
came west in 1970. He raced in Scottsdale, Arizona, at an AHRA event; at Pomona, California,
at a NHRA event; and then did open shows at Fremont and OCIR. Federici was well received by
West Coast funny car fans. Here is a little secret about the Shark's tour; Federici had to return home
for business and Clare Sanders filled the driver's seat at Pomona and OCIR (pictured).
I only remember three funny cars that ran two engines; Dean Dillingham's A&W Root Beer Nova
that burned to the ground; Junior Brogden's Phony Pony (two injected Ford engines in line) that
was only around for a few races; and then there was Donnie Hampton's Too Bad twin engine
(side by side) Corvette. The Too Bad Corvette wasn't going to set records because of its weight
but it sure sounded cool. Alas, it only ran a handful of times before burning to the ground.
Hampton did not rebuild.




NHRA: 10 Most Recent Entries [ top ]

Nov 16- Torrence Wins Camping World Title
Nov 11- NHRA Announces Complete 2021 Class Schedule
Nov 10- Don Prudhomme Shares Life Story On and Off the Track
Nov 10- Justin Ashley Wins 2020 NHRA Rookie of the Year
Nov 10- Matt Hagan Crowned 2020 NHRA Funny Car World Champion
Nov 09- LAS VEGAS - Enders Claims Her Fourth Pro Stock World Championship
Nov 05- LAS VEGAS SN - Super Stock Final, Round 7 Eliminations
Nov 05- LAS VEGAS SN - Stock Eliminator Final, Round 7 Eliminations
Nov 05- LAS VEGAS SN - Super Street Final, Round 7 Eliminations
Nov 05- LAS VEGAS SN - Super Comp Final, Round 7 Eliminations