Tue, 13 Dec 2016, 20:24 PM



Happy 50th Birthday to the Funny Car Part 4



By Steve Reyes


Photo copyright 2016 Steve Reyes





Okay, now its part four of our fiftieth birthday celebration of the funny car. Before going into the details of the fabulous floppers in the 1980s and 1990s, I would like to share an interesting list with you. Why 1966 was considered the first year of the funny car class does puzzle me. Heck, the (funny cars) didn't even adopt the name or have an official class until 1969. However, in 1966, the funny car was referred to as exhibition stockers/blown according to a mid-1966 issue of Drag Racing Magazine. DRM in its heyday was considered the bible for the sport of drag racing. DRM conducted a poll among promoters and fans to see which cars were the most popular in the USA. The results fifty years ago in mid-1966 were as follows:

1.  Don Gay and his Infinity II Pontiac
2.  Mr. Norm's Mopar with Gary Dyer driving
3.  The Chevron with Maynard Rupp
4.  Bobby Wood and his 427 Chevy II
5.  Arnie "The Farmer" Beswick and his 421 Pontiac
6.  Jack Chrisman and his SOHC Comet
7.  Don Garlits' Dart with Emery Cook driving
8.  The Kingfish with Larry Reyes driving
9.  Darrell Droke and his SOHC Mustang
10. The Canuck with Dale Armstrong driving

So there are some big names in funny car racing that aren't on the list because there was a second list for "match race stockers" A.K.A. A/FX'ers. Now remember the first top ten was for blown race cars and this upcoming list was made up of car that were injected on nitro and these included:

1.  Don Nicholson and his OHC Comet
2.  Sox and Martin with their injected Hemi-Cuda
3.  The Ramchargers Hemi Dart
4.  Bill Lawton and his OHC Mustang
5.  Tommy Grove and his OHC Mustang
6.  Dandy Dick Landy and his Hemi Dart
7.  Fast Eddie Schartman driving the Steffey/Schartman OHC Comet
8.  Gas Ronda OHC Mustang
9.  Roger Lindamood and his Color Me Gone Hemi Charger 
10. Huston Platt and his 427 Chevy II

So fifty years ago those were the racers that got the funny car class into drag racing's spotlight and now fifty years later the class is as popular as it ever was with drag fans worldwide.
If you wish to purchase prints of the photos below or any others, they may be obtained by contacting us at breyes@reyesontour.com. Other photos for purchase may be viewed by following the links at www.reyesontour.com.
Funny car icon Jim Liberman was lost to the sport of drag racing in a highway accident in 1977.
Liberman was a true showman and his void has never been filled.
The export of US funny cars overseas was in full swing in the late 1970s.
Here Lee Anders piloted the former Pisano and Matsubara Monza at
Santa Pod Raceway in the U.K. in 1978. Anders was a very successful
businessman in his native Sweden. Tragically Anders lost his life in a horrific
funny car fire in Sweden. He is one of a the handful of funny car drivers to
burn to their death in a race car.
Don Prudhomme made it clear that he raced some of the best of the best funny cars in
the last fifty years of the class. Besides his awesome Cuda funny cars, his Monza won 13
out of 16 major events and won two championships in 1975 and 1976. The Monza also was
the first in the five second bracket. Prudhomme's Arrow won him a NHRA Funny Car Championship
in 1977. To say Prudhomme was popular was an understatement.
Raymond Beadle and Don Prudhomme were big rivals on the quarter mile but good friends away
from the track. Beadle and his Blue Max broke the string of funny car championships that Prudhomme
had put together from 1975 to 1978. Beadle proceeded to put his own string of championships together
from 1979 to 1981 when the Blue Max ruled the funny car class.
In 1980, John Force was one of the guys in the funny car pack that was trying to unseat Beadle or Prudhomme.
It would take another seven years for Force to claim his first "Wally" at the Le Grandnational-Molson.
Force defeated a tire smoking Ed McCulloch for the victory. Fourteen years and nine runner-ups and Force
finally collected his first NHRA major race win in 1987. Since then he has dominated the funny car class.
While I was touring Hawaii, I came across Hawaii's only funny car. It belonged to Ron Uremura.
His Monza was classed as a BB/FC in 1980. I had seen another Hawaii based funny car in 1973
and it was racing in California with its owner Clay Miller. The A/FC could be seen racing at all the
Southern California drag strips. Roland Leong's funny cars may have been called the Hawaiian but
they were based in Los Angeles and never saw race time in Hawaii.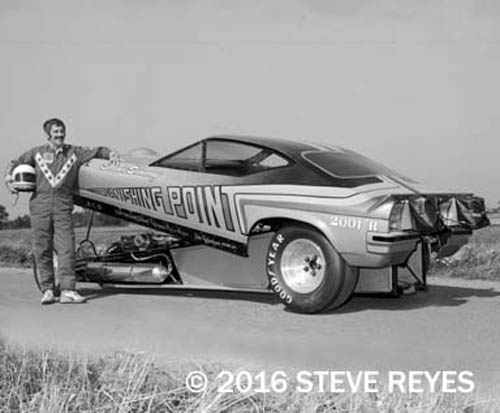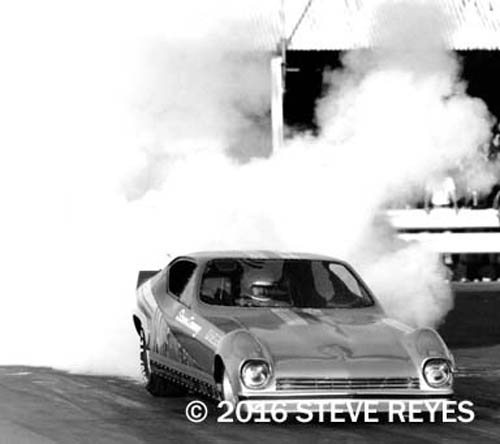 Slammin' Sammy Miller got the funny car bug with his purchase of Don Prudhomme's original
Hot Wheels 'Cuda in early 1971. A couple of funny cars and a wedge top fuel car later and in 1978
Sammy was the owner/driver of the Vanishing Point rocket powered funny car. Miller mainly raced in
Europe where there were no speed restrictions for rocket or jet powered cars. Sammy broke 300 mph
quite a few times and was a welcome sight to drag fans in Europe. Rocket funny cars in the US were
owned and raced by Lew Arrington (Captain America), Lewis and Perry, Fred Goeske, Larry Flickinger
and we can't forget Rocket Rod Phelps and his rocket powered funny car.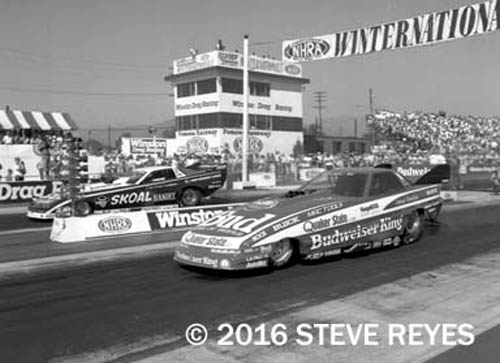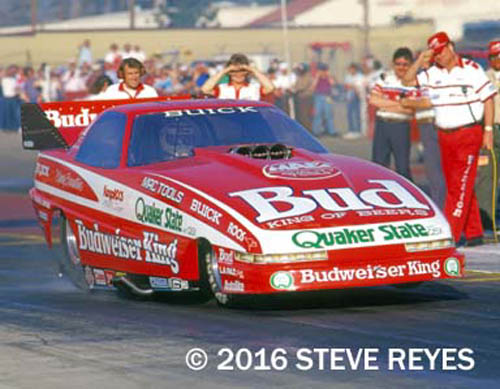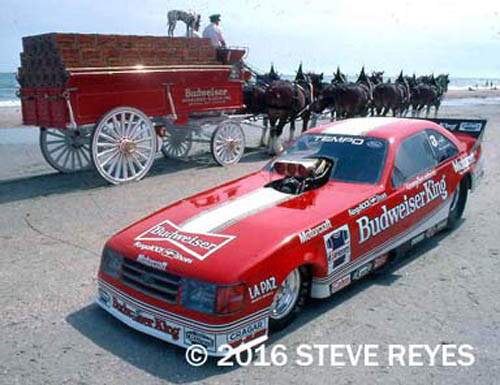 Funny car and top fuel racer Kenny Bernstein brought the Dale Armstong designed "Batmobile"
to the funny car class in 1987. Bernstein's Batmobile created lots of buzz in the funny car class and
with his Ford Tempo and the "Batmobile" he won ten of thirteen dates between 1986 and September of
1987 taking him to a 43-3 win-loss record. The Batmobile was outlawed in 1988 so he switched to a
Buick Reatta body. From 1985 to 1988 Bernstein and his Bud King AA/FC took home the NHRA Funny Car
Championships. This equaled Prudhomme's four in a row championships in the 1970s.
The funny car to beat in NHRA Championship racing in 1982 and 1983 was Frank Hawley at the
controls of the Chi-Town Hustler. The Austin Coil tuned Hustler could do no wrong in 1982 and
1983 and won back to back NHRA Funny Car Championships for the Chicago based team.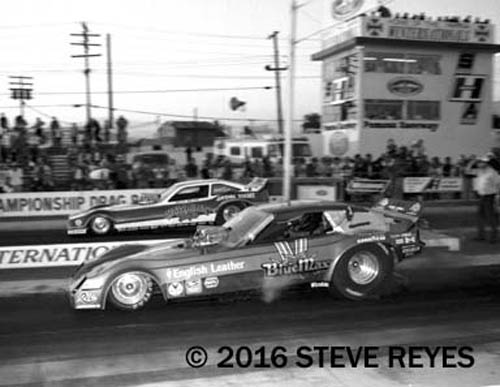 Putting the fun in funny car racing was Raymond Beadle and his Blue Max crew at the 1981
NHRA Winternationals funny car final. Beadle had won his semi-final race but blew the roof
off the Blue Max AA/FC. With no spare body, it looked like Billy Meyer would single for a
funny car final round victory. Enter Kenny Bernstein and a roof cut off his spare body and so
the Blue Max "Frankenstein" body was assembled. Lots of tape, glue and pop rivets and the
'Max was ready to face "Waco Willie" in the final. The final race was what the fans paid to see
with excitement on the quarter mile for everyone. Both cars left hard and Beadle blazed the tires
while Meyer had his hands full with his wayward funny car. When the smoke cleared it was Billy Meyer
taking home the funny car victory. What a way to start 1981 funny car racing!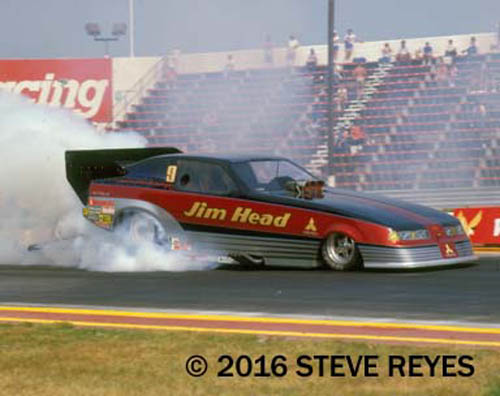 With the team concept invading the world of funny car racing, one independent funny car racer
stood out in the 1980s and that was the Midwest based Jim Head. Jim won his share with this
self-tuned and driven AA/FC. Head switched to top fuel in the 1990s and became on of a handful
of drivers to win in top fuel and funny car in NHRA Championship racing.
Now don't take this the wrong way but to me the mid-1980 funny cars were just plain ugly.
Here at the 1985 NHRA Winternationals, the In and Out AA/FC proves my point. That is Tim Grose
behind the wheel of the AA/FC.
It was a great year for Sherm Gunn in 1984 when the long time race car builder and driver scored
his one and only major NHRA victory by defeating Mark Oswald driving the Candies and Hughes favorite
in the final. Sherm was a veteran of the gasser class and drove the Lance Brothers and Gunn AA./A before
his own funny car hit the strip.
Here is that Prudhomme guy again with his Pepsi Challenger and his Skoal Pontiac.
Both cars made their mark in the 1980 funny car wars. The Pepsi Challenger was the first
to speed into the 250 mph mark. It recorded two wins in 1982 and a record shattering 5.63 ET
at the NHRA Nationals. In 1989, The Skoal Pontiac won the NHRA Nationals and the Bud Shootout
at the same event.
The 1980s saw drag racing say farewell to three of its star funny car racers; Larry Fullerton,
Jack Chrisman, and Paul Radici. Fullerton was killed in Florida in a highway accident in 1981.
Chrisman, who many consider the father of the funny car class passed away from cancer on
August 17, 1989 at sixty-one years old. Also, losing his battle with brain cancer in 1982 was
Paul "Wrong Way" Radici. He is remembered for piloting the Radici and Wise Camaro and
Vega funny cars in the early 1970s.




NHRA: 10 Most Recent Entries [ top ]

May 21- Second JEGS SPORTSnationals Added, to be held in mid-August in New England
May 20- DENSO Sponsors NHRA Champs' Shelter-in-Place Dachshund Race
May 14- To Our Racing Community-From Racers for Christ
May 13- The Name Game Part I
May 12- Morgan Lucas, Son of Forrest and Charlotte Lucas, Appointed President of Lucas Oil Products, Inc.
May 05- Cancellation of the 14th Annual Summit Racing Equipment NHRA Nationals
May 04- NHRA Announces Revised Plan to Restart 2020 Mello Yello Drag Racing Series
Apr 29- DSR Drivers Join Global Superstars in Fight for COVID-19 Relief
Apr 02- NHRA National Dragster will Temporarily Shift to a Free-to-All Digital Magazine
Apr 02- NHRA Announces Revised E3 Spark Plugs Pro Mod Drag Racing Series Schedule