Mon, 12 Dec 2016, 18:02 PM



Big Changes Led to Championship for Kirk



Courtesy of Lisa Collier


Photo: Gary Rowe / RaceWorks.com / PDRA660.com





PITTSBORO, N.C. --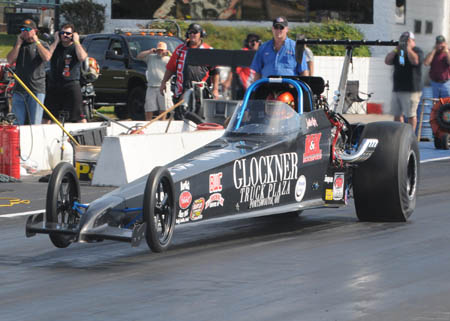 Justin Kirk
"Everything was still going wrong" is how Justin Kirk described the start of his 2016 season. Early exits marked the first half of the year for the third generation racer. He and car owners Randy and Cathy Kelly fought their dragster all season until the Kellys made a daring decision to switch cars and motors mid-season. After that Kirk began to dominate the competition, winning his first ever national event, following that up with another win and a semi-final finish all en route to being crowned the PDRA 2016 Lucas Oil Top Dragster World Champion.
"It's really just now setting in," told the 23 year old West Virginia native. "People start calling ya the Champ and you start to realize, 'Hey I kinda did do something.' It feels good to follow in the footsteps. Papaw's done it; my dad's done it; now I've done it. It's a surreal feeling. We've accomplished a lot as a family. That means a lot."
Justin's father Doug Kirk took two IHRA Pro Stock titles in '91 and '93. He continues to be competitive in PDRA's Extreme Pro Stock and a third championship isn't out of the question for him. The racing patriarch of the family, Carl, was also a champion racer many decades ago. The apple doesn't fall far from the tree in the Kirk family. This championship-winning season is only Justin's second year in Lucas Oil Top Dragster.
"Everybody said we were crazy, but it probably couldn't get no worse than what it was," Kirk said of the mid-season changes. "We changed the motor, the car, everything but the driver. If it didn't work out then I guess we would have had to change the driver, but it worked out. The whole package came together. The last half of the season, I don't know if you could have drawn it out any better. Out of the last three races, we went to two consecutive finals, winning both, and then one semi-final.
"That first win at GALOT stands out because Dad and I won the race together, and it was my Top Dragster first win, but the highlight of the season would have had to have been the Bradenton make up race. We waited for two years for a win and then we go back-to-back. That was a good feeling. When we won that, it gave us a three round points lead. That made the season. It was our turning point. We knew all we had to do was go to first or second round. That took the load off our shoulders."
Kirk didn't have to wait long into the PDRA World Finals to put all doubt to rest. "The first round of the Virginia race we had to run David [Brown, number two in points]. We shook. I didn't want to give up. I kept trying to get the car under control. I noticed he was getting closer, but I fought it all I could. Come to find out, he actually busted his transmission and pushed a head gasket. I didn't want to win with it costing him that much, but I guess it was one of those meant-to-be deals. That's the way it should be though - running each other first round. I didn't want to set around in the bleachers and watch to see if I won it."
Kirk had several sponsors on board for the final race of the year including Glockner Auto Group, Martin's Peterbilt, Killer Cat Diesel, Snap-On Tools, SNS Tire, and Hoosier Racing Tire. He also thanked, "Randy and Cathy Kelly, of course, along with their BWC Trucking business; Gary Henry, my dad, my papaw, my whole family; my wife for getting everything ready every race. I sure couldn't get the trailer ready. My family supports me in everything, whatever I need. They're always there for me. I also want to thank Matt Hornbuckle at PEM Performance built the motors. He dropped everything he was doing to get the motor done for us. Actually, he used his block. He had one laying in the floor getting ready to build his own motor and he used it for us. And I also want to thank the PDRA and all the staff for giving us a good place to race. It's been a great year. We look forward to next year."
Next season, Justin will be back defending his championship in Top Dragster as well as tuning for Doug's Pro Stock car. Just to ensure they keep busy at the track, Justin also plans to compete in PDRA's Bracket Bash. For Justin, being involved on the Pro Stock car is just as gratifying as being behind the wheel himself.
"The Pro Stock car is like leaving work to go to a harder job. It's a good time, but it's a lot of work," added Justin, who also keeps busy with three family businesses during the week. "Dan and I make the calls together. Before he came along I made all the calls for the last four or five years since we started doing our own motors. I do the clutch myself. My uncle takes care of the engine part in between rounds, but when he doesn't show up I take care of that part, too."
If funds become available at some point, Kirk hinted that they may consider going to a two car Pro Stock team. "I love watching Dad race, same way Randy would rather stand behind our dragster. But, my long term dream would be to race Pro Stock. I love it; I love everything about it. For now, as long as Randy wants to race I'm going to race with him. He gave me my first chance and we won a championship together second year in. I wouldn't leave him for nothing. We have so much fun like it is, if it would stay this way forever, I wouldn't complain a bit."
Even though Justin doesn't race on a professional level like his dad just yet and hasn't amassed as many trophies, his Top Dragster machine actually outpaces the Pro Stock car, giving the youngest Kirk a few bragging rights in the West Virginia hills. Justin Kirk isn't only the 2016 PDRA Top Dragster World Champion, he's also the "Fastest Kirk on the Hill".




: 10 Most Recent Entries [ top ]

Apr 11- Cox, Leggett, Ray, Morton and Williford Claim PDRA East Coast Spring Nationals Victories
Apr 11- Franklin, Scruggs, D'Aprile, Dobbins and Schwiegert Claim Top Spots at PDRA Season Opener
Apr 04- Records Expected to Fall at Season-Opening PDRA East Coast Spring Nationals
Apr 04- Musi Strengthens Relationship with Edelbrock in 2018
Apr 04- Gilbert Motorsports Recognizes Value of Starting Young
Apr 04- Racing Junk Joins PDRA Family as Official Classifieds
Mar 28- Edelbrock Brings Bracket Bash into 2018 Season
Mar 28- CoolShirt Systems Pro Junior Dragster Gears Up for 2018 Season
Mar 28- Atomizer Racing Injectors Outlaw 10.5 will run at four PDRA events in 2018
Mar 21- VP Racing Fuels Expands PDRA Sponsorship