Sat, 10 Dec 2016, 17:47 PM



Dan Ferguson is Back on Top



Courtesy of Lisa Collier


Photo: Gary Rowe / RaceWorks.com / PDRA660.com and Roger Richards /





PITTSBORO, N.C. --
CompetitionPlus.com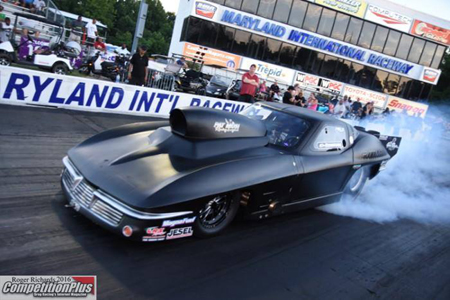 Dan Ferguson
Dan Ferguson never quite imagined that in three years of running the quickest and fastest sportsman doorslammer category, he'd rack up two championships and a second place finish in points. He took a leap of faith into the world of PDRA's Ronnie Davis Top Sportsman presented by MagnaFuel and it turns out he was pretty good at it. Going to the semi-finals at the 2014 season opener in Rockingham, NC led to traveling to more, which led to a runner up, more traveling and many more round wins, which eventually earned Ferguson the 2014 Top Sportsman World Championship. To prove it wasn't beginners luck, Ferguson came out and won the 2015 season opener in Dallas, TX continued to lead the points for much of the 2015 season, although he was edged out for the championship by Ronnie Davis.
Now in 2016, Ferguson has continued to do much of the same, taking over the points lead with a win at the second stop on the 2016 tour and never relinquishing it. With only two races left in the season, Ferguson had pulled away from the rest of the field and only needed one round win to clinch his second championship in three years, a feat Ferguson calls "unbelievable."
With that round win, Ferguson quietly claimed victory. He went on to the finals of the Sunshine State Shootout, his fourth of the season. He finished 946 points ahead of Cheyenne Stanley. Ferguson is quick to thank Dale Pittman, whose car he drove all season, for the large role he played in this championship.
"I wouldn't have been racing this year if it wasn't for Dale," thanked the 29 year old champ. "I wasn't planning on racing this year. I was going to sit the year out. Dale was willing to team up with me, allowing me to drive his car, and we just had an awesome time. Rick Fogle does all the round to round maintenance; he makes sure I am lined up straight, sets my wheelie bars. Dale helps with nitrous bottles, parachutes, video, electrical work, and he can jump in on anything else, too, if we have problem and need to fix something. Mike Matheos did a lot of upgrading to our car last year and helps keep it in good shape between races. I also want to thank Jim Rowe and Marty Noir, who come to the races when they can, as well as my parents and grandparents. Pat Musi's engine was great. The Musi family was always good about getting us parts like rods, rings, and valve springs quickly anytime we needed anything. Carl Rossler and crew at Rossler Transmissions were also great to us. They build a tough, reliable and quick reacting transmission.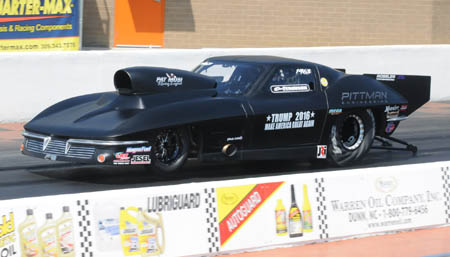 "I'm really happy to be back at the top. When I started this journey, I was only planning on going to one race, with the goal being to make it in the field. I didn't have any idea this is the path it would take. It's pretty surreal".
Ferguson also thanked class sponsor MagnaFuel and contingency sponsors Flatout Gaskets, Hoosier Racing Tire, Jesel, Lovendahl Racing Solutions, Edelbrock EFI, VP Racing Fuels, and JRI Shocks.
This season was emotional for Ferguson in more ways than one, with roller coaster highs and lows. At the event where Ferguson took over the points lead, the Spring Nationals at Rockingham Dragway, his friend and mentor Ronnie Davis suffered a horrendous on track accident, injuring journalist and photographer Ian Tocher in the process. Davis later succumbed to his injuries. Ferguson won the event and dedicated his win to Davis and Tocher. Being able to win for them is something he counts as a highlight of the season.
The success Ferguson has seen in his young career is almost unheard of in Top Sportsman. He's led the points for an astounding 20 out of the 25 events held by the PDRA in the past three seasons, as well as participating in 27 of 36 potential rounds of racing in the 2016 season with a 20-7 win-loss record.
"I've got a great team," Ferguson said of his success. "I sure couldn't have done it without Dale and Rick. I think racing Motocross when I was younger gave me a really good feel for cars and mechanics and controls. Keeping my head in the game is the hardest part. When I cut a bad light or make a bad decision on top end, I can look back and see that I wasn't focused during that run."
Ferguson says he tries to keep his racing approach "nonchalant. I don't have any rituals. I'm not superstitious. I think if you get yourself into too strict of a routine you create weaknesses for yourself. I don't really care what lane I'm in. I try to alternate so I don't start getting a favorite lane. Same with staging. If you have a routine and it gets disrupted it can mess you up. I think it's good to not have too much of a routine. The one thing I try to do the same is my burnout. I do my burnout the same every time and I back up real quick. I like to get back to the starting line so I'm not rushed at all. My crew guys are always telling me I need to slow down," he joked.
Although Ferguson ran Dale Pittman's 1963 Corvette with a Pat Musi 903 cubic inch, nitrous-oxide assisted motor in Top Sportsman this season, he also got some seat time behind the wheel of Cor Valentyn's blown '63 'vette, which Ferguson wheeled at local quick 8 events in Ohio. He and Valentyn plan to continue running local events next season in "The Patriot" Corvette, but at PDRA races Ferguson will be back in the Pontiac Firebird he won the 2014 championship with in Top Sportsman with a smaller 787 engine.
"Next racing season is probably going to be tough," Ferguson continued. "I don't know how I'm going to have the money it takes to compete after what I will have to spend to have the Firebird race ready by March. I'm sure it'll work out somehow, but at this point in time I don't know how. I had it for sale before I crashed at Norwalk last year. After that instead of fixing it I turned it into a giant restoration project that snowballed big time with updates and whatnot that I felt I should do."
Ferguson, who repairs and flips vehicles and rebuilds LT and LS engines for a living, says even if he puts most of his money into racing, it's still tough to compete on a national level. Ironically, the start of his 2017 championship-defending season will look much like his first venture into PDRA in 2014. Ferguson plans to attend the first race and then take it from there to see where he stands financially. For somebody who considers the PDRA "home" the thought of not defending his second championship with the series is a tough pill to swallow. Still, Ferguson has faith that it will work out and is keeping a positive outlook. "I love the PDRA, all the racers and fans I have met, and all the fans I've made there," emphasized the champ. "Every time I pull in the gate, I'm just happy to be there."




: 10 Most Recent Entries [ top ]

Apr 11- Cox, Leggett, Ray, Morton and Williford Claim PDRA East Coast Spring Nationals Victories
Apr 11- Franklin, Scruggs, D'Aprile, Dobbins and Schwiegert Claim Top Spots at PDRA Season Opener
Apr 04- Records Expected to Fall at Season-Opening PDRA East Coast Spring Nationals
Apr 04- Musi Strengthens Relationship with Edelbrock in 2018
Apr 04- Gilbert Motorsports Recognizes Value of Starting Young
Apr 04- Racing Junk Joins PDRA Family as Official Classifieds
Mar 28- Edelbrock Brings Bracket Bash into 2018 Season
Mar 28- CoolShirt Systems Pro Junior Dragster Gears Up for 2018 Season
Mar 28- Atomizer Racing Injectors Outlaw 10.5 will run at four PDRA events in 2018
Mar 21- VP Racing Fuels Expands PDRA Sponsorship