Sat, 10 Dec 2016, 16:33 PM



Swedish Wulcano Racing Team Plans to Run Entire 2017 Schedule



Courtesy of Lisa Collier



PITTSBORO, N.C. --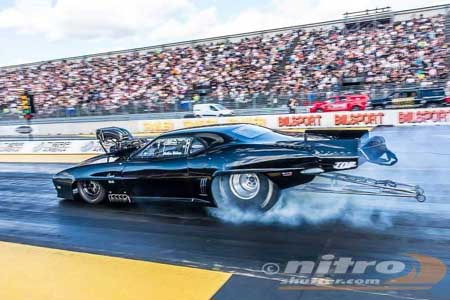 Mattias Wulcan
The 2014 F.I.A. Pro Mod Champion will give PDRA Pro Extreme racers a new challenge in 2017. Wulcano Racing Team, led by driver Mattias Wulcan and crew chief Pelle Eriksson, plans to run the entire PDRA series next season with their blown '69 Camaro.
The team has only been together since 2010, but has accomplished much in that short time. In 2013, Wulcan finished second in the FIA European Championship and proceeded to follow that up with the championship title in 2014. At the end of 2014, Wulcano Racing began their international racing endeavors, competing in Qatar with the Arabian Drag Racing League. Shortly after their appearance with the ADRL, Wulcan suffered a horrific crash, destroying the car and leaving him with an extensive recovery time. When the team returned to the track this year, they won their first race out, became the first and only car to run 3.60s in Europe, set four new European records, and six new track records. Now the Swedish team is ready to compete with the quickest and fastest U.S. competitors.
"It has always been a big dream to come to the U.S. and race with the best teams in the land that invented and is the home of drag racing," told Eriksson. "We want to race with the fastest doorslammers in the world! PDRA is first class, hands down. We were at the first race of PDRA 2016 in Tulsa, and we were amazed with the amount of fast doorslammers. We stood on the startline for three days and watched; it was awesome! And in the pits, people were really nice to us. We liked the friendly atmosphere, a big racing family."
The Wulcano Racing Team family, consisting of Oliver Johnsson, Thomas Dahlblom and Joakim Andersson, in addition to Wulcan and Eriksson, has reached the limits of what's possible in Europe, having run as fast as the safety break there allows at 3.66.
"We're ready to have a lot of fun and win rounds," Eriksson added. "This is our big dream and we are going to enjoy it! It's a learning curve for us, and every track we go to will be new to us, but we of course want to be in the top. It's small marginals between success and going home early and we do not like to be beaten."
Check out the Wulcano Racing Team on Facebook and follow their journey throughout the 2017 PDRA tour.




: 10 Most Recent Entries [ top ]

Apr 11- Cox, Leggett, Ray, Morton and Williford Claim PDRA East Coast Spring Nationals Victories
Apr 11- Franklin, Scruggs, D'Aprile, Dobbins and Schwiegert Claim Top Spots at PDRA Season Opener
Apr 04- Records Expected to Fall at Season-Opening PDRA East Coast Spring Nationals
Apr 04- Musi Strengthens Relationship with Edelbrock in 2018
Apr 04- Gilbert Motorsports Recognizes Value of Starting Young
Apr 04- Racing Junk Joins PDRA Family as Official Classifieds
Mar 28- Edelbrock Brings Bracket Bash into 2018 Season
Mar 28- CoolShirt Systems Pro Junior Dragster Gears Up for 2018 Season
Mar 28- Atomizer Racing Injectors Outlaw 10.5 will run at four PDRA events in 2018
Mar 21- VP Racing Fuels Expands PDRA Sponsorship