Tue, 06 Dec 2016, 14:53 PM



Young pulls out Stock Victory in Memphis



Courtesy of IHRA Communications



IHRA: Young pulls out Stock Victory in Memphis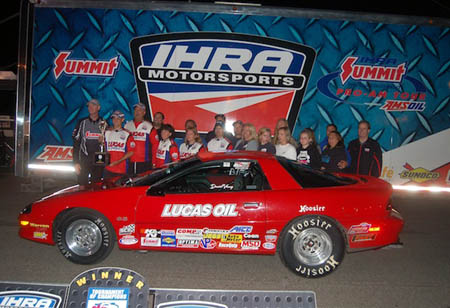 Dan Young and crew celebrate Championship.
Dan Young's 1995 Chevrolet Camaro looks deceptively streetworthy, but looks can be deceiving: The Palm Harbor, Florida resident drove his Camaro to an IHRA Summit Tournament of Champions Stock victory at Memphis International Raceway recently, with a pass of 10.609 seconds at 120.26mph over Jeffrey Gardiner of Waldorf, Missouri, whose run was 10.926 seconds at 114.93mph in his 1986 Oldsmobile Cutlass.
Young had a slight advantage on the starting line, with a reaction time of .086 seconds, compared to Gardiner's .091 seconds.
"It felt really good to see that win light come on," Young said. "It was a little shocking - I thought I was going to lose. I was late, and when I got through the gears, I looked over and thought, 'I don't know if I'm going to get this.' As we got down the track, I started pulling ahead."
The Camaro, he said, "was flawless. This car is always a great piece."
Young thanked Joel Warren and Lucas Oil, as well as Warren Race Engines, Joel Warren, "my Mom, my Dad, my brother, my girlfriend and the good Lord above."




IHRA: 10 Most Recent Entries [ top ]

Mar 21- 2018 IHRA Summit Sportsman Spectacular Series on April 20-22
Feb 26- Weather-Related Construction Delays Postpone IHRA Xtreme Raceway Park Opener
Feb 16- IHRA Summit Sportsman Spectacular Schedule Announced
Feb 15- New York Track Finds Value for Racers with IHRA Agreement
Feb 15- IHRA Summit Sportsman Spectacular Debut Only One Month Away Now is the Time to Pre-Enter
Feb 15- Summit Texas Location is a Racers' Paradise
Feb 15- Canadian Track Makes Large Commitment to IHRA Drag Racing
Jan 27- Mid-Michigan Destination Joins IHRA Family
Jan 27- Mississippi Track Reaches Sanctioning Agreement
Jan 16- Michigan Track to Host IHRA Summit Sportsman Spectacular