Wed, 16 Dec 2015, 10:03 AM



Former NHRA P.R. Rep/Blogger/Columnist to Tackle Autobiography in 2016



Courtesy of RJW Communications



LIBERTY LAKE, Wash. --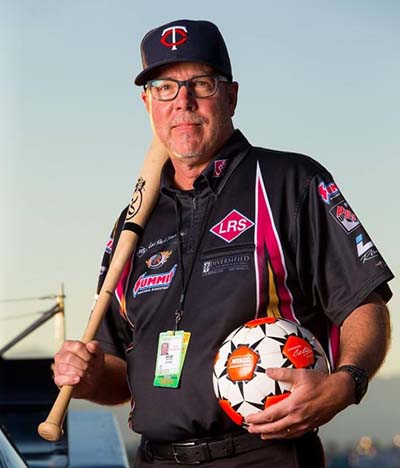 Bob Wilber
As a 20-year veteran of communications work within the NHRA Drag Racing world, Bob Wilber spent the last 19 seasons working for Del Worsham (1997-2008) and Tim Wilkerson (2009-2015) in the role of Team Manager. As such, he handled public and media relations for the two Funny Car stars while from 2005 to 2015 he also penned the most popular blog on NHRA.com, allowing readers to tag along as he ventured out on the road or enjoyed everyday adventures at home. And, for the last three years he added the role of magazine columnist to his resume' via his "Behind The Ropes" installments in National Dragster magazine.
After stepping away from his career as a team representative at the conclusion of the 2015 NHRA Mello Yello season, Wilber has announced plans to write and publish his autobiography in 2016. The tentative title is "Bats, Balls, and Burnouts - A Life of Sports, Marketing, and Mayhem" and the book is slated to be available in both print and digital formats.
Growing up as the son of a former Major League catcher, Wilber went on to a collegiate and professional baseball career of his own before veering into sports marketing, in his late 20s. That phase of his sports career included a promotional position with Converse Shoes, followed by agency work with a variety of Fortune 500 sponsors and major sports teams, leagues, and organizations, and multiple stints as general manager for professional indoor soccer franchises. Just prior to his 40th birthday, Wilber saw his first drag race when he was named general manager at Heartland Park Topeka. He has spent his entire life in the sports world.
"For many years now, people have been telling me I need to write a book, and this year I made the commitment to do that," Wilber said. "My PR job entailed a massive amount of writing, including press releases, feature stories, updates, and almost nonstop social media, and then adding in the blog and the magazine column, I knew I'd have to make a clean break to have the mental bandwidth to tackle a book.
"20 years seemed like a nice round number to end on, so I'm moving on to this next great adventure and I'm going to concentrate almost solely on writing the book. I have no timetable, but the goal is to be holding a copy in my hands by the end of the year. There are so many great stories to tell, and rich characters to describe, the hard part will be deciding what doesn't make the final edit. I'm really looking forward to the process."
In support of the book, Wilber has migrated his NHRA blog to a new site, and renamed it "Bob's Blog" in conjunction with The Perfect Game Foundation, the charity he and his siblings created to honor their late parents. The new blog will be located here:
http://www.perfectgamefound.org/category/bob-wilber-blog/
"Since I'm no longer directly involved with NHRA Mello Yello Drag Racing at the team level, I knew we'd be wrapping up the blog on their site but I wanted to keep one going so that my loyal readers could follow along during this new endeavor," Wilber said. "I'll keep the content pretty much the same as it was before, and my readers will immediately know what that means. It will be casual, humorous, stream-of-consciousness sort of story-telling and other nonsense. It's been an enormous privilege to write my blog for more than 10 years, and I have readers spread all over the world, so I don't want to stop now."
Wilber has also announced the formation of a KickStarter campaign to raise capital for the self-publishing and printing of "Bats, Balls, and Burnouts" and as part of that crowdsourcing effort he will offer a limited number of NHRA "Wally" trophies (the coveted awards handed out for race victories), race-winner jackets, race-worn crew shirts, and other items as donation incentives.
"Self-publishing is a dream come true for writers and aspiring authors but if you want to go to print it's still a major financial commitment, by any definition of that term" Wilber said. "Since I'm making a full-time job of this, and I won't pay myself a salary, I hope to defer some of the cost with the KickStarter page. I have contributed to a number of campaigns I thought were worthy, so hopefully this will directly help in the publishing and printing end of the process."
The KickStarter campaign can be found here:
https://www.kickstarter.com/projects/2085148939/bob-wilber-bats-balls-and-burnouts a>

In addition to his new blog, Wilber will stay active in social media, where he will post updates often on a new Twitter account. He can be followed at: @BobWilber5




NHRA: 10 Most Recent Entries [ top ]

Nov 16- Torrence Wins Camping World Title
Nov 11- NHRA Announces Complete 2021 Class Schedule
Nov 10- Don Prudhomme Shares Life Story On and Off the Track
Nov 10- Justin Ashley Wins 2020 NHRA Rookie of the Year
Nov 10- Matt Hagan Crowned 2020 NHRA Funny Car World Champion
Nov 09- LAS VEGAS - Enders Claims Her Fourth Pro Stock World Championship
Nov 05- LAS VEGAS SN - Super Stock Final, Round 7 Eliminations
Nov 05- LAS VEGAS SN - Stock Eliminator Final, Round 7 Eliminations
Nov 05- LAS VEGAS SN - Super Street Final, Round 7 Eliminations
Nov 05- LAS VEGAS SN - Super Comp Final, Round 7 Eliminations