Wed, 16 Dec 2015, 09:17 AM



JFR and Weld Racing will Continue a Legendary Career and Relationship



Courtesy of Elon Werner - JFR Public Relations



BROWNSBURG, Ind. --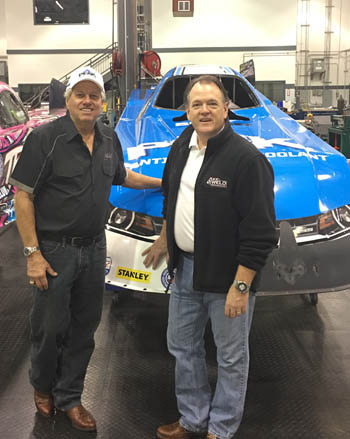 John Force and Norman Young
At the PRI Show in Indianapolis John Force Racing and Weld Racing announced a multi-year sponsorship extension that will continue one of JFR's longest running and most success partnerships.
"Nobody wanted John Force but Greg Weld took a chance with me and I took a chance with them. A ton of championships later and we are still winning races on WELD wheels. I am proud to say after almost 25 years the relationship will continue with new president Norman Young. We are going to reinvent the wheel," said John Force, CEO of John Force Racing. "When I see their motivation and see how they want to push new products and new ideas I feel like I was born again. I have gotten so much motivation from our meetings over the past few days that I am proud to say we are signing a multi-year sponsorship with WELD Racing to continue the legend of WELD wheels and John Force Racing."
Almost 25 years ago John Force, an up and coming racer, was approached by WELD Racing to try one of their new racing wheel products. On the first run the wheel came off at over 250 mph and passed Force at the finish line. Force wrestled his race car to a stop and when the WELD Racing representative got to Force the racer saw the fear in his eyes. Force could tell he was more concerned about him than the wheel. Though no fault of the wheel, it was a moment the eventual champion knew he was with a company that would take care of him and his family for years to come. Many championships and more crashes than you can count later John Force Racing is still running on WELD Wheels.
Today with a new marketing strategy, John Force Racing and WELD Racing are proud to announce a new multi-year sponsorship agreement. Force is excited about where they want to go in the future and the winner of 143 NHRA Funny Car national events wants to be a part of it.
"This company is part of my roots like so many of my other partners. They cared about my safety from day one and now generations later my family is racing on Weld wheels," added Force.
During the announcement press conference at the annual PRI Show in Indianapolis WELD Racing president Norman Young was equally as enthused about extending this marketing partnership.
"John Force Racing has been at the heart of WELD for over twenty years. We are thrilled to extend one of the most successful partnerships in motorsports and continue winning championships with John Force Racing," said Norman Young, WELD president.




NHRA: 10 Most Recent Entries [ top ]

Nov 16- Torrence Wins Camping World Title
Nov 11- NHRA Announces Complete 2021 Class Schedule
Nov 10- Don Prudhomme Shares Life Story On and Off the Track
Nov 10- Justin Ashley Wins 2020 NHRA Rookie of the Year
Nov 10- Matt Hagan Crowned 2020 NHRA Funny Car World Champion
Nov 09- LAS VEGAS - Enders Claims Her Fourth Pro Stock World Championship
Nov 05- LAS VEGAS SN - Super Stock Final, Round 7 Eliminations
Nov 05- LAS VEGAS SN - Stock Eliminator Final, Round 7 Eliminations
Nov 05- LAS VEGAS SN - Super Street Final, Round 7 Eliminations
Nov 05- LAS VEGAS SN - Super Comp Final, Round 7 Eliminations