Tue, 15 Dec 2015, 12:48 PM



UNOH to Sponsor NHRA Champions Jeg Coughlin Jr., Erica Enders



Courtesy of Geiger Media Global


Photo copyright 2015 Auto Imagery, Inc. and NHRA





LIMA, Ohio --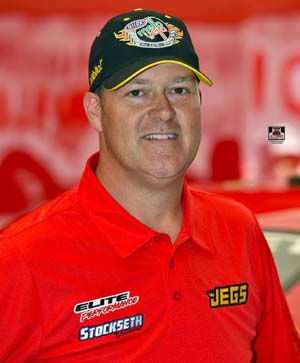 Jeg Coughlin Jr.
Multi-time Pro Stock champions Jeg Coughlin Jr. and Erica Enders will help spread the message of the University of Northwestern Ohio (UNOH) in 2016 as part of a new partnership between the school and Elite Motorsports' multi-car Mopar program.
"The University of Northwestern Ohio is thrilled to partner with Elite Motorsports and NHRA Pro Stock champions Erica Enders and Jeg Coughlin Jr., who have combined for eight NHRA titles and 98 national event victories," UNOH President Dr. Jeffrey A. Jarvis said. "Everyone at UNOH is extremely excited about the upcoming season with the 2016 UNOH power team of Erica, Jeg Jr., and Top Fuel driver Clay Millican."
The University of Northwestern Ohio is an entrepreneurial, not-for-profit university founded in 1920 and based in Lima. There are five colleges within the university -- Applied Technologies, Business, Health Professions, Occupational Professions, and the Graduate College -- offering more than 60 different fields of study, including masters, baccalaureate, associate, and diploma programs. UNOH also offers a variety of athletic entities, including six co-ed motorsports teams.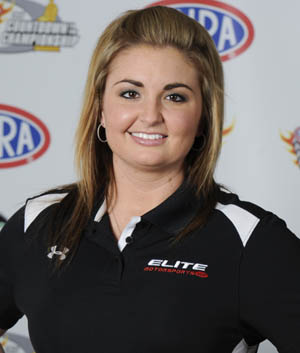 Erica Enders
"Meeting with UNOH VP of Corporate Development Steve Farmer and hearing the curriculum they offer students interested in the racing industry left me very impressed. I'm looking forward to meeting many of these young men and women throughout the drag racing season."
Back-to-back series champion Enders, who attended Texas A&M University and studied marketing before dedicating herself to racing full-time, said UNOH is the perfect place for young people to begin their pursuit of a career in motorsports.
"We're really happy to add UNOH to our family of sponsors," Enders said. "I certainly understand the passion these students have for motorsports because I grew up the same way, knowing this is what I wanted to do for a career.
"Motorsports is a huge business and we need PR and marketing people, team managers, engineers, financial experts, and designers just as much as we need drivers and mechanics. UNOH helps people on every level."
UNOH logos will be featured prominently on Enders' Mopar Dodge Dart and Coughlin's Magneti Marelli Dodge Dart.




NHRA: 10 Most Recent Entries [ top ]

Nov 16- Torrence Wins Camping World Title
Nov 11- NHRA Announces Complete 2021 Class Schedule
Nov 10- Don Prudhomme Shares Life Story On and Off the Track
Nov 10- Justin Ashley Wins 2020 NHRA Rookie of the Year
Nov 10- Matt Hagan Crowned 2020 NHRA Funny Car World Champion
Nov 09- LAS VEGAS - Enders Claims Her Fourth Pro Stock World Championship
Nov 05- LAS VEGAS SN - Super Stock Final, Round 7 Eliminations
Nov 05- LAS VEGAS SN - Stock Eliminator Final, Round 7 Eliminations
Nov 05- LAS VEGAS SN - Super Street Final, Round 7 Eliminations
Nov 05- LAS VEGAS SN - Super Comp Final, Round 7 Eliminations