Mon, 07 Dec 2015, 08:39 AM



Greg Anderson Wraps Up Another Unforgettable Visit with the Troops



Courtesy of Kelly Topolinski, www.onallcylinders.com



KUWAIT CITY, Kuwait -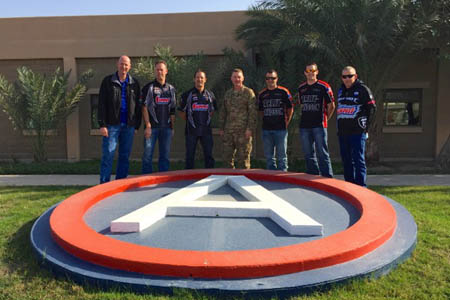 The Operation Appreciation team arrive at Camp Arifjan and are greeted by the commander.
For several years, Summit Racing Equipment has sponsored a very special trip overseas for a fortunate group of championship drivers. Operation Appreciation has proved to be a very meaningful experience for Summit Racing Pro Stock drivers Greg Anderson and Jason Line, Harley-Davidson Screamin' Eagle Vance & Hines Pro Stock Motorcycle riders Andrew Hines and Eddie Krawiec, and 25-time BIGFOOT® 4x4 Monster Truck champ Dan Runte. It is always an eye-opening excursion after which the group returns home with a renewed appreciation for what the men and women of our Armed Forces are experiencing on a day-to-day basis.
Of course, it's an enjoyable time for the group as they are greeted with open arms by the United States military at each base they visit, and although the purpose of the trip is to bring a little bit of home and good cheer to the troops in gratitude for their service, those on the receiving end are eager to show their visitors just how much the gesture of the visit means to them.
Greg Anderson shares his perspective of Day Five of the trip




NHRA: 10 Most Recent Entries [ top ]

Nov 16- Torrence Wins Camping World Title
Nov 11- NHRA Announces Complete 2021 Class Schedule
Nov 10- Don Prudhomme Shares Life Story On and Off the Track
Nov 10- Justin Ashley Wins 2020 NHRA Rookie of the Year
Nov 10- Matt Hagan Crowned 2020 NHRA Funny Car World Champion
Nov 09- LAS VEGAS - Enders Claims Her Fourth Pro Stock World Championship
Nov 05- LAS VEGAS SN - Super Stock Final, Round 7 Eliminations
Nov 05- LAS VEGAS SN - Stock Eliminator Final, Round 7 Eliminations
Nov 05- LAS VEGAS SN - Super Street Final, Round 7 Eliminations
Nov 05- LAS VEGAS SN - Super Comp Final, Round 7 Eliminations