Sat, 05 Dec 2015, 08:14 AM



Dan Runte Impressed by Kindness, Enthusiasm of Troops



Courtesy of Kelly Topolinski, www.onallcylinders.com



KUWAIT CITY, Kuwait -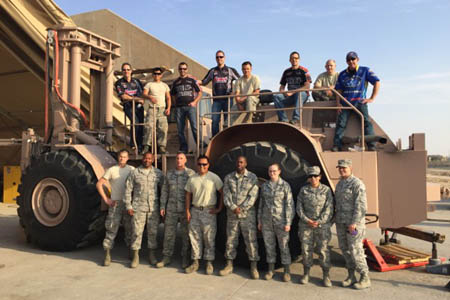 With a few of the awesome men and women
from the ELRS in front of their equivalent
of a monster truck, the 50k container-mover.
Day Three of Operation Appreciation was packed full as the drivers participating in Summit Racing's annual trip overseas to visit the troops toured Al Jaber, home base for the 386th Air Expeditionary Wing in Kuwait. The group was warmly received by the many men and women on temporary duty at the facility located 75 miles south of the Iraqi border, and the enthusiasm of the greeting was accompanied by plenty of conversation and demonstrations regarding daily life for our troops in what is referred to as "the sand box."
Dan Runte, commander of the BIGFOOT® 4x4 Monster Truck, almost felt at home as the first day included a close look at some heavy duty machinery that greatly resembled his daily driver.
Dan Runte shares his perspective of Day Two of the trip




NHRA: 10 Most Recent Entries [ top ]

Nov 16- Torrence Wins Camping World Title
Nov 11- NHRA Announces Complete 2021 Class Schedule
Nov 10- Don Prudhomme Shares Life Story On and Off the Track
Nov 10- Justin Ashley Wins 2020 NHRA Rookie of the Year
Nov 10- Matt Hagan Crowned 2020 NHRA Funny Car World Champion
Nov 09- LAS VEGAS - Enders Claims Her Fourth Pro Stock World Championship
Nov 05- LAS VEGAS SN - Super Stock Final, Round 7 Eliminations
Nov 05- LAS VEGAS SN - Stock Eliminator Final, Round 7 Eliminations
Nov 05- LAS VEGAS SN - Super Street Final, Round 7 Eliminations
Nov 05- LAS VEGAS SN - Super Comp Final, Round 7 Eliminations