Thu, 03 Dec 2015, 19:00 PM



Jason Line Recalls the Past on the Second Day in Kuwait



Courtesy of www.onallcylinders.com



KUWAIT CITY, Kuwait -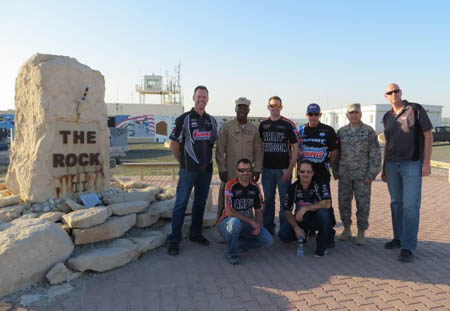 The base commander actually took time out of his day
to meet with us, and we were really
impressed by a couple of things - including his sense of humor.
To say it was an honor to meet the great folks
stationed here would be an understatement.
The second day of Operation Appreciation, the annual Summit Racing-sponsored trip to visit troops overseas, sent the group of drivers to a second venue in Kuwait to spend time with men and women of our Armed Forces stationed far from home. Known as "The Rock," the Kuwaiti government installation they toured is shared with the United States Air Force (USAF) 386th Air Expeditionary Wing, among other military units.
Jason Line, who was enlisted in the USAF during the Persian Gulf War, was particularly affected by the day's activities. Browse the photo gallery from day two and then scroll down for Jason's thoughts.
Jason Line shares his perspective of Day Two of the trip




NHRA: 10 Most Recent Entries [ top ]

Nov 16- Torrence Wins Camping World Title
Nov 11- NHRA Announces Complete 2021 Class Schedule
Nov 10- Don Prudhomme Shares Life Story On and Off the Track
Nov 10- Justin Ashley Wins 2020 NHRA Rookie of the Year
Nov 10- Matt Hagan Crowned 2020 NHRA Funny Car World Champion
Nov 09- LAS VEGAS - Enders Claims Her Fourth Pro Stock World Championship
Nov 05- LAS VEGAS SN - Super Stock Final, Round 7 Eliminations
Nov 05- LAS VEGAS SN - Stock Eliminator Final, Round 7 Eliminations
Nov 05- LAS VEGAS SN - Super Street Final, Round 7 Eliminations
Nov 05- LAS VEGAS SN - Super Comp Final, Round 7 Eliminations