Wed, 02 Dec 2015, 16:57 PM



Andrew Hines and Team Greeted with Unforgettable Experience on Day One



Courtesy of www.onallcylinders.com



KUWAIT CITY, Kuwait -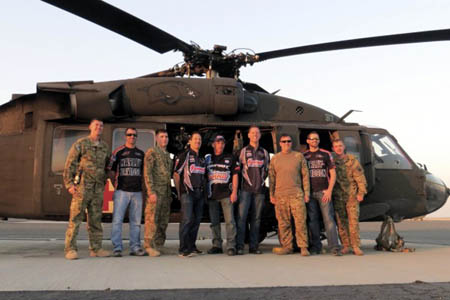 With a Blackhawk medical team on the flight line
after getting the grand tour of their "office."
Summit Racing Pro Stock drivers Greg Anderson and Jason Line, Harley-Davidson Screamin' Eagle Vance & Hines Pro Stock Motorcycle riders Andrew Hines and Eddie Krawiec, and 25-time BIGFOOT® 4×4 Monster Truck champ Dan Runte are well entrenched in this year's Operation Appreciation, Summit Racing's annual trip to visit troops overseas. For each of these drivers, the trip has become an eagerly anticipated event, and one in which they are afforded the opportunity to connect with and say thank you to a group of very important individuals - the men and women of our Armed Forces stationed in remote locations far from home.
As the tour begins, the haze of a long journey the day before quickly fades for the drivers as representatives from Armed Forces Entertainment guide them to their first destination. This year, Operation Appreciation begins at Camp Buehring in the northwest region of Kuwait.
Andrew Hines shares his perspective of Day One of the trip




NHRA: 10 Most Recent Entries [ top ]

Nov 16- Torrence Wins Camping World Title
Nov 11- NHRA Announces Complete 2021 Class Schedule
Nov 10- Don Prudhomme Shares Life Story On and Off the Track
Nov 10- Justin Ashley Wins 2020 NHRA Rookie of the Year
Nov 10- Matt Hagan Crowned 2020 NHRA Funny Car World Champion
Nov 09- LAS VEGAS - Enders Claims Her Fourth Pro Stock World Championship
Nov 05- LAS VEGAS SN - Super Stock Final, Round 7 Eliminations
Nov 05- LAS VEGAS SN - Stock Eliminator Final, Round 7 Eliminations
Nov 05- LAS VEGAS SN - Super Street Final, Round 7 Eliminations
Nov 05- LAS VEGAS SN - Super Comp Final, Round 7 Eliminations