Tue, 3 Dec 2002, 09:29 AM



One on One Pro Stock Champion Jeg Coughlin



Courtesy of NHRA Communications


Photo copyright 2002 Auto Imagery, Inc.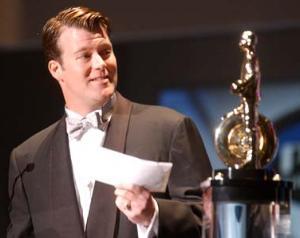 Jeg Coughlin
Who would have thought that the No. 17 car in points after the season opening race at Pomona, Calif., in February would end up in the No. 1 spot at season's end? Did you? Well, Jeg Coughlin did. The 2000 Pro Stock champion did not even qualify for the 2002 opener, but that didn't deter anyone on Team Jeg's. They went back to their own engine shop, found some more horsepower and steadily worked their way back into championship contention. Coughlin went on a hot streak that put him in winner's circle eight times out of 10 final round appearances en route to the 2002 NHRA POWERade Pro Stock championship, the second title of his career. In this championship Q&A session, Coughlin talks about what the team did to overcome the early DNQ, how they were able to keep their winning momentum going and what it will take to repeat in 2003.
Q: How does the second championship compare to the first?
COUGHLIN: Certainly, for our entire team, the second one was great. The transitions we have made and the effort we put toward the end of 2001 rolling over into 2002 by taking on our own engine program was a very tall order. We certainly had high expectations to win the first POWERade championship, without question. At the same time, we had a lot of work to do. We rolled into Pomona and struggled enough to where we missed the show. That was not the way we wanted to get the season started. But this team is awesome. I think the hard work and the relationship we have built in order to put together a champion caliber team is outstanding, especially to do it in such a short time. Pops (Jeg Coughlin Sr.) has been the ringleader and has done a great job. With the competition being as tight as it is, a three-race winner or a four-race winner seemed pretty unlikely. So did we expect to see an eight-race winner? Not at all. Ask 99 percent of the other teams out there and you would get the same answer. We felt as though in late May we had not put anything together. We had two runner-up finishes and Troy had won one race. We sat in the shop and we said that we were making better runs, we were making more power and at that time, we felt like we could be a challenge to win some races. We left the shop and went into Columbus, where we had a setback. After that, we never looked back.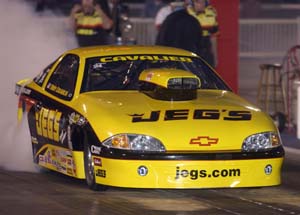 Q: With the level of competition being so high in the category, how did you maintain that late run?
COUGHLIN:
We have a good, efficient program. We qualified well, we were making good, straight runs and that gave me more confidence as a driver and it gave the guys on the team confidence that they were making the right calls. When it boiled down to each run, they were forecasting the conditions for each run very well. Conditions from Friday to Sunday changed so dramatically that it was not uncommon for us to run two or three drastically different setups. The experience that we gained over the last three or four years helped put us out in front.
Q: How did the team turn around the program? What was the difference?
COUGHLIN: Real long story short, we took very small steps over the last year-and-a-half. I think we were able to make more horsepower, worked real close within our organization with Carl Foltz and Dave Braswell. I think we had great partnerships with folks like them and the team did a great job pitching in. We have become very efficient in putting engines together and taking them apart. We haven't destroyed engines at the track so when we get back to the shop from racing, we are able to really dissect them and we are able to read between the lines and learn from each run. We've enhanced the program by racing smart. After Pomona, where we ran two or three different setups that weren't part of our typical program, we got behind on our program and that was the bottom line. We need to stick to our program and not panic and not deviate when things don't go our way. I think one thing that we do very well is prepare for the next race, the next car or the next engine. We have tried not to get too creative or too crafty. We don't need to hit home runs every time out. We need to get good data so we can make better, educated decisions. That was the key element, being prepared and making good decisions.
Q: What are the chances of repeating in 2003?
COUGHLIN: It is going to be a tough year, no question. Our goals for the off-season are to do what it takes to repeat as champions. We are certainly going to have to make more horsepower and we need to step up our program. We need to focus on engine development. We have new cars, we'll probably have them shortly before the holidays, and we are looking to start the cars with Troy and I. The car we won the championship with this year is the only Chevy Cavalier I have ever driven. But there have been some modifications to the body that are leading us to switch. We didn't want to make the switch to the new body in 2002 because we already had enough changes going on and we didn't need another variable. To win the 2003 championship, unlike this year, I really think you are going to have to qualify at every event, no ifs, ands or butts about it. I also think you are going to need to win at least six races. I think at this point, we are going to see performances get better by a couple of hundredths and I think the speed is going to sneak up a little too. With all of that, you are also going to see the reaction times get even better.
Q: Are there any changes planned for Team Jeg's going into 2003? Will your brother Mike Coughlin join the Pro Stock ranks full time?
COUGHLIN: We've talked about Mike driving for the last four months or so and he has not stressed the interest in fielding a car in all 23 events. If he does come out and run, it might be a limited schedule. He really has an interest in winning the super comp or super gas championship. At this point, we've got the pieces and parts to run a third team but we would need more people. Otherwise, I think (Team Jeg's chef) Nicky Morse is going to put a new twist on his beef tenderloin. As far as the rest of the team, we have been building our own engines now for year-and-a-half, and we have had to make modifications in the shop to make the work flow better. We are geared to get out and defend our title as best as we can, represent the family and the Jeg's organization as well as the NHRA and POWERade.
Q: What was the turning point in the season?
COUGHLIN:
I think there were a couple of them. We tested after Pomona and that gave us a heck of a lot of confidence and it helped build our database. We started making more horsepower and then we saw improvements on our fuel and timing related issues as well as a clutch issue that was plaguing us. We just started racing hard and the best thing we could have done was making a lot of advance preparations and making smart decisions. That's what helped us win the championship.
Q: Who provided the most competition to you this season?
COUGHLIN: Obviously the whole category did. If you are looking purely at the points, Jim Yates and Greg Anderson were very tough. Greg is a young guy, a good driver and they are making good horsepower and we knew he would be a multiple race winner and he was right there. Warren (Johnson) and Kurt (Johnson) are always in the thick of things. Whatever they found in Dallas shocked everyone and they have really driven our off-season program. I don't know what they found during that long Saturday evening, but they are making us work harder.
Q: You led Chevrolet to their first Manufacturer's Cup Award in 15 years. What are your thoughts on that?
COUGHLIN: It's pretty exciting really and it was the combined effort from our team as well as everyone over at Chevy including Herb Fischel, Don Taylor and Fred Simmonds. The energy they have put toward Pro Stock has been extremely exciting and our family is very happy to be part of the Chevy family. To win the 2002 championship with a Chevy Cavalier is great for us because it is just another difference between the 2000 title when we won in an Oldsmobile. It's great to win with a new car.


NHRA: 10 Most Recent Entries
[ top ]
Dec 03
-
Megan Meyer Wins Second Consecutive Top Alcohol Dragster World Championship
Dec 02
-
Stevie "Fast" Jackson Wins Second Consecutive Pro Mod Championship Title
Nov 16
-
Torrence Wins Camping World Title
Nov 11
-
NHRA Announces Complete 2021 Class Schedule
Nov 10
-
Don Prudhomme Shares Life Story On and Off the Track
Nov 10
-
Justin Ashley Wins 2020 NHRA Rookie of the Year
Nov 10
-
Matt Hagan Crowned 2020 NHRA Funny Car World Champion
Nov 09
-
LAS VEGAS - Enders Claims Her Fourth Pro Stock World Championship
Nov 05
-
LAS VEGAS SN - Super Stock Final, Round 7 Eliminations
Nov 05
-
LAS VEGAS SN - Stock Eliminator Final, Round 7 Eliminations