Wed, 4 Dec 2002, 08:07 AM



One on One Funny Car Champion John Force



Courtesy of NHRA Communications


Photo copyright 2002 Auto Imagery, Inc.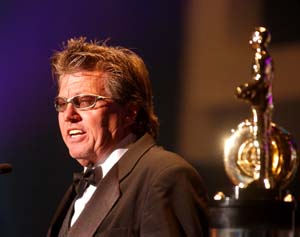 John Force
Winning never gets old for John Force. He receives his motivation from looking forward to the next elimination round win, the next race victory and the next NHRA POWERade series championship. The desire to win burns with intensity: He's amassed a lot of victories (106) and NHRA championship trophies (12) during his distinguished career behind the wheel of the Castrol GTX Funny Car. This season Force had one of his best efforts, defeating rival and teammate Tony Pedregon in a photo-finish during the semifinals at the season-finale to claim his 10th consecutive Funny Car crown. He claimed eight victories along the way in his Ford Mustang, including his milestone 100th in Houston, and later, his 106th overall, which places him second all-time in major auto racing victories behind NASCAR legend Richard Petty (200). In this championship Q&A session, Force talks about what it means to win 10 championships in a row, the best and worst things about racing a teammate for a championship trophy and what he'd like to add next to his long list of career accomplishments.
Q: Have you had a moment to reflect on the significance of winning 10 consecutive championships and what it means to you?
FORCE: To me, it's about what we have accomplished as a team. That's the real satisfaction. Working with (crew chiefs) Austin Coil and Bernie Fedderly, Castrol, Ford, Mac Tools, All-Pro/Bumper-to-Bumper, the Action group, all the other sponsors. Look at what we've done. Ten championships in-a-row. It's never been done before. That's what you feel good about is doing something that no one else has done anywhere else. That's something all of us can look back on later in life. Bottom line, when I started out, I just wanted to win one round. I never thought I could ever win even one championship. I just wanted to race against guys like Kenny Bernstein and Don "the Snake" Prudhomme, Raymond Beadle, Tom "the Mongoose" McEwen. Those guys were my heroes and to be able to race against them was all I ever wanted to do. It wasn't until I hired Austin Coil that I began to really think that I could win. Austin Coil taught me how to win and what we found was that we were a really good team. He's the best at what he does and I've been lucky enough to be able to find people like Castrol to invest in the program. But to be here as a 12-time NHRA Funny Car Champion. You look back at where I came from and, yeah, it's hard to believe. You know, Bernstein was trying to acknowledge all the people who were important to his career that ended this year with the Forever Red Tour and he said he hated to start mentioning people because for every one he talked about there were a dozen more he'd probably forget. I feel the same way. I couldn't begin to thank everyone who made the 10 straight possible but Austin and Bernie and Castrol are a good start. Winning 10 in-a-row also means that, moving into my new role in the future as the team owner, it shows that I'm qualified to put together a program, to hire the right people, to get the right funding and to get the job done. I think I've prepared myself over the years to do that.
Q: How is championship No. 12 different from the rest?
FORCE: It was important to me to wear the NHRA POWERade champion title. I was proud to be the 11-time Winston champion and after winning the last Winston championship, I really wanted to win the first POWERade championship and, thanks to a great team, I was able to do it. Plus, the way we won it. We gave the fans, Tony (Pedregon) and I, some real racing when it really meant something. I was really proud of how we both performed under all the pressure.
Q: Does winning championships ever get old?
FORCE:
Getting old gets old, but winning championships never gets old. Every day I wake up thinking about the next championship because you know someone can take it away from you, just like that, if you're not totally committed to winning. The most pressure ever put on me in my career was by Cruz Pedregon and then by Tony Pedregon and both times it was a wake-up call that there are a lot of hungry drivers and hungry teams out there just waiting for one slip-up. If you're not out there to win the championship, what's the motivation? Our motivation is to be the best and you know you're the best when you have that "Wally" in your hands at the end of the season.
Q: You were nominated for Driver of the Year and while you didn't win it this time, you received a first place vote via the fans, how does that make you feel?
FORCE: The fans voted for me? But not the media? Well, what it means to me is that the media ain't getting no Christmas presents. Well, I'm sad to say that the guy that won it (Cristiano da Matta of CART), I never heard of. Who is he? Honest to God, I didn't know until now that I didn't win because the fact is I've been so busy orchestrating my team over my vacation - which I never took. Even though I don't know the guy, I know that you have to be really good to win that championship. So, to be in that company, to be included, is an honor. To get the fans' vote, that means a lot because when it's all done, when the media forgets me, I know the fans will still love me. Even though it's important to win those things, Driver of the Year, especially, my focus, bottom line, isn't on what we've done in the past but what we will accomplish in the future. I'm just proud to say that I did win it (Driver of the Year) once. I did win it, didn't I?
Q: What is the best and worst thing about racing your teammate, Tony Pedregon, for the championship?
FORCE: The absolute best thing is that it was a win-win situation. If I won, I won. If I lost, I still won because the team won and I would have had my first title as just the car owner. You never like to lose. If you do, you shouldn't be out there. The best thing was that we gave the fans a real race for the championship. The worst thing was that one of us had to lose. I wanted to win, but I also wanted Tony to win because he is a very motivated individual and a great teammate. So while it was a win-win one way, it was a lose-lose the other because we couldn't both win the championship.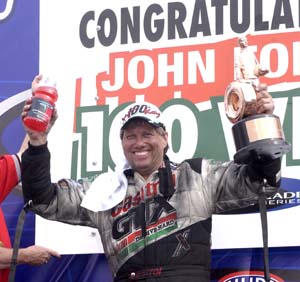 Force celebrates 100th win.
Q: As you reflect on the season, how does it feel to break into the 100-win zone and become the second winningest driver in auto racing history behind Richard Petty?
FORCE:
Well, winning the 100th, that was a goal, but there's no way I can catch Richard Petty. 200 wins. How can you win 200 races? To be second behind someone as great as that, though, what can you say? We've won 106. Hopefully we can win a couple more. I'm committed to drive through the 2005 season and, right now, I'm not thinking about retiring even then. As long as I can still do my job. But 100 wins, that's an accomplishment. There were a couple of times I thought to myself, maybe I'll get stuck on 99 and never win the 100th.
Q: What do you feel was the defining moment of the season?
FORCE: My race with Tony in the semifinals at Pomona. When I watched it later on TV, when Tony put out the top light and I put out the top light, that was drama. It was a race where the fans were excited for Tony and they were excited for me. The race was not about who won. Let me emphasize that. The race was not about who won. It was about two guys doing the best they could and giving a great performance with two good hot rods. We already had won. We already had all the money. No red lights, no smoking the tires, just racing for the throat. The winner, I want to clarify, did not matter. Like I said before, I wanted to win. I never want to lose. But if Tony had won, I would have still been OK knowing that I had done my best.
Q: After the performance this year by all three of your cars, do you feel a lot of pressure to make that happen again?
FORCE: Well, people always expect more. That's human nature. But pressure is what you put on yourself and we're not going to go out and say that if we don't finish 1-2-3 or we don't put all three cars in the top 10 that it's a bad season. We just want to go out there and perform the best we can with all three cars.
Q: You have taught Tony a lot; what have you learned from Tony?
FORCE: I've learned a few words in Spanish I didn't know. That's a joke. What I've really learned is how bad he wants to win. My job as an owner is to keep the budgets together, to keep these cars financed. My job is to keep the crew chiefs and 45 employees happy and keep them together. Tony's job is just to win. That's what I want him and Gary Densham to do. At times, it seems, I've become the enemy when it comes to their job. I never realized that until this year. But we're still friends when it's over. What I learned from Tony is that he is very hungry and that's what you want in a driver. I didn't want him to be happy (after the Auto Club NHRA Finals) because that would have shown that he didn't care. A lot of people said Tony wasn't happy for me (after the race). No, trust me, Tony was happy for me, but Tony's focus is for him to win for SYNTEC and Ford, that's his job.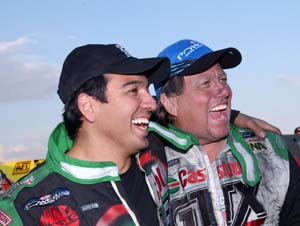 Tony and John
Q: Will there be any changes to any of your teams next year?
FORCE:
Right now I'm focusing on the future and I'm betting heavily on Tony Pedregon. My daughter (Ashley) is in the learning stage. But it's three cars plus the (Super Comp) dragster for Ashley. I did discuss with Ford a fourth car but when you have three of the best cars out there, what would be the motivation? Four cars would be too many. I did tell Ford I would race Mustangs and not dragsters. So it's three Mustang Funny Cars with the same basic team makeup. We'll have a few new faces, like always, but the basic group will still be there - me, Tony, Densham, Jimmy Prock, Dickie Venables, John Medlen, Coil and Bernie.
Q: You have more than 100 wins and 10 consecutive titles, 12 overall, so what's next on your agenda?
FORCE: Bottom line, the goal is just to win. I've got crew members that don't have a personal life because they give everything to this race team. They do that to win. You don't win by doing things halfway. So our goal as a team is to win as many races as we can. If I can't win, then I want Tony or Gary to win. I want my daughter to have some success once she learns the basics working with Rob Slavinski. I don't have any personal goals as to how many races I'd like to win before I get out. I just want to win the next one.


NHRA: 10 Most Recent Entries
[ top ]
Dec 03
-
Megan Meyer Wins Second Consecutive Top Alcohol Dragster World Championship
Dec 02
-
Stevie "Fast" Jackson Wins Second Consecutive Pro Mod Championship Title
Nov 16
-
Torrence Wins Camping World Title
Nov 11
-
NHRA Announces Complete 2021 Class Schedule
Nov 10
-
Don Prudhomme Shares Life Story On and Off the Track
Nov 10
-
Justin Ashley Wins 2020 NHRA Rookie of the Year
Nov 10
-
Matt Hagan Crowned 2020 NHRA Funny Car World Champion
Nov 09
-
LAS VEGAS - Enders Claims Her Fourth Pro Stock World Championship
Nov 05
-
LAS VEGAS SN - Super Stock Final, Round 7 Eliminations
Nov 05
-
LAS VEGAS SN - Stock Eliminator Final, Round 7 Eliminations