Wed, 4 Dec 2002, 06:07 PM



Itís A New Wave In 2003!!



By Bob Frey


Photo copyright 2002 Auto Imagery, Inc.





Doug Herbert
For the first time in a long time it seems like most of the major news during the off-season is being made in the pits, so to speak, and not on the track. By that I mean that it appears that a whole new wave of crew chiefs will be involved in the sport next year, and thatís a good thing.
Doug Herbert
kind of got the ball rolling with his announcement that
Ron Douglas
would be his crew chief next season. "Itís time to give some of the young guys a chance," Doug said. Of course he also added that heíd like to find a nice gray-haired guy to help Ron along, and to that end he added
Jim Brissette
this week as a consultant. The right mix of youth and experience should be a real plus for Dougís team, or any team, for that matterÖ.The Checker, Schuckís, Kragen team had previously announced that
Chris Cunningham
and
Marc Denner
would be elevated to the status of co-crew chiefs on the CSK "Blue Team," while
Cruz Pedregon
named
Dave Fletcher
and
Rob Flynn
as his main guys. Now comes word that another young guy will get the post as crew chief on another fuel Funny Car.
Bob Gilberston
will announce very shortly that he will name
Nick Boninfante
as his crew chief effective immediately. Nicky, a second-generation racer and a guy who has been around fuel cars for quite some time, will bring a wealth of knowledge to Bobís team, a team that ran very well over the past few seasons. With Trick Tank and Stewart & Stevenson both returning next year (Trick Tank is Bobís company, which is doing very well), and a couple of other sponsors to be named shortly, look for Bob to break into top the top ten next year, a berth that he has just missed over the past few seasons. Nicky will also use the opportunity, Iím sure, to promote his (and his dadís) line of clutches and clutch parts that have been used by a lot of the fuel teams for a number of years nowÖ.So whereís that leave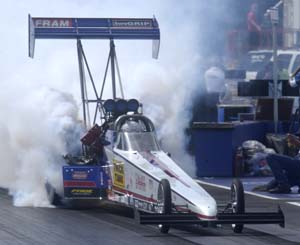 Mike Smith

Paul Smith
, you might ask? Well, donít be too surprised if you see Paul and his son,
Mike
, fielding their TF car for most, if not all of the 2003 season. Mike made a few starts on the tour last year, but he and Paul have never really made a full effort toward promoting themselves and their own team, and 2003 may be the perfect time for that. With Rhonda and John Smith running so well, you could have a natural rivalry that would get a lot of attention at the track. Talk about your family feud!! Mike and Paul are still busy running their mechanicís school and as recently as the week after Dallas they had drivers trying to get or upgrade their fuel licenses in one of the Smith cars. Thatís a very talented family and I hope Paul and Mike can make the entire tour next year, and good luck to Bob and Nicky, too. Like many of the other teams out there, by the way, Bob may be moving his operation to Indianapolis, which just happens to be where Nicky livesÖSince this is a "did you know" column,
did you know
this about Mike Smith? He made his first NHRA national event start at the Southern Nationals in Atlanta in 1990 where he out qualified
Don Prudhomme, Shirley
Muldowney
and
Kenny Bernstein?Ö
Since Iím in that family kind of mode, how about an announcement from the
Cavalieri
family that theyíve picked up some sponsorship in their efforts to make the entire tour next year? As of now, I think theyíre very close, with only a little more needed to put them over the top. With good families, good young drivers and some new crew chiefs, í03 could be one of the best seasons in a long while in the dragster class.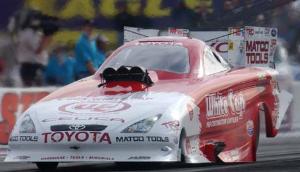 Bruce Saver
As of now there is no word on the
Mike Dunn
watch!! From what I hear, Mike should make an announcement, one way or the other, by the time you read this column next weekÖ..There could also be some movement on the
Jerry Toliver-Allen Johnson
program which, from what I understand, is making slow but steady progress. The end result would be a two-car team with Jerry and
Bruce Sarver
as the drivers, with Toyota being involved with at least Bruceís carÖ.Speaking of bodies (I was, wasnít I?), you can expect that announcement very soon about the future of the Dodge bodies in the Funny Car class. Itís a big name team that will make the switch and the early wind tunnel tests that they conducted recently were very "revealing," as far as the potential of the body was concerned. At the same time, the new Dodge Stratus Pro Stock body has been approved by NHRA and at least two of them are under construction at this time. Of course Mopar will continue their sponsorship of the Denver race and that should give the Mopar fans a lot to cheer about next year. Wonder when the last time a Mopar bodied car held the speed record in the Funny Car class? Just thought Iíd ask. Hey, this is a "did you know" column, so I should know that, right? Well, I do.
Did you know
that the last time a Mopar bodied car held the speed record in the NHRA Funny Car class was way back in 1991 when
Jim White
took the "Hawaiian Punch" Dodge on a 291.82 mph blast. And the last time the Mopar folks held the FC elapsed time mark was in 1993 when
Chuck Etchells
went 4.987 in Topeka. Wow, thatís a long, long time ago.
Lots of teams, team reps and manufacturers are in or headed to Indy for the annual PRI show and then, soon after that, if youíre in the Bradenton, Florida area, you might want to stop by the drag strip there. Most of the major players in the Pro Stock class will be in Bradenton over the next couple of weeks testing their new rides. Itís always one of the first comparisons that we get in order to evaluate the performance of the new cars. We could see more new body styles in í03 than we have in quite some time. As fate would have it, the Pro Stock speed record is currently held by a Dodge, with that 204.35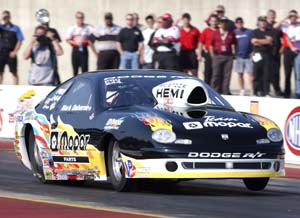 Mark Osborne
mph blast by
Mark Osborne
at Maple Grove in 2001.
Did you know
that 2002 was the first year in the history of the Pro Stock class that neither the elapsed time nor the top speed national records were re-set? Amazing, isnít it, that as competitive as the class was this year, neither record was changed and thatís the first time in 32 years that thatís happened. Of course it was
Warren Johnson
who said after the Maple Grove race in í01 that weíd go years before finding those kinds of conditions again. Hey, I guess we should all learn to listen to the "Professor," shouldnít we?ÖWe donít call him the professor, but watch for
Richard Maskin
to return to the scene next year. The man behind a lot of Pro Stock championships (
Jim Yates
and
Jeg Coughlinís
first crowns come to mind), is preparing to team up with one of the great racers out of Texas in an effort to win another Pro Stock title. Now this guy has raced in the Competition Eliminator class, Pro Stock Truck class and currently builds engines in Texas. And itís not
David Nickens
, so you figure it out. OK, Iíll tell you, itís
Taylor Lastor
and donít be surprised if those two team up for a two-car deal next year with Taylor driving one and me driving the other. Of course itís not me but I canít tell you who the other guy is right now, but if Richard and Taylor do get together, that will be one very formidable team. Stay tuned.


NHRA: 10 Most Recent Entries
[ top ]
Dec 03
-
Megan Meyer Wins Second Consecutive Top Alcohol Dragster World Championship
Dec 02
-
Stevie "Fast" Jackson Wins Second Consecutive Pro Mod Championship Title
Nov 16
-
Torrence Wins Camping World Title
Nov 11
-
NHRA Announces Complete 2021 Class Schedule
Nov 10
-
Don Prudhomme Shares Life Story On and Off the Track
Nov 10
-
Justin Ashley Wins 2020 NHRA Rookie of the Year
Nov 10
-
Matt Hagan Crowned 2020 NHRA Funny Car World Champion
Nov 09
-
LAS VEGAS - Enders Claims Her Fourth Pro Stock World Championship
Nov 05
-
LAS VEGAS SN - Super Stock Final, Round 7 Eliminations
Nov 05
-
LAS VEGAS SN - Stock Eliminator Final, Round 7 Eliminations