Mon, 9 Dec 2002, 08:29 AM



Anthony Bertozzi…Super Stock Champ.



By Bob Frey


Photo copyright 2002 Auto Imagery, Inc.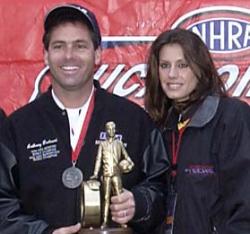 Anthony and Malinda
OK, so you all know the story about Anthony Bertozzi. He's the guy who, coming into 2002, had won just about everything in the sport of drag racing except and NHRA national event and an NHRA World Championship. Ten IHRA championships, about five dozen national event wins in IHRA competition in a variety of classes, bracket titles too numerous to mention and big money events from coast to coast, but no NHRA titles until this year. Well, all of that changed dramatically in 2002.
Most journalists have already chronicled Anthony's life story, so I won't rehash that here. Most folks who follow the sport know what an awesome racer he is, and most people know that he is married to the stunningly attractive Malinda, and that she, not he, had won an NHRA national event coming into this year. So I won't rehash all of that, either. What I would like to do is just give you a couple of quick impressions about the man whom I watched methodically go about his task of winning races and, in the process, winning a championship this year.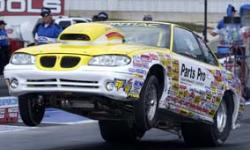 Anthony launches hard.
Anthony Bertozzi is part of a group, some might call it a clique, of the top racers in the country who all just happen to live and race in the same part of the country. Included in that rather elite group, among others, are Peter Biondo and Dan Fletcher. Those three alone could make up NHRA's answer to the old New York Yankees' famous "Murder's Row." Racing at a divisional or national event in a class that features those three guys is not a good way to make a living. Now make no mistake about it, there are great racers all over the country and in every division, but you've got to admit that Anthony, Peter and Dan make up a pretty tough trio. Peter and Anthony are especially good friends, so much so that they've actually scheduled races away from each other in the past. But this year, Peter told his good friend and racing buddy that he ought to bring his act over to the NHRA stage and make a serious run for the title. Fortunately for Anthony, and unfortunately for the other racers, he listened, and the rest, as they say, is history. A couple of wins at the some early Division 2 events put Anthony in the lead in Super Stock right from the beginning and almost forced him to run for the title. As the season went along and as he kept winning rounds, it was obvious to most observers that if you wanted to win the Super Stock championship, you'd probably have to go around or through Anthony to do it.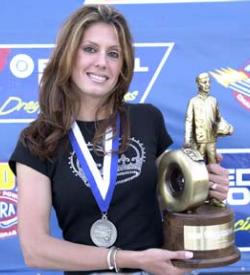 Malinda celebrates her win.
As fate would have it, the three amigos, and Lincoln Morehead, another one of the great D-1 racers, would all be in the hunt for the S/S crown for most of the year. Still, Anthony, the consummate racer, was looking at proving to himself, if to no one else, that he was a legitimate racer, and to him that meant winning an NHRA national event. In fact, after picking up the win at the Division 4 race in Noble, Oklahoma, I spoke with him in the winner's circle as he held his divisional trophy and said, "Now I've got to get one of the big ones," referring to the NHRA national event trophies. I told him that he had done everything that was asked of him this year and that he was probably going to be the NHRA world champ and I could still tell that he was looking for that validation, that entry into the club, that one last thing that he seemed to need even more than the championship, an NHRA national event win, to complete his resume. I, for one, found that very interesting, and so did his wife, Malinda. After all, to the racers of the world, Anthony Bertozzi is as good as it gets, and yet he felt that he still needed to prove something. Maybe that's why he is as good as he is.
A few weeks after the Noble race, Anthony did win an NHRA national event, but not in his marquee class of Super Stock. No, he won in the highly competitive Super Comp class, a category that normally features well over a hundred cars, which means it's six or seven rounds worth of racing. No one, and I mean no one lucks out and wins a S/C national event, and I thought that Anthony would be pleased that he'd finally won an NHRA "Wally," one of the "big ones." But, again, as I spoke to him in the winner's circle it was plain to see that something was still missing, at least in his mind. By now the points had been virtually wrapped up and Anthony's wife and daughter very celebrating in the winner's circle. But he was probably the most subdued national event winner that I can remember. His mission was still not accomplished.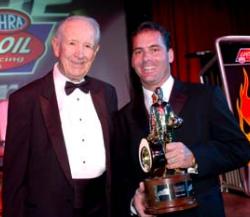 Wally and Anthony
At the AAA Club of Southern California NHRA Finals in Pomona, the rain was the big story, washing out two days of racing and pushing the sportsman finals into Monday. Since the Lucas Oil Drag Racing Series awards ceremony was to take place in Los Angeles at 4 o'clock, and the Powerade ceremony would follow at 6:30, I headed downtown and missed the last day of sportsman racing, but I kept in touch with Rick Green and the guys at Fast News network who were there covering the event. And each round they told me that Anthony had won again, beating Sid Bonnecarrere in round three, Buz Post in round four and Ronnie Courtney in round five, which propelled him into the final round where he would meet Kyle Seipel, one of the best racers in the land in his own right. Now I've never raced, but I've got to think that Anthony was feeling just a little bit of pressure, all self-induced of course, going into that final round. I mean, all he had to do to win his first NHRA national event in Super Stock was beat Kyle, who has to rate as one the best in the country. Well, Anthony did win it when Kyle broke out by one-thousandth of a second and the crowd, all nine of them, probably went wild. Ironically, Anthony won the title in a car that he borrowed from John Coughlin, which just goes to show you how close the racers are in the sportsman classes.
As I got on stage and began to present the sportsman trophies to the national champs at the awards ceremony, I noticed that Anthony and Malinda had made it to the affair, which was no small feat, since the finals had only been run about an hour earlier, and Pomona and L.A. aren't exactly next to each other. I guess they just got a break and didn't run into any of that famous Southern California traffic. And if you believe that, then you probably believe that Anthony Bertozzi needed to win a Super Stock national event to prove to us that he is, indeed, one of the best drag racers in the country. And that includes in any class, in any car and in any sanctioning body.


NHRA: 10 Most Recent Entries
[ top ]
Dec 03
-
Megan Meyer Wins Second Consecutive Top Alcohol Dragster World Championship
Dec 02
-
Stevie "Fast" Jackson Wins Second Consecutive Pro Mod Championship Title
Nov 16
-
Torrence Wins Camping World Title
Nov 11
-
NHRA Announces Complete 2021 Class Schedule
Nov 10
-
Don Prudhomme Shares Life Story On and Off the Track
Nov 10
-
Justin Ashley Wins 2020 NHRA Rookie of the Year
Nov 10
-
Matt Hagan Crowned 2020 NHRA Funny Car World Champion
Nov 09
-
LAS VEGAS - Enders Claims Her Fourth Pro Stock World Championship
Nov 05
-
LAS VEGAS SN - Super Stock Final, Round 7 Eliminations
Nov 05
-
LAS VEGAS SN - Stock Eliminator Final, Round 7 Eliminations