Thu, 12 Dec 2002, 08:51 AM



Waiting For The Excitement To Begin!!



By Bob Frey


Photo copyright 2002 Auto Imagery, Inc.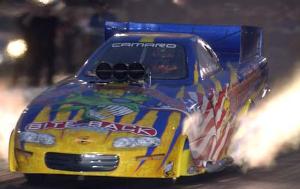 Todd Paton
There are some really big things in the air and I wish that I could share them all with you, but let's just say that a couple of major announcements are only days away and they involve all three of the top professional classes. Having said that, of course, we all realize that nothing is a done deal until we all see it in writing, or until we see the cars in the staging lanes at Pomona.
One of the recipients of some early sponsor news was Jack Wyatt, as I'm sure you all know by now. Jack will carry the "PiranaZ" logo next year and he will start at the Winternationals. In that same general area, Todd Paton told me that he will be back with the "Nitro Fish" Funny Car in 2003. "We may come rolling into Pomona on Thursday, but we'll be there with the "Nitro Fish" car," he said. And he'll have some nice, new equipment with which to compete. Todd and his brother and dad learned a lot this past year running the car on their own and a couple of good 4.80 runs proved that they have the right stuff to run with the big fish….In some related good news, I understand that Wal-Mart has made a pretty sizeable order of "Nitro Fish" apparel, and that's good news for everyone. If drag racing can begin to get some broad-based exposure, and Wal-Mart can certainly provide that, it will be good for the entire sport. Hey, check out your local Wal-Mart and see if the "Fish" gear is there, because nothing says lovin' at this time of year like a nice "Nitro Fish" shirt or hat. And "Fish" decals make great stocking stuffers….By the way, rumors that Jerry Toliver was about to get the "Fish" deal are not true, at least that's what I'm told. Still, Jerry is working hard on his deal that could see him returning to the tour next year. Gee, don't you think Jerry would look good in a yellow and blue car?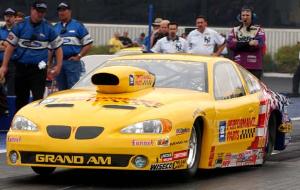 Warren Johnson
There could be some sponsor news in the Pro Stock class, in addition to
Warren Johnson's
extension with GM Performance Parts. By the way, that extension is for three years and I wonder how much longer W.J. wants to drive? All I know is this, when I've spoken to Warren he says that he'll drive until he can find someone who can handle the car and the sponsor duties because both are extremely important these days. He also told me that when he does hang up his driving gloves, he'll look to put a "racer and not just a "driver" in the car, and according to him, there's a huge difference between the two….By the way, speaking of veteran drivers and sponsors, you'll notice a very subtle change in the
Kenny Bernstein
operation next year. When
Brandon
takes over the driving chores the car will be referred to as the
Budweiser/Lucas Oil
dragster, with no more reference to the
"Budweiser King."
Like I said, it's subtle, but it 's also very interesting…
CARQUEST
, with a big presence in the Northwest, has just been named a the title rights sponsor for the Seattle race.
John Mitchell
, based in Montana, will carry the CARQUEST colors into battle with his car next year and it will be driven by
Paul Romine
and that will add one more good quality car to the TF ranks for the season.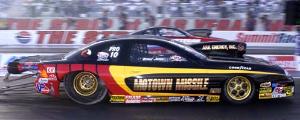 Brad Jeter
The Pro Stock class, amazingly, looks like it will just continue to grow next year both in quantity and quality. I believe that
Brad Jeter
and the
"Motown Missile
" car will be a permanent fixture on the tour next year and, with
Dave Butner
tuning, the
Arnold Klann
owned car should be very competitive. It will be interesting to see if that team gets a hold of one of the new Dodge Stratus bodies, but whether they do or not, I certainly expect 2003 to be the best year in a long while for the hemi-powered Pro Stockers. ….
Ron Krisher,
who is in Florida testing as you read this, has been added to the GM factory team for next year. Since, to the best of my knowledge, the only other team cars for Chevrolet are
Kurt Johnson
and the
Coughlin
boys, I'd say that puts Ron in some pretty good company. I look for Ron to have his best year ever in 2003. You probably know that Ron is the only driver who qualified for every Pro Stock field this past year, and that he has made every show for the past three seasons. Well, if you want to know what an improvement he has made over that time,
did you know
that he failed to qualify for eleven races in 1999, the year before he began his streak? That's a whole pile of races to miss, and to run so well since then will just show what kind of power he's been making.…
Bruce Allen
is also in Florida testing and he has already cranked out some pretty impressive numbers. How does a 6.77 sound to you? The Reher and Morrison team, one of the best in NHRA history, simply needs to be a little more consistent next year and they could make a serious run for the championship.
Did you know
that that great team once went 232 consecutive races without failing to qualify? Now that's impressive. Of course, so is a 6.77. By the way, they accomplished that streak with three different drivers,
Lee Shepherd
and Bruce Allen were two of them, and do you know who the third one was?
Richie Zul
. Everyone who remembered that Richie drove for the R & M team raise your hand….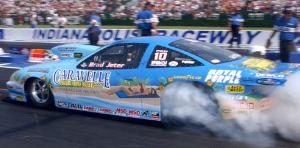 Jeter in the Caravelle Resort car.
Steve Schmidt
is also in Florida and that must mean that he'll be racing in ' 03. I know that Steve likes Brad Jeter, so maybe Brad will have his pick of cars to drive next season. I will tell you this, over the years Steve Schmidt has consistently made as much power as anyone out there and if he decides to join the full tour, whoever drives the car will have a very fast ride. The blue
Caravelle Resort
car is still in Steve's shop, too, so don't be surprised if that resurfaces….And, if you can't make it all the way to Florida, stop by No Problem Raceway in Louisiana and you just might catch a glimpse of a yellow and black Pro Stock team testing.
With three test sessions planned for the start of the year it will be interesting to see which teams go where. I know that the John Force team cars and Brandon Bernstein will be at the Tucson test session (and so will I), while several others are planning to hit either Phoenix or Las Vegas. Last year only one Pro Stock car went to the Tucson session and that was George Marnell. Oh, by the way, do you remember who won the Winternationals? Right, George Marnell…..Congratulations to John Force and his entire staff for another very successful open house this past weekend. Not only did a lot of fans get to see some pretty high profile drivers, but also they brought a whole lot of toys with them for the needy children in the area. I'm told that this is one of the biggest, single day fundraisers for the kids in the state and the California Highway Patrol. John, you are the man!!


NHRA: 10 Most Recent Entries
[ top ]
May 21
-
Second JEGS SPORTSnationals Added, to be held in mid-August in New England
May 20
-
DENSO Sponsors NHRA Champs' Shelter-in-Place Dachshund Race
May 14
-
To Our Racing Community-From Racers for Christ
May 13
-
The Name Game Part I
May 12
-
Morgan Lucas, Son of Forrest and Charlotte Lucas, Appointed President of Lucas Oil Products, Inc.
May 05
-
Cancellation of the 14th Annual Summit Racing Equipment NHRA Nationals
May 04
-
NHRA Announces Revised Plan to Restart 2020 Mello Yello Drag Racing Series
Apr 29
-
DSR Drivers Join Global Superstars in Fight for COVID-19 Relief
Apr 02
-
NHRA National Dragster will Temporarily Shift to a Free-to-All Digital Magazine
Apr 02
-
NHRA Announces Revised E3 Spark Plugs Pro Mod Drag Racing Series Schedule