Tue, 17 Dec 2002, 07:59 AM



Angelle's Ride to the Championship was a Memorable One



Courtesy of Jon Knapp


Photo copyright 2002 Auto Imagery, Inc.





Star Racing Team Overcame Multiple obstacles en route to Third Consecutive Pro Stock Bike Title



AMERICUS, Ga. --
The 2002 NHRA Drag Racing season came to a close last month with an awards ceremony held at the lavish Kodak Theater in Hollywood, California. In each of the four professional categories, a POWERade champion was crowned, with Angelle Savoie capturing the Pro Stock Motorcycle honors for the third consecutive year.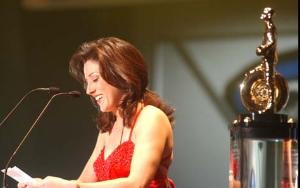 Angelle at awards ceremony.
Angelle took to the stage resplendent in her red evening gown, seemingly far removed from the trials and tribulations the Star Racing team had faced throughout the year. Although the final result was the same as in the previous two seasons, the circumstances surrounding this most recent championship have earned it a special place in the team's long and illustrious history.
"Every championship is special, and you cherish each one, but our 2002 POWERade title will always rank near the top," explained Angelle. "Throughout the year, it seemed like a day wouldn't go by without this Star Racing team being tested in one way or another. But with each challenge, we just dug deeper, pulling together as a team, and never losing sight of our target. It wasn't easy, but it ended up working out in our favor."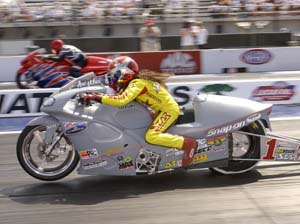 Angelle without a sponsor.
The season opened under a cloud of uncertainty, as for the first time in recent history, the Star Racing team would start the year without a primary sponsor, with their Suzuki's usually colorful paint scheme replaced by a stark primer gray finish. Even so, Angelle and crew quickly gave notice of their intent to defend their 2001 & 2002 championships by qualifying second and powering to the final round at the season-opening event in Gainesville, Fla. In what would prove to be the beginning of a season-long battle for Pro Stock Bike supremacy, Angelle faced surprise finalist Craig Treble, with this first encounter going her opponent.
Even so, the team's gusty performance in Florida caught the attention of a small radio-control accessory company, who expressed an interest in sponsoring the Star Racing entry. With negotiations underway, Angelle and crew battled mechanical gremlins to record a solid semi-final finish in Houston.
Sitting second in the POWERade points, the team headed to their home track in Atlanta buoyed by a newly signed three-year marketing agreement. In typical Star Racing fashion, Angelle greeted the new sponsor by claiming her first No. 1 qualifying position of the year, shattering the Atlanta Dragway elapsed time record, winning the event and reclaiming her position atop the Pro Stock Motorcycle standings.
"At the start of the year, we had all agreed that we would stop racing after Atlanta unless we found a new marketing partner," detailed Angelle. "Even though we concentrated on trying to win in Gainesville and Houston, it was hard to focus on racing with the sponsorship question hanging over us. That's what made our performance in Atlanta even better - not only did we get to the winner's circle, but we knew we were going to keep racing, fighting for another championship."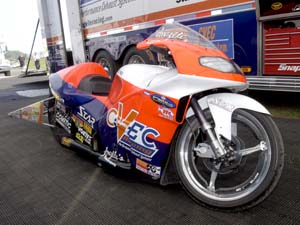 CVEC signed on in Atlanta.
The positive momentum generated in Atlanta carried over into the next two races. In Englishtown, Angelle and the Star Racing Suzuki shattered the national elapsed time record in qualifying with a 7.049-second blast that cut nearly five hundredths of a second off the previous mark. A visit to Route 66 Raceway in Joliet one week later saw the Americus, Georgia-based team capture its third consecutive No. 1 qualifying position en route to their second win of the 2002 season, further extending their lead in the championship chase.
Having clearly established themselves as the favorites, it seemed Star Racing's path to the 2002 title was clear. However, an unexpected challenge arose in Columbus, Ohio, when long-time adversary Matt Hines, whose national record Angelle had broken in Englishtown, accused the team of operating outside the NHRA's rules. The close-knit crew's primary concern about this unwarranted assault was its effect on the reputation they had worked so hard to build, even after innumerable and extensive technical inspections proved Hines' allegations to be completely unfounded.
"We pride ourselves on being honest racers," stated Angelle. "If someone out runs us, we don't stand around complaining or pointing fingers - we just go back to our trailer and work harder. There are a lot of great people in Americus, Georgia who work long hours to give me a fast Suzuki to ride, which is the main reason we were upset by Matt's comments in Columbus.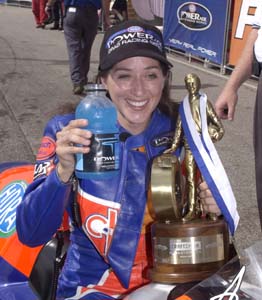 Angelle celebrates a win.
"After a while, however, it was almost funny. The NHRA technical department went over everything, from the bike to my helmet and leathers, and of course, didn't find anything. But even that wasn't enough to satisfy some of our competitors, who said the right people hadn't done the inspections. The bottom line is that we knew we were clean, so we just focused on doing our jobs on and off the track."
Naturally, Star Racing's response to their rival's challenge would come on the race track. At the next race in Madison, Illinois, Angelle scored a two-wheeled trifecta, setting the Gateway International Raceway elapsed time track record, scoring her fourth No. 1 qualifying position of 2002 and powering to her third win of the year. This performance pushed her advantage in the POWERade points standings to over one hundred markers heading into the second half of the season, and seriously reduced the number of true contenders for the title.
Sitting in second place was Craig Treble, who was enjoying the best season of his professional career. Treble had managed to doggedly keep pace with the two-time defending champion, and was seemingly ready to take advantage should she unexpectedly stumble. Although yet another No. 1 qualifying position and final round appearance at Bandimere Speedway in Denver seemed to dispel any notion of a letdown, uncharacteristic mechanical problems at the next two races did allow Treble to narrow the gap heading into drag racing's biggest race of the year, the U.S. Nationals in Indianapolis, Ind.
However, unbeknownst to those outside the team, the shrinking points lead was the least of Star Racing's concerns. Sadly, the promising start to a long-term marketing partnership seen in Atlanta seemed light-years away, as the team's primary sponsor failed to live up to their side of the agreement. This forced team owner George Bryce to shoulder the tremendous financial burden of running the team, severely limiting their competitive efforts. However, Bryce was determined to see this championship fight through to the end, and scrambled to find the necessary resources.
"Few people knew it at the time, but our season came very close to ending during the summer," commented Angelle. "Due to the difficulties with our sponsor, we faced the same situation as we had at the beginning of the year, racing out of our own pocket. But to George's (team owner Bryce) and the entire Star Racing team's credit, even on a shoestring budget, our performance never fell off."
Fortunately, once the news of the team's struggles became public, other companies stepped up to help. Long-time friend Curt Woodward, whose Wisconsin-based Retail Fixture had provided the impressive display cases used in Star Racing's showroom, came on board as the title sponsor for the Brainerd and Indianapolis events and remained as an associate for the remainder of the season. Long-time associate sponsor Snap-On Tools increased their participation for the U.S. Nationals. Finally, Uncasville, Conn., entertainment complex Mohegan Sun assumed the role of primary sponsor for the final three races (as well as being a major associate sponsor for 2003), ensuring that Angelle's championship chase would not end prematurely.
"We were very lucky that Mohegan Sun, Curt Woodward and Snap-On Tools came to our rescue," said Angelle. "Without their help, we would not have been able to finish the year and win the championship. We truly appreciate their support, and hope they enjoyed the ride."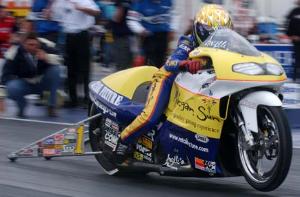 Angelle on the Mohegan Sun bike.
In each case, the companies were rewarded for their actions with a significant victory. In Indianapolis, Angelle not only successfully defended her 2001 U.S. Nationals title, but also scored an important win over Treble in the semi-finals to add to her points lead. Reading saw the Star Racing rider add to her already impressive racing resume when she defeated Karen Stoffer in the second all-female final in NHRA history (and first ever in Pro Stock Motorcycle).
The back-to-back wins put Angelle in the enviable position of being able to clinch her third championship at the penultimate race in Las Vegas. Entering the event with a commanding 173-point advantage, she simply had to equal Treble's performance to claim the title. However, in true Star Racing style, Angelle delivered a performance worthy of a three-time champion.
After qualifying second, Angelle dispatched Karen Stoffer and Geno Scali in the early rounds to force one final showdown with Treble in the semi-finals. With the Star Racing entry having a slight performance edge, and needing to win to extend the championship fight to the last race in Pomona, Treble tried his best to gain the starting line advantage. Unfortunately, the battle was over before it began, as he left the line too early, handing the automatic win, and the championship to the young lady from Louisiana.
"All year long, Craig Treble was an awesome opponent," exclaimed Angelle. "He pushed me every step of the way, making me a better racer. I felt it was a big compliment to us that he felt he had to push the tree as hard as he did in Vegas. He's such a great competitor, and he was pushing it because he knew he had to, but even so, that red light was unusual for him. I was just happy to clinch the championship."
As if securing her third consecutive championship was not enough, Angelle put a well-deserved exclamation point on her POWERade title in the final. Facing archrival Matt Hines, Angelle exacted a little poetic justice by drilling her opponent at the starting line, leaving nearly three hundredths ahead to score the hole-shot win. This was the second win in as many starts for the Mohegan Sun Suzuki, as well as the first time the Star Racing rider had won three NHRA national events in a row.
"There is nothing better than to win on a hole shot," said Angelle. "Naturally, the Star Racing team gets most of the credit and they should, because they build and tune my Mohegan Sun Suzuki, but to beat Matt on a hole shot was an awesome feeling. I can't really explain it, but, as strange as it may sound, I felt like I finally had something to do with our winning. In a season full of highlights, that win has to be among the best."
In retrospect, 2002 was yet another banner year for the Star Racing crew. They led the Pro Stock Motorcycle category with six wins in eight final round appearances, as well as seven No. 1 qualifying positions. They established a new standard for first-round success in the NHRA's professional categories with a 46-race streak that extended back to August of 1999. Not only did they set a new national elapsed time record, but they also recorded the three quickest elapsed times in the history of Pro Stock Motorcycle. Angelle's third championship tied the legendary Shirley Muldowney for the most titles by a female competitor, and, having accomplished the feat in consecutive years, she equaled Hines' record in the two-wheeled category.
However, despite the innumerable successes, the one aspect of their performance which stands out the most among the Star Racing crew members is their ability to consistently overcome any obstacle put before them, further cementing the bond this small crew has forged through their years together.
"This Star Racing team has always been tight, and I think this year brought us even closer together," opined Angelle. "As I have stated repeatedly, I would never race with any other team. The only Pro Stock Motorcycle I will ride is a Suzuki owned by George and Jackie Bryce, with Ken Johnson as my crew chief and Jason Jones on the crew.
"Throughout this year, we faced more than our share of difficulties, and never gave up. We won and lost as a team. It's a performance we can all be proud of, and I'm looking forward to coming back with the Star Racing team next year as we go for four in a row.
"The challenge has already begun, as we are actively looking for a new primary marketing partner to join our family of associate sponsors, including Suzuki, Snap-On Tools and Mohegan Sun. No matter what, I know when we start the season Gainesville, we'll be ready."


NHRA: 10 Most Recent Entries
[ top ]
Dec 03
-
Megan Meyer Wins Second Consecutive Top Alcohol Dragster World Championship
Dec 02
-
Stevie "Fast" Jackson Wins Second Consecutive Pro Mod Championship Title
Nov 16
-
Torrence Wins Camping World Title
Nov 11
-
NHRA Announces Complete 2021 Class Schedule
Nov 10
-
Don Prudhomme Shares Life Story On and Off the Track
Nov 10
-
Justin Ashley Wins 2020 NHRA Rookie of the Year
Nov 10
-
Matt Hagan Crowned 2020 NHRA Funny Car World Champion
Nov 09
-
LAS VEGAS - Enders Claims Her Fourth Pro Stock World Championship
Nov 05
-
LAS VEGAS SN - Super Stock Final, Round 7 Eliminations
Nov 05
-
LAS VEGAS SN - Stock Eliminator Final, Round 7 Eliminations