Thu, 19 Dec 2002, 08:13 AM



Winter Testing and Maybe Some New Players!!



By Bob Frey


Photo copyright 2002 Auto Imagery, Inc.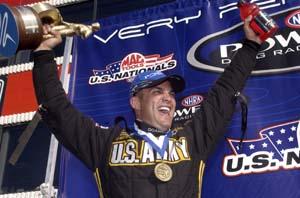 Tony Schumacher
Before I update you on a couple of things that are happening around the testing world,
did you know
that
Tony Schumacher
is going to Afghanistan? That's right, as part of an Army tour, the "Sarge" will be heading overseas a few days after Christmas for a week-long visit to the troops. Those of us who have been around for a while remember the tours years ago that were made by some of the real greats of our sport, like
Linda Vaughn, "Big Daddy" Don Garlits, Bob Riggle
and more. Along with several other racers, those three traveled all over visiting our service men and women at bases in the United States and overseas. In fact, one of the first times that I met Linda was when she came to McGuire Air Force Base back in 1967 as part of the tour that was sponsored by Hurst. Now let me tell you, if you think servicemen love cars (and they do), you should have seen the reception they gave Linda. Congratulations to Tony Schumacher and "Sarge," don't forget to tell the men and women of the armed forces how much we appreciate everything that they're doing.
The winter testing is heating up and there have been some pretty big numbers coming out of the Florida test sessions.
Jim Yates
, who is in Bradenton, ran off a couple of 6.77 passes over the last few days, while
Allen Johnson
and
Darrell Alderman
, part of the new Dodge team, checked in with some high 6.70 runs of their own. But one of the really interesting stories is taking place in the
Mike Edwards'
camp. Mike, who arrived in Florida just a few days ago, ran a 6.77 at better than 203 miles per hour yesterday. Now the thing that's interesting about that is that Mike is using an engine from
Patterson Racing
in Kansas. Yep, the same Patterson's who build great Competition Eliminator motors (just ask
David Rampy
) have decided to try their hand in Pro Stock. I spoke with Todd Patterson today and he told me that they have no commitments from anyone yet for the upcoming season, but, in his words, "we wanted to see if we belong in that arena." Well, after a first day blast of 203, I'd say that they do. Mike was running the same "red" car that he used at the end of last year, and Todd said that they wanted a driver who could give them some feed back and let them know how the engine was working. "Obviously we'd like to get a contender who would be interested in running our engine this year, but as of this moment, we have no agreements with anyone yet for this season." Todd also said that their main focus right now is on taking care of all of their current customers, especially those sportsman racers who have supported them for so long, but that he and his dad are really excited about the possibilities of this new project. With all of the teams out there looking for more power, I'll bet it won't take long for a Patterson-powered Pro Stock car to be in the field at an NHRA national event. For the real hard-core Pro Stock fans out there, you'll probably remember that Todd, himself, competed at a few Pro Stock events back in 1996. Todd said that he really isn't interested in driving himself this year, but he'd love to hook up with a really good team. Good luck to Todd and all the folks at Patterson Racing.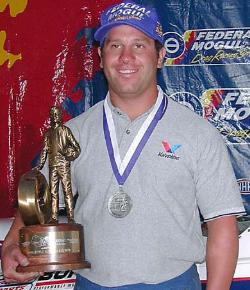 "Hot Rod" Fuller
There was a lot of talk going around about
"Hot Rod" Fuller
, lately, so I checked in with him and he is, indeed, looking into the possibility of running in Top Fuel this year. Rod, who is good friends with Lee Priest, the body builder, says that the two of them have already made some proposals and talked to some people about the possibilities of running a car next year. "Lee has a lot of great connections and he's hooked on drag racing," Rod told me. "In fact, he just got an NHRA tattoo, that's how much loves it." Now for those of you who may not be familiar with Lee, he was recently voted the "Most Popular Body Builder" by the fans of that sport, and he'll be on the cover of next month's
Muscle and
Fitness
magazine. Although he's not yet involved in drag racing, Lee just did a "Behinds the Doors" television show with
Joan Lunden
in which he talks about his feelings for drag racing and, in the interview, he gives NHRA drag racing a pretty good plug. Lee attended the Las Vegas race in October and was absolutely amazed at everything that went on. With a couple of properly placed phone calls, we could see Rod and Lee teaming up as early as this season. But, like Todd Patterson, Rod said that his main focus right now is on his own racing operation and that he intends to compete in the "Super" classes this year. He is also exploring the possibilities of putting Lee in a Super Comp car to get him even more enthused about the sport….if that's possible. Now, for the hard-core fuel fans out there, you probably remember that Rod competed in Top Fuel back in 1995 and 1996 and he actually qualified for a couple of events. Good luck to Rod and Lee.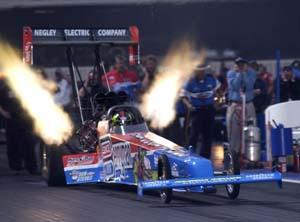 Cory McClenathan
Still in the Top Fuel arena,
Cory McClenathan
is looking forward to the 2003 season, although, like a lot of drivers, he' still in search of some additional funding. "The
Berryman
folks were very happy with what we gave them last year," Cory told me, and they'll be back this coming season. But I'm still a bit short of where I need to be in order to be able to run the type of operation that I want to run." Nobody has been working harder during the off-season to put all of the pieces together for a top-notch operation than Cory has. His reputation, winning record and the way that he works with his sponsors has always been one of his strong suits and it should help him in the future. "I'd love to start the season out in the "Shootout" and go on from there," he said. We'd all like that, too, Cory. Of course that does bring up an interesting question. If Cory does not run at Pomona, what happens to his spot in the Budweiser Shootout? With
Darrell Russell
going in for
Joe Amato
two years ago, and
Brandon Bernstein
going in for
Kenny
this year, what does happen if Cory can't make it? Could
David Baca
take his place? Could Cory drive someone else' s car and, if he could, would that car then be eligible for eliminations? Would the 9
th
place person in the "Shootout" points get the slot, or what? Could be a very interesting way to open the season.
With the holiday week coming up, things in the advertising, promotional and marketing fields pretty much drag to a halt, so don't expect many announcements to be made much before the first week of January. Don't be surprised if, at that time, you don't hear some good things from the Darrell Gwynn camp as well as from some of the other teams, including the official announcement about which Funny Car team is going to run those sleek, Dodge Stratus bodies in '03. In the meantime, have a great holiday season.


NHRA: 10 Most Recent Entries
[ top ]
Dec 03
-
Megan Meyer Wins Second Consecutive Top Alcohol Dragster World Championship
Dec 02
-
Stevie "Fast" Jackson Wins Second Consecutive Pro Mod Championship Title
Nov 16
-
Torrence Wins Camping World Title
Nov 11
-
NHRA Announces Complete 2021 Class Schedule
Nov 10
-
Don Prudhomme Shares Life Story On and Off the Track
Nov 10
-
Justin Ashley Wins 2020 NHRA Rookie of the Year
Nov 10
-
Matt Hagan Crowned 2020 NHRA Funny Car World Champion
Nov 09
-
LAS VEGAS - Enders Claims Her Fourth Pro Stock World Championship
Nov 05
-
LAS VEGAS SN - Super Stock Final, Round 7 Eliminations
Nov 05
-
LAS VEGAS SN - Stock Eliminator Final, Round 7 Eliminations