Thu, 19 Dec 2002, 08:13 AM



"The Sarge" Set to Greet Troops During Holiday Trip to Afghanistan



Courtesy of Chris Dirato


Photo copyright 2002 Auto Imagery, Inc.





CHICAGO --
While the countdown to the 2003 drag racing season is well underway, Tony "The Sarge" Schumacher has an important holiday season trip to make before he even considers setting foot on a drag strip.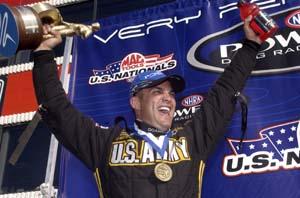 Header goes here
The driver of the United States Army Top Fuel dragster will join a handful of drivers from other race series on a trip to Afghanistan to visit the U.S. troops and help ring in the New Year.
"We're leaving on December 28th and will be over there for a week," said the Chicago-area native. "I'm really looking forward to the trip. This is an opportunity to bring cheer and good wishes to the troops serving our country. It's also a chance to return the support they have given the U.S. Army Top Fuel Drag Racing Team."
Among the other drivers scheduled to make the journey include NASCAR driver Jerry Nadeau, who recently was named to pilot the U.S. Army Winston Cup car next season.
"It will be nice to spend some time with my new Army teammate," said Schumacher, who finished third in the 2002 NHRA POWERade Drag Racing Series Top Fuel point standings.
Shortly after returning from Afghanistan, Schumacher will head to San Antonio for a U.S. Army-sponsored high school All-America football game, then travel to Firebird International Raceway in Phoenix, Jan. 18-19, for the 2003 NHRA' s National Time Trials. The Phoenix event marks the first official pre-season test for all of the pro drag racing teams.
"Once Christmas comes and goes, my life will clearly take a dramatic turn," added Schumacher with a chuckle.
The 2003 NHRA POWERade Drag Racing Series season opener, the K&N Filters Winternationals, is slated for Feb. 6-9.


NHRA: 10 Most Recent Entries
[ top ]
Dec 03
-
Megan Meyer Wins Second Consecutive Top Alcohol Dragster World Championship
Dec 02
-
Stevie "Fast" Jackson Wins Second Consecutive Pro Mod Championship Title
Nov 16
-
Torrence Wins Camping World Title
Nov 11
-
NHRA Announces Complete 2021 Class Schedule
Nov 10
-
Don Prudhomme Shares Life Story On and Off the Track
Nov 10
-
Justin Ashley Wins 2020 NHRA Rookie of the Year
Nov 10
-
Matt Hagan Crowned 2020 NHRA Funny Car World Champion
Nov 09
-
LAS VEGAS - Enders Claims Her Fourth Pro Stock World Championship
Nov 05
-
LAS VEGAS SN - Super Stock Final, Round 7 Eliminations
Nov 05
-
LAS VEGAS SN - Stock Eliminator Final, Round 7 Eliminations